Dental health is an important aspect of everyone's life, and that includes our feline friends. In fact, more than half of cats over the age of three have a variety of dental diseases, including gingivitis, tooth resorption, and periodontal disease. So what can you do to reduce the risk of oral ailments for your cat? Implementing a regular tooth brushing routine with a cat toothbrush and pet toothpaste is the most effective way to maintain a healthy mouth. Finding the right toothbrush for your cat will depend on their preference, as well as their propensity for being handled, and whether or not they have existing dental diseases or mouth pain.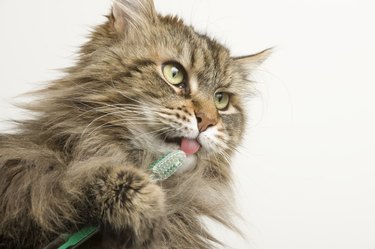 What to consider when purchasing a cat toothbrush
‌Tolerance:‌ The best toothbrush for your particular cat will depend entirely on their tolerance level to being handled, having their mouths or faces touched, and sitting still. Some cats do just fine with a nylon bristles head toothbrush on the end of a handle, similar to human toothbrushes. Other cats might prefer a more controlled and softer feel of a finger toothbrush, and some others might not tolerate having something forced into their mouth at all, and may require a wipe, edible, or rinse.
‌Concerns:‌ In an ideal scenario, everyone is using a cat toothbrush as a preventative measure against dental disease and uses one for routine dental hygiene maintenance. If you have adopted a cat later in life, you may find yourself dealing with specific concerns like tartar buildup, gingivitis, or plaque buildup. In most cases, any toothbrush will go a long way in terms of prevention, but for cats with diagnosed disorders, wipes and treats may not cut it, and in some cases, ailments may be too sensitive for a standard brush. As with any addition to your cat's wellness routine, consult with your veterinarian for their suggestions.
‌Size:‌ As cats have fairly small mouths, most will require a toothbrush with a small head, both for comfort's sake and efficacy. Some cats may be able to tolerate a larger toothbrush, but if the brush you're using seems to cause your cat serious discomfort, you should opt for a smaller size, which will ensure the best results in the long run.
‌Toothpaste:‌ Part of finding the right toothbrush includes finding the right toothpaste, otherwise your cat will be less likely to comply with their brushing. Nearly all cat toothpaste is flavored, so be sure to reach for a flavor you know your cat loves, and let them lick some off of the toothbrush before you start brushing to help create a positive association with the process. If you're not sure which flavor to choose, consider purchasing a kit, which contains a brush and toothpaste.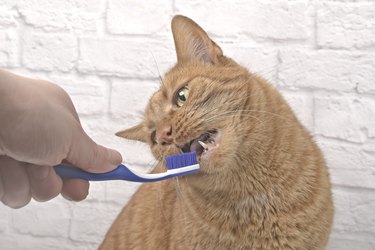 The best overall cat toothbrush
If you're looking for a pet toothbrush, this one is a great option to consider as it features brush heads in two different sizes on either end of a long, thin handle for easy manipulation. At under $6, you'll get soft bristles in both sizes to assist in oral care for your cat to help prevent and/or remove things like tartar buildup, periodontal disease (gingivitis,) and bad breath. It is recommended by the manufacturer to use three to four times per week with an enzymatic toothpaste for the best results, but as with any change to your cat's wellness routine, it's always best to consult with your veterinarian first.
The best budget cat toothbrush
This price tag may not look the lowest at first glance, but this item contains between four and eight pet toothbrushes depending on which option you choose, amounting to just over $1 per brush. These brushes are offered as dual head options, which are great for dog and cat owners, or mini, single-headed varieties if you just have a cat's mouth to keep clean and healthy. The brushes feature soft bristles which are still firm enough to address tartar buildup, remove plaque, and clean your pet's teeth for optimal oral health. Additionally, these come with a 60-day money-back guarantee in case you aren't satisfied with the results.
The best finger toothbrush for cats
One of the most common ways used to brush a cat's teeth is by using a finger toothbrush, which is a small, bristled slip cover resembling a thimble. This makes for easy maneuvering, and better control, and seems to be more tolerated than a brush by many cats as it requires more closeness between feline and owner. This set of four finger brushes reduces plaque and tartar while stimulating the gums for reduced risk of gingivitis, and because the "bristles" are built-in (they're really more like raised nubs), your cat's mouth will experience less irritation, which may be especially ideal for cats with sensitive gums or who have dental diseases that cause pain or discomfort.
The best dental care kit for cats
An economical way to get a regular brushing routine down is to look for a teeth cleaning kit, which contains a brush and pet toothpaste. This is a very simple kit, containing a soft bristle toothbrush and a 0.04-ounce sample of poultry-flavored enzymatic toothpaste, which can last longer than it may sound, as only a small amount is needed to clean your cat's teeth. This company also offers kits with larger sizes of toothpaste, which may be a better option if you already know that your cat enjoys this flavor.
The best eco-friendly cat toothbrush
If you use an eco-friendly toothbrush for yourself, or just want to eliminate waste and support a sustainably built product, then a bamboo toothbrush may be for your feline friend. Made with a natural bamboo handle and boar's hair bristles, this pet toothbrush is non-toxic, biodegradable, and compostable so you can feel great about upkeeping your cat's dental health while shopping responsibly. This brush head is a bit bigger than some other cat toothbrushes out there, so keep that in mind if you have a cat who prefers a small brush.
The best dental care wipes for cats
A finger toothbrush is often the answer for any cat who absolutely will not tolerate a brush, and even then, it may still be too much for some cats. In such cases, a dental wipe is a good option to consider as it contains no texture at all, which some cats find physically irritating or just bothersome and annoying (as cats do.)
The active ingredients in these wipes are thyme oil and green tea extract, which can freshen breath, and claims to reduce plaque. However, because these wipes contain no bristles, gum stimulation will be minimal and the efficacy of removing tartar buildup will be questionable, so keep that in mind. That said, if your cat will not tolerate brushes but will let you handle their mouth, this is a good option as it will wipe down teeth, and can be helpful for cats with mouth pain.
The best brushless dental care for cats
We're not sure if a brushless toothbrush counts as a top toothbrushes contender, but the fact of the matter is that not all cats will allow you to brush their teeth, or even touch their faces in some cases. If you have a cat who, for whatever reason, will not cooperate with brushing and has rejected other dental products but you still wish to implement a dental care routine, you can look to additives to include in their water for a touchless brush.
This product won't really remove tartar or plaque buildup, but it can prevent the formation of either with regular use, especially if you start when your cat is young (this is safe for use with cats aged 12 weeks and up.) Just add one capful to 16 ounces of water and allow your cat to drink as usual—this product is tasteless and odorless so your cat won't even know it's in there.
The best 360-degree cat toothbrush
If you have a toothbrush-tolerant cat on your hands and want to offer them an extreme clean, a brush with a 360-degree round brush head may be for you. This is not an electric toothbrush, but rather a manual brush with a round head made from nylon fibers, so you can opt to spin for a deeper clean or just brush as normal. This brush was created with plaque removal in mind and can be used for cats and dogs; however, some users noted that the delicate bristles were too soft for canine teeth and didn't hold up to a more vigorous scrub than you might give a cat.
The best edible dental care for cats
Finally, if you just want to supplement your cat's brushing routine, if you have community cats you wish to extend the gift of healthy gums to, or if your cat won't tolerate a toothbrush, dental care cat treats are another option. Beloved by many pets and given the seal of approval for efficacy by the Veterinary Oral Health Council (VOHC,) these catnip-flavored treats can be used to reduce tartar and plaque when brushing isn't an option. Fortified with vitamins and minerals like calcium, vitamin D, and vitamin B12, these treats can freshen breath in an enjoyable way, and should be offered as a supplement to your cat's existing diet.