If you have a dog with a sensitive stomach, excess gas, and/or diarrhea, you may want to consider adding a probiotic supplement to their diet. Probiotics are live microorganisms that can restore your dog's gut microbiome and improve overall health. The benefits of probiotics for dogs are many—think improved digestion and nutrient absorption, regular bowel movements, and less severe allergy-related symptoms. Thinking about introducing your pup to some good bacteria? Here we've rounded up the best probiotic supplements for dogs and provided need-to-know information for pet parents.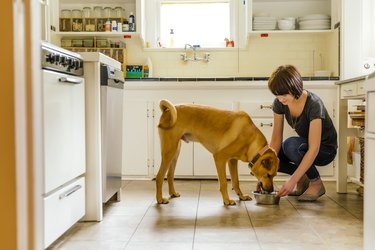 What to Consider When Purchasing Probiotics for Your Dog
‌Seek Support:‌ Some dogs experience minor side effects, like worsening gas, diarrhea, or bloating, when they begin taking probiotics. But if your dog's digestive conditions continue after a couple of weeks, you should consult a veterinarian. The vet may want to run additional diagnostics to ensure there aren't any underlying health conditions.
‌Dog Preferences:‌ When selecting probiotics for your dog, consider how comfortable he is with new foods. You can add probiotics to your dog's diet in a variety of ways including soft chews, powders, and even sprays. The best probiotics are going to be the ones your dog likes best and is most comfortable taking. You'll also want to consider any food allergies your dog has and make sure the supplements don't include any ingredients your dog typically reacts to.
‌Lifestyle:‌ Consider your lifestyle when picking out the right probiotic for your dog. If you and your dog travel often, a probiotic that is chewable or individually packaged may make it easier to dispense on the go. Powder probiotics tend to come in larger containers and can be messy.
‌Dosage:‌ When adding probiotics to your dog's diet, make sure to carefully read the feeding instructions. If your dog consumes more probiotics than she should (some of them are flavored, after all), consult a veterinarian or bring your dog to an emergency clinic to determine if she needs treatment.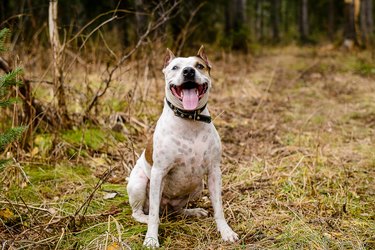 The Best Overall Probiotics for Dogs
Purina FortiFlora Probiotics for Dogs, 30-Count
This probiotic supplement promotes normal intestinal microflora in a dog's body. It's especially beneficial for dogs or puppies who struggle with bouts of diarrhea and/or uncomfortable gas. The probiotic support is packaged into 30 single-serve packets, making it convenient to give to your dog at home or bring with you on vacation. According to the manufacturer, "each packet contains a guaranteed level of live microorganisms" to aid digestion. It's designed to be sprinkled over your dog's regular meal once per day. FortiFlora doesn't have a strong odor or flavor, so it's suitable for picky eaters, too.
The Best Probiotics With Prebiotics for Dogs
FERA Probiotics for Dogs and Cats, 2.5-oz. Container
Certified organic by the USDA, this powder formula contains 12 live strains of organic prebiotics. Each scoop contains 5 billion colony-forming units (CFUs). It's flavorless and can be sprinkled over your dog's kibble or wet food, making it yet another great option for picky eaters. These probiotics are made without wheat, corn, soy, dairy, or gluten, and don't contain any additives, preservatives, or fillers. The probiotics are helpful to dogs who are prone to diarrhea and gas, but they may also provide some relief for pups with skin conditions or allergies.
The Best Kelp Probiotics for Dogs
Pet Kelp Probiotic Powder Formula, 8-oz. Container
Made with limited organic ingredients, primarily Nova Scotia kelp, this probiotic supplement is ideal for dogs with sensitive stomachs. The supplement adds over 70 different vitamins and minerals derived from ocean kelp to your dog's dog's daily diet, aiding their overall digestive health. This powder formula combines kelp with inulin, organic pumpkin, and flaxseed, which are all fiber-rich to support regular bowel movements. While the kelp in this probiotic is sustainably harvested from Nova Scotia, the product is manufactured in the United States.
The Best Limited-Ingredient Probiotics
Native Pet Probiotic for Dogs, 8.2-oz. Container
This natural supplement is developed specifically for dogs who are struggling with digestive conditions like upset stomach, diarrhea, bloating, and gas. The powder can be added directly to your dog's food to provide him with four distinct probiotic strains. Blended with these powerful probiotics are pumpkin seed, Jerusalem artichoke, and beef bone broth, adding delicious flavor and loads of fiber. The probiotic powder is shelf-stable for two years, so it's useful to have on hand if your dog suffers from occasional diarrhea, just finished a round of antibiotics, or is adjusting to a new type of food. All the ingredients are sourced from the United States and Canada, and the product is also manufactured in the United States.
The Best Soft Chew Probiotics for Dogs
Zesty Paws Probiotic Bites Dog Supplement, 90-Count
These tasty soft chews include six strains of probiotics, including DE111, which supports gut microflora and overall digestion. The chewable supplements are also made with pumpkin and papaya, which both contain digestive enzymes that break down the food your dog eats. The soft chews can encourage healthy bowel movements and help prevent diarrhea, constipation, and gas. Many dogs consider the chews a 'treat' as they come in a pumpkin or chicken flavor.
The Best Spray-On Probiotics for Dogs
Bil-Jac® BreakThru Biotics Probiotic Dog Food Spray, 4-oz. Container
If your dog turns up their nose to chewables and powders, you may want to try this spray-on probiotic. While it does have a mild smell and chicken flavor, many dogs don't even notice it being added to their food. The all-natural spray is made in the U.S. and includes 12 strains of active probiotics—more than many other brands—to improve nutrient absorption and overall digestive health. It's easy to use and less messy than powder. The number of spritzes per day will depend on your dog's weight.
The Best Budget Probiotics for Dogs
Dog MX™ Probiotic Powder Dog Supplement - Savory, 30-Count
These probiotic powder packets help improve your dog's overall gut health. The formula contains 2 billion CFUs per serving as well as inulin, a prebiotic fiber that aids with digestion and nutrient absorption. Each box includes 30 single-serve packets, making it easy to take with you wherever you and your dog go. The product is made in the U.S. without any artificial flavors or dyes. Because it doesn't have a strong taste or smell, it's suitable for picky eaters—your pup might not even realize it's been added to their kibble.
The Best Flavored Probiotics for Dogs
Vetnique Labs Profivex Probiotics 5-Strain Pork Pet Digestive Health Probiotic, 8.5-oz. Container
This formula includes five beneficial probiotic strains and 5 billion CFUs per serving to support gastrointestinal health. It features two prebiotics to help good bacteria flourish, and sweet potato for added fiber, vitamins, and nutrients. Digestive enzymes are also present to break down food molecules. Made with pork liver to encourage dogs to eat it, the powder supplement is made in the U.S. It can be sprinkled over your dog's regular food at mealtime, making it easy to regulate their gut microbiome.
The Best Probiotics for Dogs With Itchy Skin
PetHonesty Digestive Probiotics Soft Chews, 90-Count
This probiotic supplement comes in a highly palatable, chewable treat that dogs like. Each duck-flavored chew contains 1 billion CFUs, plus pumpkin and enzymes that help to break down proteins and fats. These probiotics support the development and maintenance of healthy bacteria in your dog's intestinal tract, ideal for dogs who struggle with an upset stomach, diarrhea, and gas. They can also help to relieve itchy skin and goopy eyes. The supplements are made without GMOs, soy, corn, or wheat. They're manufactured in the U.S. with ingredients sourced from the U.S. and global markets.
The Best Value Probiotics for Dogs
NaturVet Advanced Probiotics & Enzymes Soft Chews for Dogs, 120-Count
These probiotic supplements are soft chews that support dogs with sensitive stomachs. The formula promotes a balanced GI tract, leading to regular bowel movements. Among the probiotics is PB6, which helps good bacteria travel throughout the entire GI tract. Enzymes are also added to successfully break down food and boost nutrient absorption. The tasty flavor of these chews encourages dogs to want to eat them the same as they would other treats. They're sold in containers of 70, 120, and 240, so if you're not sure your dog will like them, you can always start with the smallest amount. However, the 120-count gives you about a four-month supply if you feed your dog one chew per day.