Crates can be a comfortable, safe, and enclosed space for your dog to rest and spend time whether you're home or not, but for your dog to actually be willing to go into the crate, it needs to be extra cozy. How do you make it extra cozy? A crate bed. Crate beds, also known as crate pads or crate mats, provide a padded layer between the uncomfortable crate base and your dog. Technically, you could throw a blanket on the bottom of the kennel and call it a day, but blankets tend to move around a lot, so you'd probably find yourself constantly folding and refolding it to cover the entire bottom of the crate. While it might still move around a little inside the crate, a crate mat should stay put as long as it isn't too small for the kennel.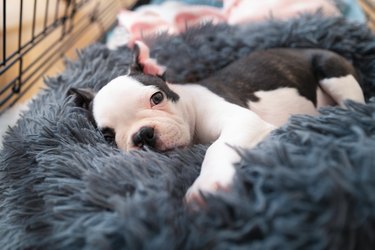 To figure out the right size crate bed for your dog, measure the length of their body in their favorite sleeping position from the front of their legs or snout (whichever is farther) to the beginning of their tail. Then add 6 to 12 inches of extra space and find a crate bed that's larger than that number.
What to consider when purchasing a crate bed for your dog
‌Size:‌ An important factor when buying a crate bed for your dog is your dog's size. A Yorkie will obviously need a much smaller crate bed than a golden retriever, but if your dog's crate size is appropriate, you should be able to choose a crate bed that fits snuggly inside. Just be sure to measure the dimensions of the crate to make sure it's a tad larger than whichever crate bed you're interested in purchasing.
‌Durability:‌ A crate bed needs to be durable enough to withstand the pressure of your dog laying on it for an extended period of time. If you have a puppy who is going through a chewing phase, consider buying a crate pad that's chew-proof. Some crate pads have a waterproof design to protect against accidents, and you can also find crate mats that are insulated or made from cooling material to keep your dog comfortable in your specific climate.
‌Machine-Washable:‌ A machine-washable pet mat isn't absolutely necessary, but it certainly makes it a lot easier to keep it clean. If your dog has an accident, simply remove the bed, wash it, and place it back in the crate. Even if your dog never has accidents, crate mats tend to get a little smelly and grimy after a while. Crate pads that aren't machine-washable can be spot cleaned.
‌Thickness:‌ Since your dog will likely spend a significant amount of time in the crate, it's important to make sure the crate mat has enough cushioning. Memory foam or orthopedic mats offer several inches of padding, which is cozy for any dog, but essential for dogs with arthritis or other joint issues. The thickness of the memory foam will help prevent their joints from getting worse.
We've rounded up the best dog crate pads on the market—check them out below.
The best overall dog crate bed
It's plush, it's soft, it's a best-seller, and it comes in five size options—ranging from extra-small to extra-large. This dog crate bed offers all the coziness your dog will need when spending time inside their crate. Its neutral color fits in with any home decor. The crate pad is machine-washable and can be thrown in the dyer. Since the material is so soft, it isn't chew-resistant. Just a heads up, the crate bed comes in a compressed vacuum package, so you'll need to shake it out after opening it and give it a day or so to reach maximum fluffiness.
The best budget dog crate bed
This standard crate pad has enough stuffing to keep even your large dog comfortable in their kennel. It can be used in a crate, but it also works well on trips—whether for your dog to lay on in the car or to use as a travel bed at your destination. While you can machine-wash this dog crate bed, it should only be air-dried. It comes in four sizes to fit most crates, ranging from 18 inches to 42 inches long.
The best waterproof dog crate bed
While this deluxe crate bed isn't made from memory foam, it does have plenty of cushioning to help relieve any joint or body aches your dog might feel. You'll find that this pad offers more padding than a standard dog crate pad. It has a washable cover that should be air dried, and it comes in several different sizes, from small to triple-extra-large.
The best orthopedic dog crate bed
Dogs who need orthopedic and joint support will do well with Bedsure's orthopedic dog bed. Made with memory foam, the bed contours to your dog's shape for maximum comfort. The sturdiness of the memory foam also makes it easier for your dog to get up and down. It has a removable cover that can be thrown in the washing machine, which is 100% waterproof, and has a nonslip bottom to keep it in place. This memory foam dog bed can be used in crates, kennels, carriers, or as a stand-alone bed. It's available in sizes small to extra-large.
The best self-heating dog crate bed
Perfect for colder months, this self-warming kennel pad captures and retains body heat to keep your dog warm. It doesn't require any cables or batteries—a thermal structure radiates your dog's own heat back to them. The pad features a nonslip bottom with rubber dots on the back to keep it from sliding around in your dog's crate. Choose from three colors: gray, blue, and brown. It comes in sizes small through large.
The best dog crate bed for outdoor use
This dog crate pad is designed for large dogs who enjoy spending time outside. It's water-resistant but isn't recommended to be left in the rain for too long. The pad is durable and can be machine washed. It's made with scratch-resistant Oxford material (it feels like a shirt), but it won't hold up well with chewers. It works well as a travel mat, camping mat, or for any outdoor use. The pet mat is available in sizes large and extra-large in eight color options.
The best reversible dog crate bed
If you're looking for a simple mat to add to your dog's crate, this is a good basic option. The bed pad is reversible, meaning the fabric is the same on both sides, but the paw print design is only on one side. You can feel good about this mat's durability. Although it isn't chew-proof, it can hold up to some light chewing. The mat is machine-washable and safe for the dryer. Available in eight sizes, it's great for dogs who are extra-small through extra-large.
The best crate bed for large dogs
Made of super soft fleece plush, this heavy-duty crate mat is so cozy, that your dog might even choose the crate over the couch. Maybe. The mat is durable, foldable, and machine-washable. It's thick and a great option for large dogs who need support for their joints or just a comfortable place to relax. A nonskid bottom design keeps the crate pad firmly in position, which is also a bonus if you place it on hard flooring. You can buy this crate mat in clay gray, dark gray, dark blue, and purple-gray. It's available in medium, large, and extra-large.
The best crate bed for small dogs
Not only does this pet crate bed come in a small enough size for your small dog, but it also comes in fun colors, including white, cinnamon, charcoal gray, blue, and pink. The ultra-soft fleece will entice your dog to spend time in their crate. A raised bolster cushion around the edge of the crate bed gives dogs a place to rest their heads. The bed is ideal for a folding metal dog crate or a dog carrier, and it comes in 10 size options, ranging from 18 inches to 54 inches.