If your dog hates wearing a dog cone just as much as you hate seeing them in one, a dog cone alternative will ease everyone's discomfort. The traditional dog cone (AKA Elizabethan collar, e-collar, or cone of shame) is a rigid plastic cone that kind of looks like a lampshade. It's placed around a dog's neck and extends in front of their face to prevent them from irritating their wounds, hot spots, or from licking their sutures after surgery.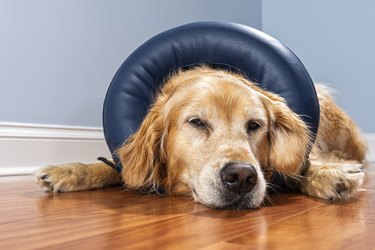 Dogs instinctively lick, bite, scratch, and gnaw on injured areas, which can cause an infection and slow the healing process. If your dog has ever worn a traditional dog cone, you've probably seen them run into walls, struggle to eat or drink, and do everything they can to remove it. E-collars are designed to get in your dog's way and prevent them from reaching their wounds, but you might as well buy one that provides as much comfort as possible.
A dog cone alternative does the same thing as a plastic traditional cone but is more comfortable and typically doesn't eliminate a dog's peripheral vision. There are several types of e-collar alternatives to choose from, and your dog may find some more comfortable than others. So, it may take some trial and error before finding one that your dog isn't miserable wearing. Whichever you choose, just remember to supervise your dog after any surgery, even while wearing a cone.
What to consider when purchasing a recovery collar for your dog
‌Type:‌ The various types of e-collars include inflatable collars, which allow for more movement; soft e-collars, which work the same as traditional cones but are more comfortable; neck control collars that act as a neck brace and restrict movement, but they don't get in the way of peripheral vision; and recovery suits that aren't cones at all, but rather a full or partial bodysuit or onesie that covers surgical areas.
‌Material:‌ Any dog cone alternative will be made from materials that are way more comfortable than the thin plastic (low-density PVC) that rigid cones are made of. The most comfortable dog cones are made of fabric or have a fabric cover, but ones made of nylon also provide comfort and flexibility.
‌Size:‌ Most dog cone alternatives come in sizes for dogs of all sizes. A good way to find the correct size for your dog is to measure the length of your dog's regular collar. This will determine the neck hole size or circumference of the dog cone. Make sure that you can comfortably fit two fingers between the collar and your dog's neck. That's all the measuring you need to do for an inflatable cone. For e-collars that extend to the nose, measure the distance from the neck to the tip of the nose, then add 3 or 4 inches so it's long enough.
Keep scrolling for our list of the best, most comfortable recovery collars for your dog.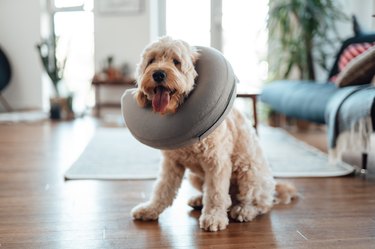 The best overall recovery collar
The Original Comfy Cone is similar to a traditional cone, but it's made of nylon and is soft and flexible. It has a velcro closure, making it easy to put on and take off and customize to your dog's neck size. There are loops around the neck for your dog's collar, and a removable plastic piece can add structure when needed. The cone is water-resistant and easy to clean with soap and water. It's available in two colors: tan and black. The company offers a size chart to help you order the correct size.
The best pillow recovery collar
This bright dog and cat cone is shaped like a flower and is far from a boring Elizabethan collar. Designed to feel more like a neck pillow than one used for medical reasons, it'll feel like less of a burden than the average pet cone. It's made of PP cotton, which is lightweight and soft on your pet's body, which will hopefully make it more enticing for them to wear. The cone won't block your pet's vision, and they can sleep, eat, drink, and play as normal.
The best soft recovery collar
Make your life a little less stressful with a cone that you trust will do its job. The ZenPet Pet Recovery Collar ensures that your dog won't be able to reach any hot spots or injury areas while still allowing them to eat and drink normally. The cone has built-in windows to help your dog see beyond the cone. The fabric is made of bite-resistant and anti-scratch canvas with soft edges, preventing the cone from scratching the walls if your pup bumps into them. The pet cone works with your dog's collar and has a velcro closure to help you achieve the right fit.
The best inflatable recovery collar
If your dog refuses to wear a pet cone, you might have luck with this inflatable protective collar. A soft outer material is comfortable enough for your dog to wear the cone for long periods of time. It's soft, machine washable, durable, and scratch- and bite-resistant. Inflating the collar is quick and easy, and when it's deflated, it can be folded for space-saving storage. It can be easily adjusted via the strap at the back of your dog's neck, and a zipper opening lets you take the fabric off for washing. The cone is available in gray and black.
Although this dog recovery suit looks like a Steve Jobs costume, it's actually a bodysuit that offers comprehensive wound protection. Made of cotton and lycra, the light and breathable fabric gives your dog plenty of freedom to move around. The t-shirt suit is machine washable, and you might want to consider buying two of these so your dog always has one on when the other is being washed. An opening on the rear makes it easy to take the suit on and off, and snaps near the base allow your dog to go for walks without needing to take the entire thing off when it's time to do their business. There's also an opening for a collar and leash.
The best novelty recovery collar
Since your dog needs to wear a dog cone, it might as well look like a sprinkled donut. This inflatable collar will keep your dog from biting his injury. An adjustable velcro strap lets you tighten or loosen the collar as needed. The outer cover is scratch- and bite-resistant, removable, and machine washable.
The best recovery collar for neck control
The BiteNot Collar is a plastic and foam flexible collar that works by immobilizing your dog's neck, which ultimately prevents them from turning their neck to bite their injuries. It's similar to a neck brace for humans. This recovery collar is a sturdier option than an inflatable collar, but it also might not be as comfortable. An included harness helps keep the collar in place around your dog's neck.
The best fabric recovery collar
This fabric e-collar from Alfie Pet might be a bit less sturdy than its plastic counterparts, but it's certainly a lot more comfortable. Another bonus flexible fabric offers is not scratching your walls when your dog bumps into them. It also won't make that terrible nails on a chalkboard sound when it happens. The back of the soft cone has a drawstring that gives you the ability to tighten or loosen the fit without dealing with velcro.