Having an automatic cat feeder for your feline friend can be beneficial for a number of reasons. Automatic pet feeders will usually dispense a portion of food at specific times of the day, which can help to keep a dieting cat on the right track toward progress. For anyone who spends all day working outside of the home, having a timed feeder can ensure that your cat will never miss a meal, even if you don't come home right on time for dinner. Automatic dispensers can rely on batteries, a power source, gravity, or even Wi-Fi to deliver food to your friend, so the right type will depend on what you're looking to get out of having a feeder work for you. Generally, automatic cat feeders work best with dry food, although there are some varieties out there that will work with semi-moist and even wet food.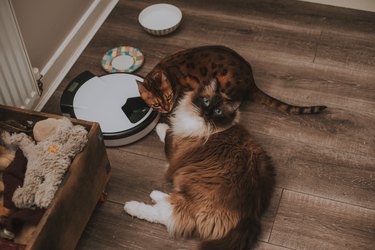 What to consider when purchasing an automatic cat feeder
‌Food Type:‌ Nearly all food dispensers are intended to be used with dry or semi-moist food, so if you have your cat on a wet food diet, an automatic feeder may not be the right choice for you. There are, however, some feeders that do work to keep wet cat food fresh, usually with an ice pack or other cooling mechanism. Feeders intended to dispense wet cat food should not be used to keep a cat fed for days as the food will likely dry out or spoil, but they can be helpful if you're able to clean and set up your feeder on a daily basis.
‌Food Storage:‌ The size of the storage container on the automatic feeder you choose should depend on how long you plan to rely on your feeder to keep your feline fed. If you're able to refill the feeder often, or if you have a cat who tends to figure out how to break into these things, a small feeder may be just what you need to deliver your cat a meal while you're not around. If you plan to use a feeder to keep your cat fed for more than a few days, a larger capacity, like something that can hold 20-plus cups, will ensure that your cat doesn't go hungry at mealtime.
‌Household:‌ If you live in a single-cat household, any feeder should work well for you as the timer you set will only be responsible for feeding one cat. If you live in a home with more than one cat, finding a feeder with the capability to feed all of them is crucial to ensuring that no one misses mealtime and that one isn't eating more than what's intended. Feeders for multi-cat homes or smart feeders can help ensure that everyone eats what they're supposed to.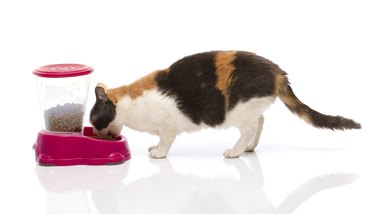 The best overall automatic cat feeder
PETLIBRO Automatic Cat Feeder
If you're looking to keep your cat on a feeding schedule that works with your own, this feeder has everything you need to dispense food into a cat bowl effectively. Available in two sizes (4 liters or 6 liters), this feeder has a built-in LCD screen for easy setup and has the capacity to program between one and four meals per day. Holding 16.9 cups of food, the lock-lid design ensures that food will stay fresh and safe from any curious cats, which can assist with portion control over time. You can leave a 10-second voice recording for your cats to hear while you're away, which stays powered by dual power sources—a DC adapter and three D batteries to back up your feeder in the event of a power outage.
The best budget automatic cat feeder
Van Ness Auto Feeder for Cats and Dogs
You don't have to spend a lot of money to offer your cat a meal while you're not around. In fact, you don't even need to rely on a power source to make your automatic feeder work. This simple gravity feeder fills the accompanying bowl, dispensing more food as the bowl becomes emptied, allowing your cat to eat at his leisure. It's available in two serving sizes, 1 cup and 1.5 cups, with a food reservoir of 12 cups or 24 cups, respectively. Because this feeder does not have a timer or portion control, it will be best used with cats who can self-regulate their food and do not have issues with scarfing down meals too quickly.
The best automatic cat feeder for dry food
PetSafe Healthy Pet Simply Feed Programmable Dog & Cat Feeder
Nearly all cat food dispensers are designed to support a diet of dry food, and this one is no different. With a 24-cup holding capacity, this feeder is especially great for a cat who may benefit from a food dispenser that works as a slow feeder, like cats who suffer from bloating or vomiting from eating too fast. The slow feed option on this feeder can dispense food in small increments over a 15-minute span and also comes with a pause mode to stop feeding altogether if needed. Made from BPA-free plastic and stainless steel, you can power this feeder with a cord or four D batteries, neither of which are included (the cord is sold separately.)
The best automatic cat feeder for wet food
Cat Mate C300 Automatic Dog and Cat Feeder
There aren't many automatic cat feeders on the market designed to handle wet food, but this one can accommodate up to three cups of food, either dry or wet. Wet food is kept cool thanks to an ice pack and a form-fitting lid to keep food fresh and safe from your cats. This feeder only holds three cups of food at a time so it's definitely on the smaller side, but that keeps things clean and fresh for cats who prefer a wet diet, even while their pet parents are away from the home. You can set this timer on the LCD screen included but will need three AAA batteries to keep this one running as there is no power supply that plugs into a wall.
The best automatic feeder for two cats
HoneyGuaridan 7-Liter Automatic Feeder for Two Cats
If you live in a multi-cat home, you'll need a pet food dispenser that's designed to accommodate multiple meals for more than one feline. You can program up to six meals with this feeder, which holds up to seven liters, or 29 cups, of cat food. This feeder is dually powered with a power adapter and four D batteries and dispenses kibble into two stainless steel bowls via a splitter for your cats to eat from. When food gets low you'll receive a warning message to refill the container, and if you wish you can even record a 10-second message for your cat to hear you call them for meals while you're out of the house.
The best smart automatic cat feeder
WOPET 6-Liter Automatic Cat Feeder
If you're looking to keep your petmate fed with the touch of a button, you can opt for a Wi-Fi-enabled smart feeder to help you get the job done. Holding six liters (25 cups) of food, this feeder allows you to control your pet's meals through an app on your smartphone. You can program up to 15 meals at once and dispense kibble according to your pet's diet, which can help control portion sizes and feeding times. This one comes with a dual power supply and plugs into the wall or uses three D batteries to stay running in the event of a power outage. This pet food dispenser is suitable for use with dry food only but can work for cats and dogs, and disassembles for easy cleaning.