If you feed your cat quality commercial food, then your feline is getting their recommended daily dose of vitamins and minerals, assuming they're eating the right amount for their body. Sometimes, however, a cat might need a bit of extra help with their health in the form of a multivitamin or cat supplement in addition to their regular diet to help keep it balanced and nutritionally complete, just like some people do.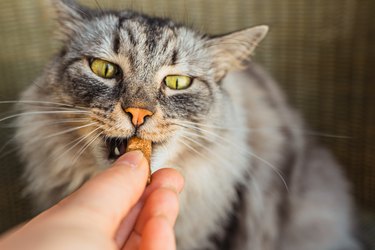 Cat multivitamins come in a variety of formulas, including liquid, powder, gel, and the ever-popular chewable variety, all of which are flavored to a cat's preference. When shopping for a good cat supplement, make sure the label clearly states the minimum analysis of the active ingredients contained within it. In addition to vitamins commonly found in multivitamins, like vitamin A and vitamin C, cat supplements may sometimes also contain minerals like taurine or glucosamine, as well as omega-3 fatty acids, probiotics, or enzymes.
What to Consider When Purchasing Multivitamins for Cats
​Consistency:​ No pet wants to swallow something too large or bad-tasting, and fortunately, most daily multivitamins don't rely on force-feeding your cat any medicine. For some cats, even a chewable multivitamin isn't pleasant, which is partially why some cat vitamins come in different forms. Liquid cat supplements are ideal for cats who either don't like to chew or have trouble chewing, assuming the flavor is palatable. Some cats might prefer multivitamins in powder form, which can be sprinkled right over dry or wet cat food. Gel multivitamins are another option for cats who would rather lick their supplements and are great for cats who might have trouble chewing, like senior cats.
​Budget:​ When shopping for anything, of course, the price point is something to consider, and when adding a dietary supplement to your cat's food it definitely should be. Finding the right cat vitamins within your budget will allow you to continue to offer your cat the benefits of added nutrients over the long haul, which should be the goal, especially if your cat has additional health issues. Expensive isn't necessarily better when it comes to vitamins, and if you know that your cat is missing a crucial nutrient, like calcium or vitamin C, adding just that can be done at a reasonable price.
​Life Stage:​ Most multivitamins are formulated with adult cats in mind, so if you have kittens or senior cats to care for, you will want to look for something intended to help them. In fact, it is recommended that kittens not be given added supplements as it can have a negative effect on their health (quality commercial kitten food is already fortified to contain all the vitamins and minerals a kitten needs). Senior cats, however, usually can benefit from a multivitamin, which can assist with vision loss, bone and joint health, and skin and fur issues that can arise later in life.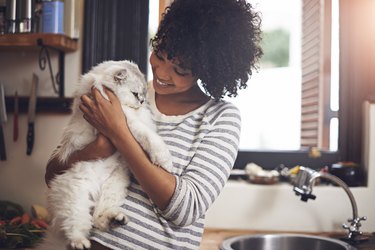 The Best Overall Multivitamin for Cats
VetriScience Nu Cat Soft Chews Multivitamin for Cats, 30-Count
If you're shopping around for a basic multivitamin for your cat but aren't sure where to start, these are a great option. The soft, chewable formula makes it easy for most cats to enjoy and is offered in a fishy flavor that tastes great. These multivitamins contain over 20 ingredients designed to adequately supplement your cat's diet, including vitamin E, vitamin B12, vitamin A, niacinamide, zinc, magnesium, and taurine, the latter of which promotes eye health and can't be readily produced by cats on their own. Just one chew daily in addition to your cat's meals is all that's needed from this multivitamin.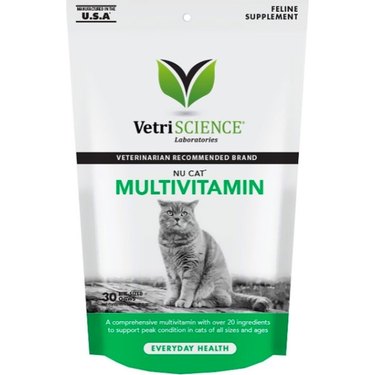 The Best Multivitamin for Senior Cats
VitaPet Senior Daily Vitamins For Cats Plus Glucosamine, 60-Count
Senior cats often need at least a little supplementation to their diets, usually to address issues that come naturally with aging, like stiff joints and diminishing eye health. These fish-flavored chewables are soft enough for cats who often have trouble chewing to enjoy, although if your senior cat has difficulty chewing anything harder than wet food it might be wise to opt for a liquid, gel, or powdered formula over these. These multivitamins do contain glucosamine, which is essential in promoting healthy joint function and may alleviate mild pain symptoms in arthritic cats. Additionally, these vitamins contain zinc, calcium (as a source of vitamin C), and vitamin E. It should be given twice daily for the best results.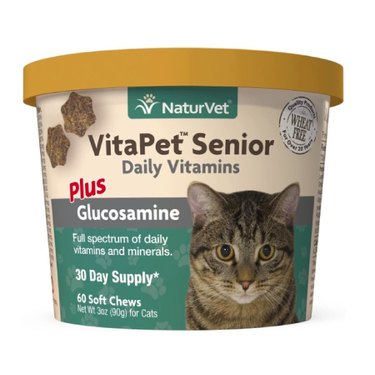 The Best Chewable Multivitamin for Cats
Four Paws Healthy Promise Multi-Vitamin All-In-One, 120-Count
For the most part, vitamins and supplements for pets are offered in a chewable variety that's formulated with an enjoyable flavor. These chicken-flavored chewables are, like all vitamins, designed to supplement your cat's existing diet, and come fortified with essential vitamins and minerals like vitamin C, zinc, iron, and magnesium, all of which help support a healthy immune system. In addition to these ingredients, this one also contains a healthy serving of omega-3 fatty acids, which have been shown to lower blood pressure, reduce fat, and promote overall heart health in felines of all ages. Cats should be fed one to two of these vitamins daily, depending on their weight.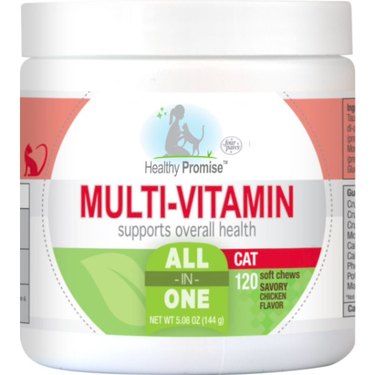 The Best Liquid Multivitamin for Cats
10-in-1 Cat & Dog Multivitamin, 2-oz. Bottle
If you have a picky eater on your hands, or maybe chewing is just difficult for your cat, then a formula that's easy to swallow will be the right choice for adding a multivitamin to their diet. This liquid multivitamin is designed to help support a cat's joint health as well as provide all-around supplementation to their regular diet. The vitamins contained within this liquid formula include vitamins C, D, and B12, and it also contains glucosamine and cranberry extract, which makes it a great option for aging cats as these two things target two common issues many older cats deal with: joint stiffness and urinary tract issues. Each bottle contains 1,200 drops, and a serving is one to two droppers (depending on weight,) one to three times per day, which can be served over food, in water, or dropped directly into the mouth.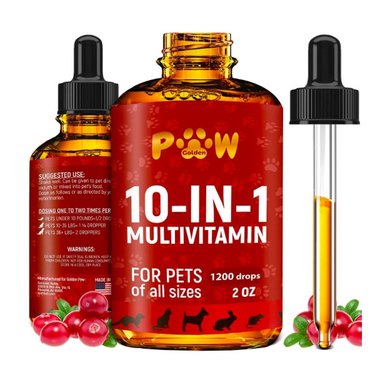 The Best Gel Multivitamin for Cats
Nutri-Vet Multi-Vite Multivitamin Salmon Flavor Paw Gel for Cats, 3-oz. Tube
Another non-chewable vitamin variety is the gel formula, which cats can lick up to get their daily dose of vitamins and minerals. This gel vitamin contains vitamin D and vitamin B12, and vitamin A. In addition to supplementing their diet, this gel is also designed to help cats relax thanks to chamomile extract, catnip, passionflower, and oats, all of which are non-drowsy yet soothing and can help calm anxious or generally high-strung felines. Feeding directions say to place 1/4 teaspoon of this gel directly onto your cat's paw for them to lick off, but you can also wipe it onto any surface that your cat will lick easily, like a spoon or the bottom of a food dish.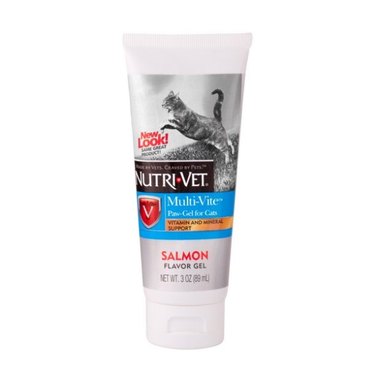 The Best Powder Multivitamin for Cats
Rx Vitamins Rx Essentials Powder Multivitamin for Cats, 4-oz. Bottle
The last of the non-chewable vitamin varieties, this powder formula can be sprinkled right over your cat's food—just 1/4 teaspoon mixed in daily will do the trick. This powdered option is packed with vitamins and minerals like vitamins A, C, D, E, and essential B vitamins, as well as niacinamide and biotin for healthy skin and eyes. Additionally, your cat is able to enjoy the benefits of several other natural ingredients to help with their overall health and wellbeing, like kelp, spirulina, and amino acids like taurine, all in a tasty beef flavor most cats enjoy.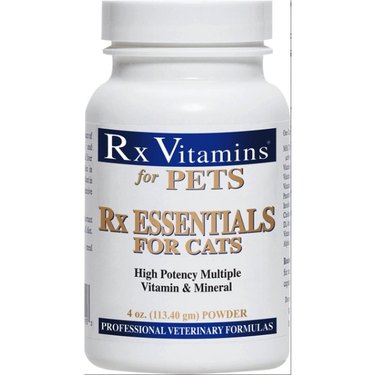 The Best Value Multivitamin for Cats
VETRISCIENCE Laboratories - Nu Cat Multivitamin for Cats, 90-Count
If you're looking to supplement your cat's diet with a great vitamin but can't or won't drop too much money, that's OK! Anyone can add vitamins and minerals to their cat's diet without breaking the bank, and this one contains 90 days' worth of vitamins for under $9. The best part? Saving on the price won't force you to compromise what you're feeding your cat either. This vitamin is formulated with essential nutrients and vitamins designed to offer immune support to improve your cat's overall health, including vitamins A, C, E, and amino acids, selenium, and biotin to improve skin and eye health.