Maintaining proper gut health is important for all living things, including our cats. Having a healthy gut has been linked to things like improving mental clarity by lifting "brain fog," reducing bloating and constipation, and even improving the condition of the largest organ on the body—the skin. The gut can become imbalanced when too many of the microorganisms that live in there all the time either become too much or too little—often caused by things like dietary changes, stress, and medication, any of which can affect cats. Many probiotic supplements contain several different strains of live bacteria that are used to improve the gut's flora (or microorganisms,) each of which benefits the body in a different way. Often, these supplements are formulated to feature probiotics, which introduce bacteria to the gut, and prebiotics, which nourish the bacteria already living inside of it.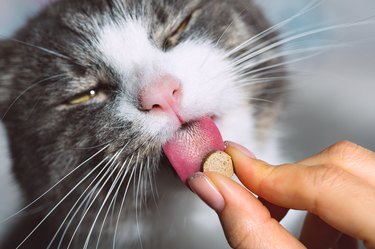 What to Consider When Purchasing Probiotics for Cats
​Symptoms:​ Probiotics are known for improving the overall health of the gut, and cat probiotics are no different. Most probiotic supplements will improve issues like constipation and digestive tract issues, and power the gut with healthy bacteria like dried Bacillus coagulans. While a healthy gut has been linked to improved brain function and healthy skin, for the best results, the probiotics taken should support gut bacteria that specifically target these issues. If you're unsure which probiotic is right for your cat, starting with a basic formula won't hurt, but if your cat has chronic symptoms, like itchy skin, schedule an appointment with your veterinarian so they can recommend the right probiotic strain for your cat's needs.
​Strains:​ It would be a daunting task to try to learn and remember all of the bacteria strains used in probiotic supplements, but familiarizing yourself with commonly used bacteria may help you address your cat's gut issues more effectively. With over 500 strains of bacteria, no single probiotic will contain them all anyway. Lactobacillus acidophilus is used for urinary health and vaginal pH balance, Lactobacillus plantarum 299v eases constipation, and Bifidobacterium longum generally balances everything in the gut, evening out the levels of good and bad bacteria.
​Diet:​ In an ideal world, everyone, our cats included, has all of their nutritional needs met from the foods they eat, including the healthy bacteria needed to keep the gut flora in check. Sometimes, adding a probiotic to your cat's existing diet can be just what's needed to get your cat's gut health in check, even if they are eating well. Probiotics do not contain vitamins and minerals, and all quality commercial foods do meet the daily recommended vitamin and mineral requirement, but if your cat is having digestive issues while on their regular diet, adding this extra supplement can help.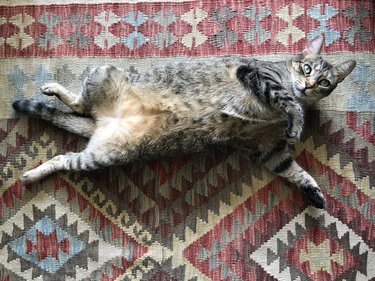 The Best Overall Probiotic for Cats
Purina Pro Plan Veterinary Diets FortiFlora Powder Digestive Supplement for Cats, 30-Count
For a probiotic supplement that will address common digestive problems like constipation and general digestive upset, this one is a great option. Often, cats experience diarrhea when their gut health is off, and this product is formulated to address those issues using live microorganisms like dried Enterococcus faecium, a fermented product that balances bacteria found in the lower intestine. Sold in convenient, single-serve packets, you can add one to your cat's food for an effective dose of good bacteria.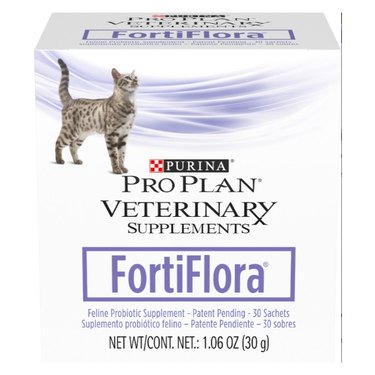 The Best Value Probiotic for Cats
VetriScience Laboratories - Probiotic Everyday for Cats, 60-Count
Probiotics can certainly come with a hefty price tag, be they human probiotics or probiotic supplements designed for feline gut health. Fortunately, you don't have to spend too much money if you want to offer your cat the benefit of probiotic supplements. Ringing in at under $9, you can get 60 tasty duck-flavored chewable supplements, each of which contains 1 million CFUs, or colony-forming units, which is the measurement determining the number of bacterial cells found in one serving. Formulated to improve GI and digestive tract function, these probiotics feature dried Bacillus coagulans, and are recommended for use especially after your cat has taken a course of antibiotics, which are known for disrupting the gut flora.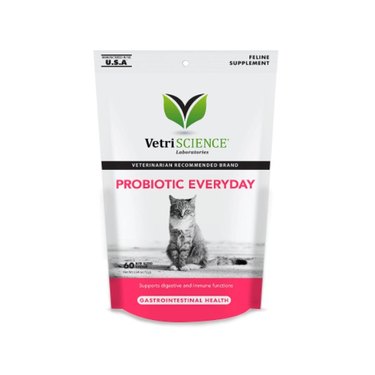 The Best Chewable Probiotic for Cats
Pet Naturals Daily Probiotic Cat Chews, 30-Count
Many probiotics are served in powder form, which makes for easy delivery on top of cat food, but if you have a cat who enjoys a treat every day, why not offer them one that will also improve their gut health? These daily probiotic chews are also duck-flavored, contain 1 million CFUs, and regulate gas, bloating, constipation, and even digestive blockages, which can be painful for cats. Packed full of good bacteria, these probiotics contain dried Bacillus coagulans to balance the bacteria in the gut, and Aspergillus oryzae for skin health, among others. Sold in a resealable bag, these probiotics are easy to keep with you on the go as long as they're stored in a cool, dry place, and should be offered once daily to cats.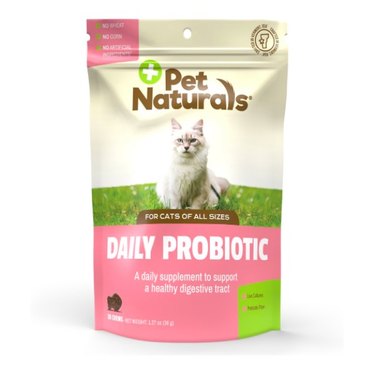 The Best Powdered Probiotic for Cats
FERA Probiotics for Dogs and Cats, 2.5-oz. Container
If chewables aren't exactly your cat's thing, you can look toward powdered probiotics to help improve their gut health. This USDA organic certified probiotic powder contains 5 billion CFUs per scoop. Formulated by a veterinarian, this probiotic uses natural ingredients to balance the bacteria found in the digestive system, leading to a boost in energy for most cats, and an improvement in skin health as well. For cats with ingredient sensitivities, this product is grain-free and contains no soy, wheat, or corn in an all-vegan formula that contains 12 strains of bacteria, and that's gentle enough for just about any cat's stomach.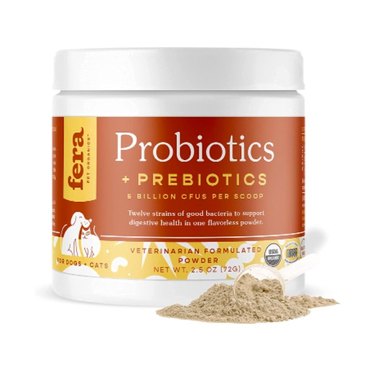 The Best Probiotic for Senior Cats
Nutramax Proviable Health Supplement for Cats and Dogs, 30-Count
Probiotics are how we get the bacteria that already live in the gut to reach a healthy balance and prebiotics help keep that balance in order over time, which can be extra helpful for senior cats who struggle with digestive or urinary tract issues. This probiotic and prebiotic supplement contains 5 billion CFUs and uses several strains of beneficial bacteria, including Enterococcus faecium, Streptococcus thermophilusand, and Lactobacillus acidophilus. To serve, just offer your cat one capsule per day, and as with any dietary supplement, be sure to always offer plenty of fresh water for your cat to enjoy, especially if urinary tract issues are a problem for them.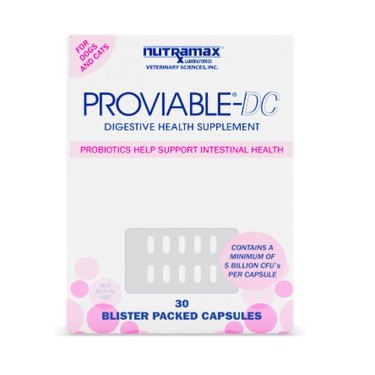 The Best Prebiotic/Probiotic Combination
Tomlyn Pre & Probiotic Water Soluble Powder Supplement for Cats, 30-Count
The power of a probiotic and prebiotic combination is hard to overstate, and if you're looking for one in a powder supplement formula that's water-soluble for a cat who doesn't prefer to swallow or chew a pill, then this product is an excellent option. With over 4 billion CFUs per serving, which comes in a convenient, single-serve packet, this supplement adds beneficial gut bacteria while helping keep those colonies healthy and flourishing over time without fear of overgrowth. This powder probiotic contains dried Enterococcus faecium, which balances the bacterial colonies found in the lower intestine, and dried Lactobacillus casei, which is the same live bacteria found in yogurt that improves overall gut health.