Bone broth is a powerful natural additive that you can feed directly to your dog or use as a topper on your dog's food. You can make your own bone broth at home in a crockpot or a slow cooker using raw bones with marrow, vegetables like carrots or celery, apple cider vinegar, water, and other dog-safe ingredients. However, whipping up some homemade bone broth for your dog can be quite time-consuming. Additionally, many bone broth recipes intended for humans—or even bone broths you might find on the shelves of your local grocery store—contain added salt or spices that aren't healthy for dogs and so should be avoided. That's why it's best to purchase bone broth that's meant for dogs and free of any harmful ingredients.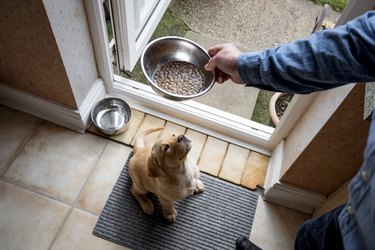 What to consider when purchasing bone broth for your dog
‌Sensitivities:‌ If you're thinking about adding bone broth to your dog's diet, it's important to consider her allergies or sensitivities. Although most bone broths for dogs have limited ingredients, make sure the bone broth you select doesn't include anything your canine is allergic to or sensitive to. Bone broth can help support a healthy gut, which can be especially beneficial for dogs with certain allergies.
‌Consistencies:‌ Bone broth offers a number of benefits when fed to your dog regularly. It's sold as either a liquid or a powder, so keep that in mind when deciding which option is the most practical for your lifestyle. Once opened, liquid bone broth needs to be refrigerated or frozen. It's typically OK in the fridge for about three days after opening. However, you can freeze individual serving sizes of bone broth in ice cube trays to thaw and use later. Powdered bone broth generally needs to be rehydrated with water before use. You can also get bone broth (powdered and liquid) in single-serving containers, which are convenient for travel.
‌Not a Meal:‌ Bone broth is a nutrient-rich additive to your dog's diet, but it should not take the place of regular meals. In addition to regular supplements like glucosamine chondroitin, bone broth can help your dog's joints, digestive system, and overall health, but it isn't a meal. Although bone broth shouldn't take the place of your dog's meals, it's very flavorful and can encourage dogs who are reluctant eaters to consume their kibble.
‌Health Benefits:‌ Bone broth is made from cooked bones and is an effective way to increase your dog's appetite. Whether your pup is a picky eater or recovering from an illness that has made him reluctant to eat, adding bone broth to his food may encourage him to chow down. Bone broth has a variety of health benefits including being a good source of calcium and boosting hydration, as it adds plenty of moisture to a dog's diet. Bone broth can also aid with digestion, itchy skin, or a dull coat. It's especially beneficial for joint health as it's packed with collagen, which lubricates connective tissues to improve mobility. As dogs age, their natural collagen production goes down, so adding this protein to a senior dog's diet can be extremely helpful.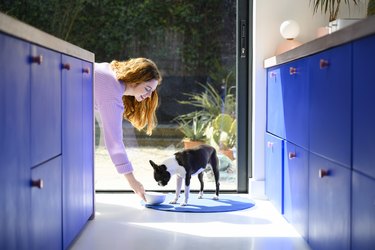 The best overall bone broth for dogs
Made with 100% human-grade ingredients, this all-natural beef broth will add flavor, nutrients, and moisture to your dog's food. It doesn't contain any artificial colors, flavors, or preservatives, and is free of soy, dairy, gluten, and wheat. What it does offer is glucosamine and chondroitin—supplements that can provide relief for dogs who suffer from osteoarthritis. Added turmeric, an anti-inflammatory, also supports hip and joint health. The bone broth can be added to any food, including kibble, or used to reconstitute dehydrated dog food at mealtime. The formula is low in calories and sodium, making it a healthy addition to your dog's diet. Brutus bone broth is sold in 32-ounce containers.
The best value bone broth for dogs
This powdered formula can be combined with warm water to create a gravy or broth to add to your dog's food. One 16-ounce jar can yield 53 cups of chicken or beef bone broth—offering a lot of bang for your buck. Beyond chicken or beef bone broth, it contains pumpkin, fish oil, turmeric, and parsley, ingredients that are rich in fiber, antioxidants, and omega fatty acids, and have anti-inflammatory properties. The bone broth is slow-simmered in the U.S. and made with human-grade ingredients. It includes a good amount of crude protein (56% minimum) and 24 calories per tablespoon. The bone broth can support your dog's digestive and joint health, and contribute to supple skin and a shiny coat.
The best single-serving bone broth for dogs
This instant beef bone broth is an easy way to provide your dog with nutrient-rich superfoods like parsley, pumpkin, and turmeric. It comes in 12 pre-portioned powder packets (1.44 ounces each) that are easy to use at home or while traveling. To use, just mix the bone broth powder with warm water and then pour the mixture over your dog's kibble. This bone broth is made with human-grade ingredients and is manufactured at a human food facility in the U.S. The formula is free of gluten, soy, wheat, grain, corn, and peas. It's also made without any GMO ingredients, by-products, or preservatives. Each packet is high in crude protein (78%) and low in calories (13kcals).
The best bone broth chews for dogs
For dogs who don't enjoy bone broth mixed into their food, these soup bone chews provide some of the same benefits as liquid bone broth. Made with beef bone broth and real beef, the chews can help support your dog's digestion, mobility, and skin and coat health. The chews also contain barley and beet pulp for additional energy and fiber. Giving your pup a tasty soup bone is a convenient way to reap the benefits of bone broth without all the mess. These treats are made without any artificial colors or flavors, and each one contains 190 calories.
The best resealable bone broth for dogs
Available in a convenient 8-ounce pouch, this bone broth is a nutritious and easy way to give your dog a collagen boost. The beef bone broth is slow-simmered and enhanced with turmeric, which boasts numerous benefits including anti-inflammatory properties for dogs with arthritis. The collagen the bone broth contains also aids with gut, bone, joint, and nail health. The product is made with human-grade beef broth and comes in resealable pouches. It's recommended that pet parents feed their dogs 1/4 cup of bone broth per 25 pounds of body weight. To use, shake the pouch, open the twist-off cap, pour some of the bone broth on your dog's kibble, and pop the pouch back in the refrigerator to preserve its freshness.
The best bone broth for picky eaters
This liquid bone broth was made specifically with picky eaters in mind. It comes in a chicken or beef flavor and encourages dogs to eat their daily meals. Beyond water and bone broth concentrate, the only other ingredients are carrot juice concentrate and celery juice concentrate. The bone broth is cooked in the U.S. and is packaged in a twist-top container that can be stored in the refrigerator for up to three days once opened. It's not particularly high in crude protein (2%) but it's great for enticing your dog to eat or stay hydrated.
The best responsibly-sourced bone broth for dogs
This bone broth was manufactured with sustainability in mind—even the resealable carton it comes in is 100% recyclable. Available in three flavors (chicken, turkey, or salmon), the bone broth is made with responsibly-sourced poultry or fish. The Alaskan salmon is wild-caught, while the turkeys and chickens are cage-free and humanely raised. Other wholesome ingredients include rice and carrots. This bone broth is made without any fillers, wheat, soy, or by-products. It's intended for dogs of all ages and can be used as a meal topper or given as an occasional treat. All three recipes are "slow-cooked in the U.S.A" using ingredients from trusted domestic and global sources.
The best easy-open bone broth for dogs
This beef bone broth is made with superfoods including blueberries and butternut squash. It's sold in 7- or 16-ounce pouches, but Chewy also sells a three-pack of the 16-ounce pouches. The beef bone broth is super flavorful and has added spices like cinnamon, turmeric, and ginger—all of which are good for treating inflammation. It's made with human-grade ingredients and is grain-free. This bone broth is a natural source of minerals, amino acids, and compounds that aid with joint health. You can add it to your dog's food or give it to him as a tasty treat. Packaged in 7-ounce resealable pouches that are BPA-free, this bone broth is easy to feed to dogs at home or while traveling. It's also cooked in the U.S. with ingredients from trusted domestic and international sources.
The best bone broth for dog-cat households
If you have dogs and cats, you can give both of them this powdered bone broth that's packed with protein and collagen. It's sold in a beef or chicken bone broth flavor and can be fed to your pet as-is or mixed with water to create a gravy-like consistency. This meal topper is made with only three ingredients: organic chicken broth, organic chicken protein, and organic sweet potato. The beef version consists of organic beef bone broth and sunflower lecithin. The formula is shelf-stable and easy to take with you on the go. This bone broth is a healthy additive to your dog and/or cat's diet and an effective flavor enhancer.