If you've noticed that your cat has been having a hard time jumping onto their favorite perch or they haven't been running, pouncing, or playing as much, it's possible they've been having joint pain. We all want the best for our cats, but sometimes health problems arise that are out of our control. Arthritis and other joint issues in cats aren't preventable, but joint supplements can help alleviate some of their effects.
Cats are really good at hiding their pain, so it can be hard to know when something is wrong. Many cats start to have joint issues as they age, so either around 8 years old or when they're noticeably struggling with mobility is a good time to introduce joint supplements to get ahead of the pain. Before introducing anything new to your cat's diet, however, we recommend consulting with your veterinarian. They'll be able to recommend the right joint supplement that's safe for your cat, especially if there are any other health issues.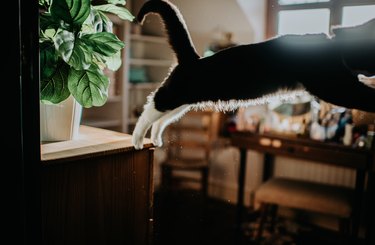 What to consider when purchasing joint supplements for cats
‌Ingredients:‌ Glucosamine and MSM (methylsulfonylmethane) are the most important ingredients to look for when you're first starting out with treatment for your cat's joint pain or even just as preventative care. Glucosamine helps slow collagen degradation and can help with inflammation. MSM also inhibits inflammation and is important for connective tissue, and it may help with pain and liver damage.
Other beneficial ingredients to look for include chondroitin sulfate, an anti-inflammatory agent that helps break down collagen; omega-3 fatty acids, which reduce inflammation and increase comfort; boswellia serrata, another anti-inflammatory agent; superoxide dismutase, an enzyme that breaks down potentially harmful molecules that can damage tissues; and yucca schidigera, an anti-inflammatory agent and strong antioxidant.
‌Type:‌ There are two types of joint supplements you can give your cat: chewable and powder. The one you go with will depend on your cat's eating habits. If they are a picky eater but enjoy wet food, powder that you can sprinkle on top is probably the way to go. If they're more into kibble, a chewable supplement will be your best bet.
‌Calories:‌ If your cat is overweight or on a specific diet plan, you'll want to check the caloric content to make sure you won't be adding too many calories to their diet. Consult your veterinarian to determine the proper daily calorie intake for your cat.
Scroll on to find different types of joint supplements for cat joint health.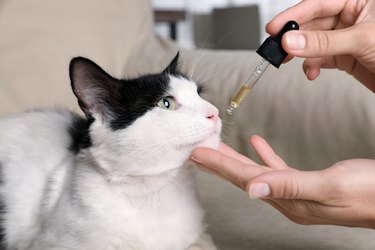 The best overall joint supplement for cats
When it comes to the best overall joint supplement for cats, the Nutramax Cosequin Joint Supplement Capsules for Cats are our top pick. Not only are they highly effective, but cats love the taste. They aren't the least expensive option, but they are a good middle-of-the-road supplement. It's a great cat supplement to improve their overall joint health for long-term maintenance. Choose from a 55-count or 80-count bottle in a one- or two-pack.
‌Active ingredients:‌ Glucosamine hydrochloride, sodium chondroitin sulfate, manganese
The best budget joint supplement for cats
Getting your cat to take a pill can be a pretty awful experience for all parties involved, which is why you and your cat will both appreciate Cosequin's Original Joint Health Sprinkle Capsules. Instead of a capsule your cat needs to swallow whole, they are able to easily be broken apart. To administer, simply break apart the capsules and sprinkle onto food to help relieve achy joints and promote mobility and flexibility. The bottle contains 30 capsules.
‌Active ingredients:‌ Glucosamine hydrochloride, sodium chondroitin sulfate, manganese
The best joint supplement capsules
Another great sprinkle capsule option is Nutramax's Dasuquin Joint Health Supplement for Cats. It's formulated with high quality glucosamine, chondroitin, and other helpful ingredients to provide the best joint support possible. The capsules come in a chicken and tuna flavor to entice your cat. If your cat won't eat their wet food with a whole capsule sprinkled on top, try starting with half a capsule on the cat food and work your way up. The formula will offer joint support to help improve your cat's mobility. The bottle has 84 capsules.
‌Active ingredients:‌ Glucosamine hydrochloride, sodium chondroitin sulfate, manganese, avocado/soybean unsaponifiables, boswellia serata extract, green tea extract
The best powder supplement for cats
Coco and Luna's Glucosamine and Organic Turmeric Supplement promotes joint and connective tissue health while also repairing and supporting healthy joints and cartilage for both cats and dogs. It also helps with arthritis pain through its anti-inflammatory effects. The natural formula can be sprinkled on top of wet food or given as a daily treat. In addition to powder, the supplement is also available in a liquid and tablet.
‌Active ingredients:‌ Glucosamine hydrochloride, chondroitin, MSM, organic turmeric
Vetoquinol's Flexadin Soft Chews are perfect for pet owners who have a cat and a dog, as the chews are formulated for both. Developed by veterinarians, the chewable tablets encourage optimal joint health and flexibility, as well as offers soothing joint support with type II collagen and omega-3s. The cat chews also include vitamin E to promote normal cartilage health and recovery and anti-inflammatory properties. The pack comes with either 30 or 60 chews.
‌Active ingredients:‌ Nonhydrolytic UC-11 from chicken cartilage, omega-3 fatty acids, dl-alpha tocopheryl acetate
The best liquid joint supplement
Liquidhealth Joint Purr-fection has all the ingredients needed to help maintain connective tissue resiliency and support your cat's joint hydration with hyaluronic acid. The formula is sourced from non-animal glucosamine and contains no sugar, starch, wheat, gluten, yeast, milk, corn, or soy. The liquid supplement is made with a beef flavor and real beef liver powder for a taste your cat will love. It's administered via a dropper and can be given alone or mixed into wet food.
‌Active ingredients:‌ Glucosamine hydrochloride, MSM, chondroitin sulfate, ascorbic acid, sodium hyaluronate, manganese
The best unflavored joint supplement
If your senior cat is a picky eater, has an aversion to certain flavors, or refuses to eat their food if anything out of the ordinary is added to it, try Best Paw Nutrition's Unflavored Liquid Glucosamine. They won't even know it's there. The 32-ounce bottle is specially formulated for cats and dogs who have stiffness in their limbs and have a hard time climbing stairs or jumping on furniture. It's jam-packed with anti-aging vitamins and minerals and advanced immune support, and it's an extra strength anti-inflammatory and pain reliever.
‌Active ingredients:‌ Glucosamine sulfate, MSM, chondroitin sulfate, vitamin C, L-proline, grape seed extract, CoQ10, manganese, hyaluronic acid, niacin, D-calcium pantothenate, riboflavin, pyridoxine, thiamin, folic acid, biotin, cyanocobalamin
The best tablet joint supplement
Here's another great option for families who have both a dog and a cat who need joint support (of course, you don't need a dog to buy it for your cat). Now's Joint Support chewable tablets help with joint flexibility and mobility issues. Formulated by a veterinarian, it is recommended to give a tablet to your pet during or after a meal to reduce the chances of it causing an upset belly.
‌Active ingredients:‌ Glucosamine hydrochloride, MSM, turmeric root extract, yucca, hyaluronic acid, cayenne