Whether your dog is attending a wedding ceremony as a guest or is in the wedding party as a dog of honor, flower dog, or ring dog, they need to wear the proper attire. (And yes, that could simply mean a fancy collar or leash.) There are lots of different types of dog wedding outfits to consider. You can buy your dog a fancy collar like a bow tie collar or flower collar, a special occasion leash, or even a dog bandana. If you want something more subtle for the wedding day, you can spring for a wedding accessory like a custom harness or dog tag with a personalized saying and the wedding date.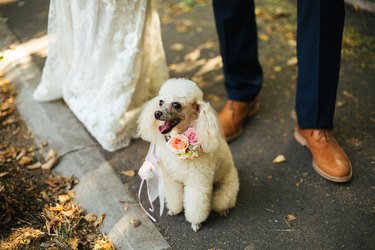 What to Consider When Purchasing Dog Wedding Attire
​Dress Code:​ The dress code for dogs will be whatever the dress code is for human guests—only cuter, obviously. If the wedding is fancy, you should opt for a tuxedo or a lace-adorned harness, or if it's cocktail attire, a simple bow tie or floral collar would work. If the dress code is more casual, a festive leash might get the job done.
​Color Scheme:​ If it isn't your wedding you're dressing your dog for, you'll probably need to check in with the people getting married to find out if they want your dog to match their color scheme. Of course, if it's your own wedding and you have a specific color scheme, your dog can match the colors directly or wear something with an accent of one or more specific colors.
​Dog's Temperament:​ We all want to look and feel fantastic in our wedding attire. Of course, dogs don't care how good they look, but they do care how they feel. You should buy your dog an outfit that fits their personality and temperament. We advise against purchasing costumes like tulle dresses or formal tuxedos for your pet as they can cause discomfort. Instead, it's best to opt for functional accessories like collars, harnesses, and leashes that dogs are already well accustomed to.
​Dog's Role:​ If your dog is walking down the aisle or part of the wedding in any capacity (like as the dog version of a bridesmaid, ring bearer, or one of the groomsmen), consider buying them an outfit or leash that matches the color scheme or attire of the wedding party.
Read on for the cutest dog wedding outfits for the big day.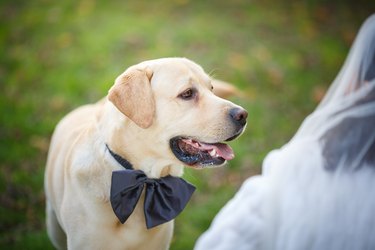 Large and Extra-Large Dog Tuxedo Harness
Warning: If you buy this adorable dog tuxedo harness, your dog will be the most dapper attendee of the wedding. Instead of opting for a tuxedo costume, which can cause your dog undue stress, why not purchase this made-to-order harness adorned with a bow tie, shirt collar, and button details? The 'waistcoat' portion comes in nine mostly neutral colors, including black, navy blue, light gray, and tan, while the satin bow tie comes in dozens of color options. The adjustable harness buckles on either side of your dog's body and there's a D-ring for attaching a leash or a ring bearer pillow. The large and extra-large sizes are intended for dogs over 35 pounds, but there is a separate listing for dogs under 35 pounds that's slightly less expensive.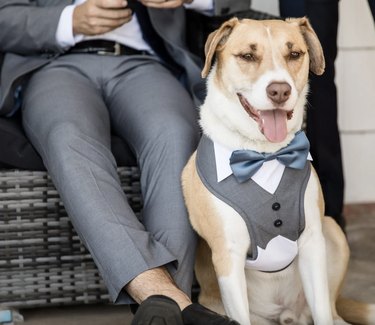 The Best Flower Dog Harness
Bond & Co. Flower Girl Dog Harness
This chic dog harness features a lace overlay, ruffled trim, and imitation pearls—the perfect alternative to a dress that could cause your dog to overheat or feel uncomfortable. It buckles under the belly on two sides and is adjustable to ensure a proper fit. A gold D-ring on the top allows you to attach a leash, and the underside of the harness is made of breathable mesh. It's sold in sizes medium (16- to 24-inch body length) and large (18- to 27-inch body length).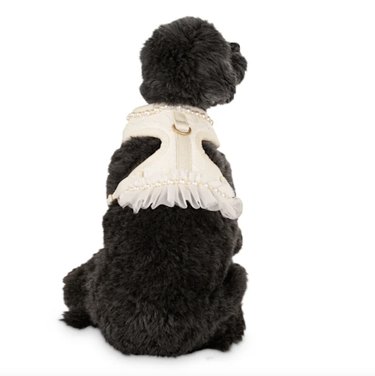 Faleela Bow Tie Dog Collar
Your dog will look especially handsome in this collar and detachable bow tie. The collar alone is super cute and casual enough to wear all the time, but with the bow tie, it becomes a dressier option for a wedding. The collar has a durable buckle and a slip lock for adjustable length. There are eight colors and designs to choose from, which can coordinate with a wedding's color scheme—or at least come close. The collar and bow tie are sold in sizes small, medium, and large.
House of FurBaby Shabby Gabby Succulent Dog Collar
The faux floral arrangement on this shabby-chic collar is perfect for a dog whose role is to walk down the aisle as the dog of honor. Made of vegan leather, the collar is adjustable, sturdy, and lightweight. A rhinestone buckle and loop add to the fanciness of the collar. The flowers are very well-made and can withstand the rough and toughness of a dog who likes to run around and play, which is ideal if you don't want to have to worry about your dog ruining them before the wedding even begins. Sizes range from extra-extra-small to extra-large, and you have the option to order the collar with or without a matching leash.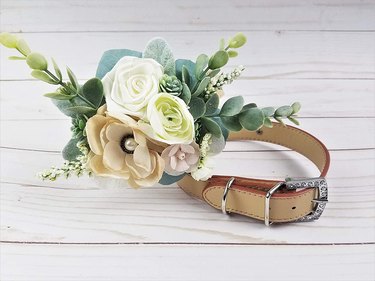 Frisco Wedding Reversible Dog Bandana
Your dog will be ready to walk down the aisle in this reversible dog bandana. One side of the bandana looks like a tuxedo for the 'best dog' and the other features a floral motif for the 'flower girl.' It's easy to attach securely with a hook-and-loop fastener, and it won't get in the way of a collar or leash. It comes in sizes extra-small/small and medium/large for dogs ... and cats, too! The bandana is also machine-washable if your pet gets it dirty before your big day.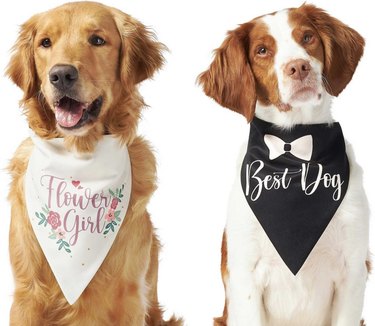 The Foggy Dog Ivory Velvet Dog Collar
The perfect accessory for any dress-up occasion like a wedding, this plush ivory velvet collar is extra soft and looks fancy and expensive. Since it's not overly pricey, this collar also makes for a great everyday collar. There are 11 color options, so you're bound to find one that works with the wedding's color scheme. The hardware options are gold or rose gold, and the collar comes in sizes extra-small to large. To really glam it up, you can purchase an ivory velvet lady dog bow or dog bow tie to attach to the collar.
HouseofFurBaby Wedding Dog Leash
Anyone who has a dog knows that when you get married, your partner marries you and your dog—so to speak. This adorable leash features the words "I Do Too" in rhinestones, along with a pretty flower arrangement, so everyone knows that your dog is on board for the nuptials. If you prefer the leash to say your dog's name instead of "I Do Too," you can have it personalized at no extra charge. There are 18 color schemes to choose from, and you can also buy a matching collar. Sizes range from extra-extra-small to extra-extra-large.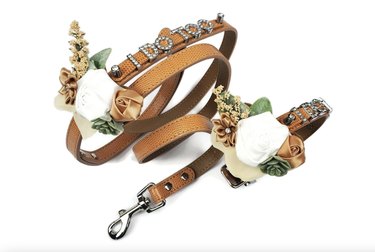 The Best Wedding Attire Set
Bobocollar White Personalized Dog Harness Set
Your dog will be completely aisle-ready for the special day with all of the accessories in this dog harness set. In addition to the dog harness, you get a matching leash, collar, bow tie, and poop bag holder. Choose from silver, black, rose gold, or gold buckle hardware that can be engraved with your dog's name. You can personalize it even more by choosing the font you like best. Both the harness and collar are adjustable. The available sizes are extra-small to large.
The Best Personalized Accessory
PrintSmitten Personalized Wedding Dog Tag
You can skip the outfits, fancy collars, and leashes altogether and opt for a less obvious and less expensive accessory like this personalized dog tag. You can choose a saying like 'Dog of Honor' or 'Keeper of the Rings,' or you can personalize it with your dog's name. You can also add the wedding date and choose the wood you prefer—either birch (lighter wood) or alder (darker wood).