It can be scary and overwhelming to find out that your dog has chronic kidney disease (also known as CKD, renal failure, or renal disease), but it's actually very manageable with the right diet. The wrong foods can exacerbate the illness, so a chronic kidney disease diagnosis does mean that you'll need to feed your dog a therapeutic diet to slow the progression and help reduce some symptoms. You'll need to steer clear from feeding them most table scraps (which aren't safe for any dog anyway). As far as people food goes, certain vegetables like carrots, sweet potatoes, and green beans are a safe treat as they are low in calories and high in nutrients and vitamins. If you want to give your dog a treat that's made specifically for dogs with kidney disease, you have several options.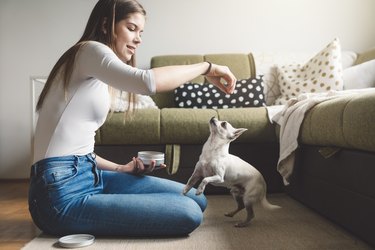 Many companies that make therapeutic diets also have treats for canine kidney disease. The best dog treats for dogs with kidney issues are going to be low-protein and made with high-quality ingredients. The kidney's function is to rid the body of toxins in the bloodstream through urine excretion, so it's important for a dog's body not to have an excess amount of protein as it breaks down. All dogs need protein in their diet, but too much can increase the kidney's workload and supply too much waste to the bloodstream. Low sodium is also essential to avoid hypertension, as well as low phosphorus levels.
It's important to work closely with your veterinarian to manage nutrition for your dog with CKD. They will likely recommend not giving your dog any treats until they have successfully transitioned to their kidney disease meal plan, but once that happens, treats made specifically for dogs with kidney disease can be a safe, nutritious, tasty, and fun supplement to their daily meals.
What to consider when purchasing treats for dogs with kidney disease
‌Ingredients:‌ It's important to monitor the ingredients in any food or treats you give your dog with kidney problems. Dog treats that are safe for dogs with kidney disease are low in protein and sodium and have low phosphorus levels. Therapeutic kidney diets are often supplemented with extra potassium since kidney disease can cause low potassium levels in dogs. Omega-3 fatty acids are also sometimes added to treats for dogs on kidney diets to help reduce inflammation and stress on the kidneys.
‌Flavor:‌ Your dog won't have a whole lot of options when it comes to the flavor of treats. Treats made of meat are too high in protein, but you can find some treats that have meat flavors like chicken or beef. Sweet potato is another flavor option that dogs are drawn to.
‌Cost:‌ Therapeutic diets for CKD tend to be pricier than regular dog food. You'll have to pay a bit more for treats formulated for a renal diet, but it's literally the price you have to pay to support kidney failure.
Take a look below at the safest and most nutritious treats for your dog with kidney disease.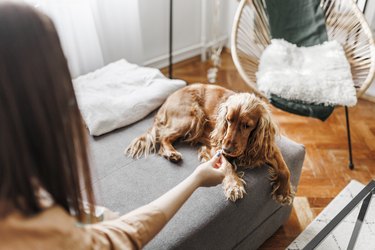 1. Hill's Prescription Diet Veterinary Dog Treats, 11-oz. Bag
Hill's Prescription Diet is a trusted brand for therapeutic diet dog food because the company uses scientific research and an evidence-based approach when developing the ingredients for their foods and treats. Formulated by veterinarians and nutritionists, these healthy dog treats give dogs with kidney disease the opportunity to enjoy a treat while also ingesting something that's beneficial for their kidney function, joints, and heart. The treats are chewy and the main ingredients are chicken and potatoes. They have 9% crude protein and added omega-3 fatty acids from fish oil, and they're low in sodium to help maintain heart and kidney health. At 35 calories per treat, you'll want to make sure that you don't give your dog too many as they could add too many calories to their diet. The treats are available in an 11-ounce bag.
2. Raw Paws Natural and Healthy Dog Treats, 8-oz. Bag
Raw Paws Natural and Healthy Dog Treats are the next best thing to homemade dog food as they are made with one ingredient only—dried sweet potatoes that are easily digestible for dogs. Sweet potato is a complex carbohydrate that's rich in vitamins and minerals and provides natural energy. These treats don't have any preservatives, chemicals, additives, or fillers, and they are grain-free and gluten-free. They are also chewy and easy to tear into pieces if you don't want your dog to have a whole treat. While they aren't specifically designed for dogs with kidney problems, these non-prescribed treats have a crude protein content of 4.2%, are low in calories, and are low in phosphorus. These dehydrated sweet potato treats are also an excellent source of beta-carotene (vitamin A), which promotes healthy skin, coat, eyes, muscles, and nerves in dogs. The treats are available in an 8-ounce bag.
3. Petipet Plant-Based Treats, 5-oz. Bag
Petipet's Plant-Based Treats are full of flavors your dog will love, and not any artificial flavoring—actual flavors from real apples and carrots. The human-grade apple and carrot bites are made with only five ingredients to give your dog a tasty treat full of vitamins and nutrients and nothing else. The treats don't have any corn, wheat, soy, added sugar, fillers, byproducts, or animal products. The company uses sustainable, upcycled fruit and vegetable ingredients in a carbon-neutral facility using a water-lite process. This 5-ounce bag is full of tiny treats that are small enough for dogs of all sizes and ages, and only have 12 calories per treat and 1.5% crude protein.
4. Zesty Paws Cranberry Bladder Bites, 90-Count
Zesty Paws Cranberry Bladder Bites will taste like a treat for your dog but they act more like a supplement that helps kidney function, the immune system, and offers urinary tract support. The soft chews each contain 200 milligrams of cranberry concentrate, which promotes urinary and kidney health, as well as renal function in both dogs and humans. Other ingredients that also promote healthy urination, inflammation relief, and detoxification include marshmallow root, licorice root, nettle seed, and astragalus. The chicken or bacon-flavored soft chews come in a 90-treat jar.
5. Fruitables Baked Dog Treats, 12-oz. Bag
Made with wholesome superfoods, Fruitables Baked Dog Treats have an irresistible taste, and they tout plenty of vitamins and nutrients. The oven-baked biscuits are full of antioxidants, have a sweet smell that dogs love, and they are crunchy—another thing dogs love. At only eight calories per treat, and with 8% crude protein, they're a yummy treat for your dog that you don't have to worry about. They're free of wheat, corn, soy, and artificial flavors and colors. There are several different flavor options, including pumpkin and banana, crispy bacon and apple, pumpkin and apple, pumpkin and blueberry, pumpkin and cranberry, and sweet potato and pecan. You can buy these treats in a 7-ounce or 12-ounce bag.
6. Benefit Pet Products Urinary Health Treats, 7-oz. Bag
These all-natural treats from Benefit Pet Products are made with cranberries to support urinary tract health and kidney function. They're plant-based, non-GMO, wheat-free, soy-free, corn-free, have limited ingredients, are locally sourced, and have no artificial preservatives. Since the treats are crunchy to avoid using harmful preservatives, they aren't recommended for dogs with dental issues. They're available in a 7-ounce or 1-pound bag.