Allergies can make life needlessly hard, and finding relief can feel like a lifesaver. When the allergies come from your food it can be incredibly hard to understand what to do about it because there are simply so many ingredients in each thing we eat, and the same rings true for our cats. Food allergies in cats can lead to symptoms like scratching and excessive licking, and if your cat's allergies affect their gastrointestinal system, it could result in butt scooting and extreme pain when passing a bowel movement. Figuring out what your cat is allergic to is most effective when done under the care of a veterinarian, and it is strongly recommended that you consult yours before making any changes to your cat's diet. Fortunately, when you do find out what ingredient to avoid, there are several excellent food options for your cat to enjoy.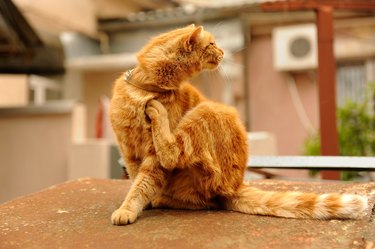 What to Consider When Purchasing Cat Food for Allergies
​Symptoms:​ For the most part, food allergy symptoms in cats appear on the skin, and usually cause cats to scratch themselves or over-groom due to the constant irritation and discomfort. The face, belly, paws, ears, and armpits are the most common areas where the skin becomes irritated. Sometimes, cat allergies can lead to diarrhea, vomiting, painful bowel movements, and refusal to eat if the allergen disrupts their digestive system.
​Limitations:​ After your cat has been diagnosed with a food allergy, you will want to find foods that don't contain this specific ingredient. Food allergies are always caused by a cat's immune system response reaction to a specific protein found in the food. Common culprits include soy, grain, dairy, fish, and meat by-products, the latter of which can be found in a number of commercially produced foods.
​Medical Advice:​ It's strongly recommended that you consult your veterinarian before making any changes to your cat's diet. Testing for food allergies in cats is a process that can be determined through blood work, ingredient limitations through food trials, and other methods, and it takes time to find answers. Quality commercial cat food is all formulated to meet your cat's nutritional needs, so subtracting certain things without first identifying if they need to go can seriously disrupt a cat's dietary health, so always check before making changes.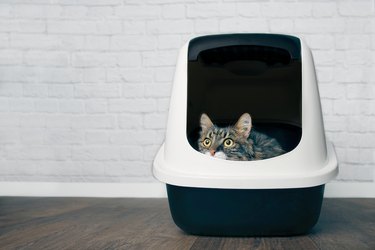 The Best Overall Dry Cat Food for Allergies
Purina Pro Plan Veterinary Diets HA Hydrolyzed Dry Cat Food
For dry food for your feline friend to enjoy, this option is a great place to start as it's reasonably priced and prescription-grade, meaning your veterinarian needs to sign off before you can purchase it. This ensures that your cat is taking the necessary steps toward an allergy-free eating experience. This hypoallergenic formula is formulated with a single, hydrolyzed protein source from chicken that's been broken down into very small particles, making it easy for your cat to digest and absorb nutrients. Additionally, this food uses low-allergen rice starch as a carbohydrate source.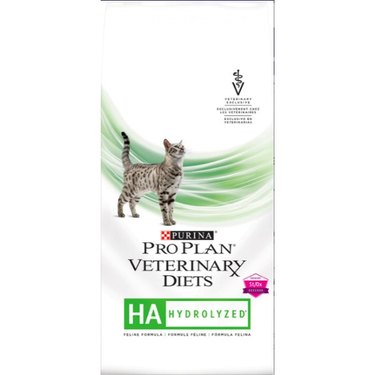 The Best Overall Wet Cat Food for Allergies
Instinct Grain-Free Wet Cat Food Pate, Chicken Recipe
If wet food is what your cat prefers, then this grain-free variety might be for them. Available in six flavors including chicken, lamb, venison, and rabbit, this high-protein wet food is formulated without ingredients that commonly trigger food sensitivities and irritate a cat's immune system, like corn, by-products, grain, potato, and soy. If you're transitioning your cat to a low-allergy food, this could be a great option as it can also be used for a topper as it is a wet formula, so you can add it over dry kibble anytime. This food is safe for cats of all ages, from kittens to seniors, but like any dietary change, you should consult your veterinarian before switching things up.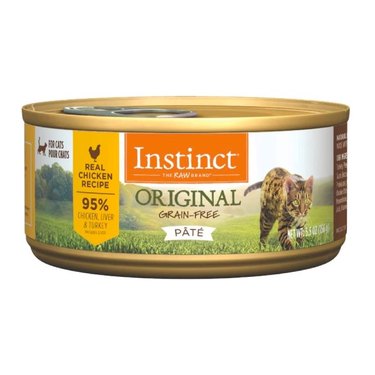 The Best Cat Food for Skin Allergies
Purina Pro Plan Allergen Reducing, High Protein Cat Food
Most food allergy symptoms appear on the skin, such as itching, hot spots, and flakiness, which can be irritating and incredibly uncomfortable for cats. This food does use an egg-based protein source which is featured to reduce the allergen D1, which can lead to cat hair and dander allergies in people but do keep that in mind if eggs trigger food sensitivities in your cat. The main source of protein, however, is turkey, and the prebiotic formula also fosters the development of good bacteria in the gut, which can ease stomach discomfort and encourage healthy skin function.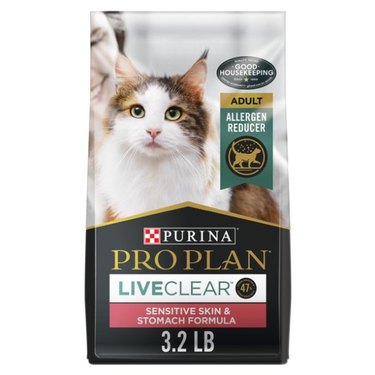 The Best Veterinary Diet Cat Food for Allergies
Royal Canin Veterinary Diet Adult Hydrolyzed Protein Dry Cat Food
Some cat food for allergies can be bought over the counter, although you should consult your veterinarian before adding this to your feline friend's diet. Other foods require that your veterinarian sign off before you can purchase them, which is easily done through the retailer you buy your cat food from. This dry cat food reduces stomach and skin reactions to food allergies by using hydrolyzed soy protein, which is less likely to cause the immune system to react as it's broken down into small particles. This fiber-rich, prebiotic formula also contains essential amino acids and omega-3 to promote healthy skin and coat.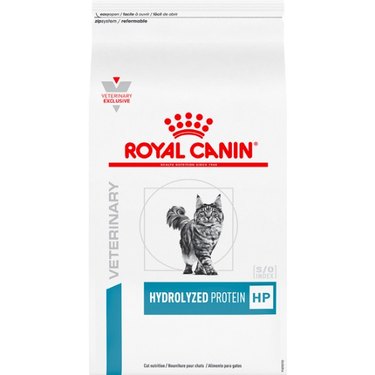 The Best Grain-Free Cat Food for Allergies
Hill's Prescription Diet d/d Skin/Food Sensitivities Venison & Green Pea Dry Cat Food
Many cats exhibit an allergic reaction to grain and the gluten that comes with it and thus require a grain-free diet in order to keep their feline health in tip-top shape. This limited ingredient diet cat food is made without fillers like corn, by-products, and obviously, grain, and uses peas as a source of carbohydrates and protein (although additional protein sources like chicken are also found in this formula). While this food can help alleviate irritation in sensitive stomachs, it's really designed to address skin allergy concerns and contains omega-3 and omega-6 fatty acids like fish oil to improve your cat's health. This product is formulated with low-allergen soybean oil, but if that's an ingredient that triggers an allergic reaction in your cat, it's best to talk with your vet about a different option. This is a veterinary diet pet food, meaning you will need your vet's sign-off in order to purchase it.
The Best Budget Cat Food for Allergies
Pure Balance Turkey Flavor Dry Cat Food for Adult
If your feline lives with cat food allergies but you aren't able to drop a hefty portion of your paycheck to keep them symptom-free, you can still find a low-cost option that doesn't skimp on quality, like this one. Vet-formulated to not trigger food sensitivities, this food is free of fillers, artificial colors, artificial flavors, and artificial preservatives, and relies on turkey as its main protein source, which is gentle enough for sensitive stomachs to handle, in most cases. It does, however, contain poultry by-product meal, corn, and gluten meal, all of which are common allergy triggers for some cats, so if your feline friend is sensitive to any of those ingredients, talk to your vet about recommending alternative low-cost options.