Brushing our teeth twice daily is what's recommended for people if we wish to keep our oral health in good shape. Cats and dogs require less time and frequency of brushing, but it is recommended that they have their teeth brushed regularly to prevent periodontal issues. In fact, between 50% and 90% of cats over the age of four struggle with dental disease in some form, most of which are completely preventable with regular upkeep like brushing. Finding the right toothpaste for your cat is the first step in creating an oral health regimen for them. Cat toothpaste is available in a wide array of flavors and formulas, including gel, wipes, liquid additives, and plain old paste.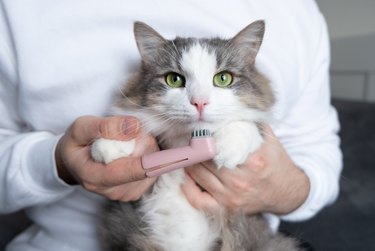 What to consider when purchasing toothpaste for cats
‌Method:‌ Oral health is an important part of pet care, and finding the right method to keep your cat's mouth clean can make all the difference. Cat toothpaste is generally offered in the same consistency, which is similar to our own toothpaste, and is either administered via a small brush, or a covering that goes over a person's finger, which is then inserted into the mouth. For cats who absolutely will not tolerate brushing, toothpaste wipes, gels, and oral rinses are another option to consider.
‌Flavor:‌ It's probably unsurprising, but most cats do not exactly appreciate having their mouths handled, even if it is what's best for them. That's why you should always do everything in your power to make brushing their teeth as enjoyable of an experience as possible, which will make things easier for everyone. Most cat toothpaste is offered in a variety of flavors, including tuna and chicken, so if you know your cat doesn't appreciate a certain flavor, steer clear of it and keep searching for a toothpaste that they enjoy.
‌Dental health:‌ Brushing your cat's teeth is something that's ideally done throughout the course of their life. Sometimes, like if you've adopted an older cat or if you simply haven't kept up on their dental health, brushing alone may be too little too late, especially if your cat has gum or periodontal diseases that cause pain in or around the mouth. Always consult your veterinarian before adding a new regimen to your pet's wellness routine, and when possible, schedule a dental cleaning on a regular basis to ensure optimal oral health throughout your cat's lifetime.
‌VOHC certification:‌ The VOHC, or Veterinary Oral Health Council, is an organization that offers seals of approval on pet-related oral health products that effectively slow down the formation of plaque and tartar buildup. If you wish to purchase products for this reason, looking out for the VOHC label can help to ensure that, when used correctly, the product will do just that.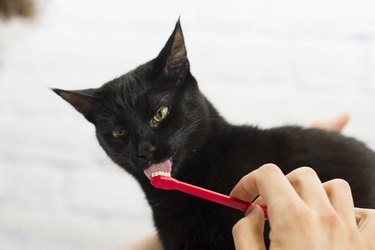 The best overall toothpaste for cats
If you wish to add an oral health routine to your cat's life but aren't sure where to start, this toothpaste is a great option. Non-foaming and meant to be swallowed, simply apply this toothpaste to a cat toothbrush of your choosing and let your cat's mouth take care of the rest. Formulated with enzymes, this toothpaste inhibits the formation of plaque and is offered in a delicious poultry flavor that most cats enjoy. If you live in a multi-pet household, this choice will serve you well as it's also designed for use with dogs.
The best budget toothpaste for cats
You don't have to spend a lot of money on cat toothpaste to ensure that your feline friend has a clean mouth and healthy gums. This complete kit is less expensive than many kinds of toothpaste and comes with a veterinarian-designed toothbrush as well as a finger toothbrush, so you have the choice to use whichever brush your cat prefers. Additionally, this kit comes with a 2.5-ounce tube of malt-flavored toothpaste, which uses an enzymatic formula to fight bad breath and reduce tartar and plaque buildup with every brushing.
The best flavored toothpaste for cats
People might prefer peppermint or cinnamon toothpaste for the taste, but when shopping for your feline friend it's important to consider what they want, which is most likely meat. Poultry-flavored and non-foaming, this toothpaste doesn't require any rinsing and is completely safe to swallow.
Using a triple-enzyme formula designed to improve the oral health of both cats and dogs, this pet toothpaste contains calcium lactate and vitamin E to promote strong and healthy teeth and gums. It is recommended that you use a toothbrush or finger brush of your choosing to administer this toothpaste daily or as directed by your veterinary professional.
The best dental wipes for cats
We know how important oral care is for ourselves and our pets, but that doesn't mean that our feline friends appreciate the extra effort we put into brushing their teeth. Not all cats will appreciate a cat toothbrush or even a finger brush in their mouths, and in those cases, dental wipes are an excellent option to consider. Formulated with natural ingredients like green tea extract, these wipes are an effective way to freshen breath, reduce tartar and plaque buildup over time, and make reaching the gum line easier than some other brushes as the thin film sits tight around the finger, which can reduce the risk of contracting gum diseases like gingivitis with regular use.
It should be noted that one ingredient used in these wipes is thyme oil, which is only included in small amounts and is considered pet-safe. Too much thyme oil ingestion can result in toxicity, however, so only use as directed and keep out the reach of your cat when not in use.
The best teeth cleaning set for cats
For first-time tooth brushers, or for anyone who prefers to provide a new brush for their cat every so often, a cat dental kit is a great way to save money and get everything you need in one simple purchase. Created by the same company that many people use to remove plaque and tartar buildup from their own teeth, the cat toothpaste found in this kit is formulated with baking soda and other natural ingredients to provide a gentle but effective clean.
This kit also comes with a toothbrush and a finger brush to clean your cat's teeth, and is offered in a tuna flavor for cats, as well as chicken flavor and vanilla ginger flavor for dogs and puppies.
The best water additive for cats
This is certainly not a cat toothpaste, but for felines with incredibly sensitive teeth, or cats who simply will not allow anyone to brush their teeth, this water additive is a great option to consider. This additive, which can be added to your cat's water, freshens breath while preventing gum disease by using natural ingredients for a gentle, brushless clean.
Available in fresh mint flavor, this additive can be added to water on a daily basis, this additive offers cat dental care that's minimally invasive, and perfect for cats with existing oral health concerns, like tooth decay, as it requires no bristles, which can irritate already painful gums and teeth.