If you have a cat-loving friend or acquaintance in your life, chances are they are among the easiest people to shop for that you'll ever meet. The pet lovers among us obviously have interests that extend beyond their furry friends, but still, receiving a cat-themed gift as a cat lover is never a bad thing, assuming it fits within their taste preferences. When considering gift ideas for cat owners, it's important to understand who you're shopping for, what their lifestyle is like, to a basic extent, and a little about their personal style to give the perfect gift. Not sure where to start? Take a look at this gift guide, which includes options in a number of price ranges and taste levels for the special cat lady, or cat sir, in your life.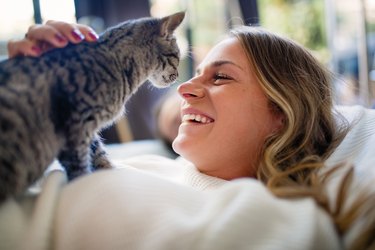 What to consider when purchasing gifts for cat lovers
‌Style:‌ This is an obvious thing to consider when purchasing any gift for anyone, but it's always worth mentioning to take that extra few minutes to think about who you're shopping for before you buy. Generally speaking, small items in neutral colors are a safe bet for just about any cat parent, and practical gifts, like mugs, tote bags, and cat prints will almost always be of use to anyone in your life. Of course, if you know the recipient's personal style a bit better, a unique gift, like a T-shirt or an ornament, can be a great idea to offer as well.
‌Practicality:‌ None of the gifts included on this list are intended for use on or with cats—they're all just for fun, and to let someone know you're thinking about them. That said, not every gift will be for every person, even beyond style preferences, so always think about the practical aspect of what you're about to give. If this gift will be shipped, how easy is it for your friend to receive packages? Do they have space to house a large framed print that hangs on the wall, or is something smaller more doable for them? Receiving a gift is always a nice thing, but not when it becomes a burden to keep it around, so if you're not sure, it may be best to send a gift card to an Etsy shop you think they might like rather than purchase something on their behalf.
‌Cost:‌ This one also goes without saying, but if you're looking to find a great gift to share with a cat lover in your life but don't have a ton of money to spend on one, don't sweat it. There are a ton of excellent gifts out there at a wide range of price points that just about anyone can appreciate. If you want to keep things simple and frugal, try using details about their cat, like their color, breed, or favorite activities to inform your gift idea. For example, gifting gray and white socks to someone with a gray and white cat can take a gift from easy to thoughtful, and the sentiment is sure to be appreciated.
1. Wrapables® Novelty Animal Print Crew Socks
It's an item every single person on the planet could use, only personalized to appeal to the cat-loving friend in your life, this five-pack of socks is adorned with a simple but cute cat design to wear every (work)day of the week. Offered in cream, gray, navy, red, and turquoise, these cat socks sit right above the ankle, perfect for making a playful statement under casual or dressy pants. These cat socks are made of a breathable cotton blend and are sold to fit feet in women's sizes 9-11.
2. Cat Lover Hiss T-Shirt
Got a rock 'n' roll lover in your life? Or maybe just a friend who has a favorite feline and an excellent sense of humor? A funny graphic T-shirt like this one can be a great way to make a pet parent in your life smile. Made from 100% cotton, the shirt comes in youth, women's, and men's sizes, ranging from 2T to 3XL. The graphic has a lived-in, vintage look, complete with cats wearing makeup inspired by the band Kiss.
3. SucculentsInBox Tiny Drinking Animal Planter
Cat parents and plant people are two groups that are easy to shop for, and if have a friend who happens to be both, you can satisfy both interests with this cute kitty cat planter. This ceramic planter dish self-waters in the cutest way by mimicking a cat licking water from an included dish, which actually waters the foliage you grow inside of it through wicking. It comes with seeds and substrate (the actual types are not listed) but you can replace them with any small herb or plant of your choosing, like catnip, catmint, or chamomile, all of which are safe for and enjoyed by most cats. The planter is on the smaller side, measuring 3.94 inches long, 2.76 inches wide, and 2.76 inches high.
4. Karen Mabon Short Printed Satin Pajama Set
This is the heftiest price tag of the bunch, but if you have a special loved one in your life who would love to honor their best friend in their sleep, these gorgeous pajamas are a great option. Made from 100% recycled polyester, these soft women's pajamas are machine-washable and currently available in sizes large and 3XL. The shorts are fitted with a drawstring waist, and the top has button enclosures and a cute pocket attached to the chest. Created in a mint green background with hand-drawn illustrations of cats and desserts, these PJs flatter just about everyone and make bedtime even more of a thing to look forward to.
5. BotegaExclusive Maneki Neko Ceramic Salt and Pepper Shakers
If you're looking for something small in size but dynamic in personality, these Maneki-Neko salt and pepper shakers can offer a compliment to any kitchen in a style that's classic, playful, and gorgeous to look at. Fitted with small magnets that keep them together, as well as removable rubber stoppers for refilling spices, these ship for free, but aren't dishwasher-safe.
6. YGMONER Lucky Cat Car Charm
If you have a friend or family member who spends any amount of time in their car, these hanging ornaments can offer a constant and cute reminder that you're thinking of them every time they get behind the wheel. Available in nine different color combinations, they include two cats on one chain, which hangs over the rearview mirror, keeping it safely out of the way but always on display.
7. akasiaCaseCraft Set of 8 Vintage-Style Matchboxes
If you're shopping for someone you know who doesn't have to space to house a large gift, or simply doesn't want any more stuff cluttering their home, something small and easily stored can be a great way to show appreciation. This set of matchbooks contains eight individual vintage-style prints on the front of each box, with a solid black print on the back. You can purchase these without matches, or add matches for one dollar more. This set is ideal for anyone looking to save money on their gift-giving practices as you can gift all or just one depending on your preference.
8. WagsDesignCo Custom Pet Portrait From Photo
Home decor as a gift can be risky as everyone has their own personal tastes, but if you're shopping for a cat lover, a custom pet portrait is almost always a safe way to go, and might just be one of the best gifts for cat lovers we can think of. There's little to no risk with ordering these portraits as they're digitally rendered images of photos you send in, so no need to worry that the final result you're presenting won't end up looking like your friend's cat. Offered as a digital download only, or as prints either framed or unframed, you can choose from one of six flattering background colors to feature the image on. This ships for free, and also comes with personalization, so you can include the name of your friend's cat on the print if you like.
9. The Protector Tote Bag
For the friend who's fond of cats ‌and‌ divination, opt for this tote bag inspired by tarot cards. It's made from a canvas-like material and is double-stitched for durability. Choose from three sizes: 13 by 13 inches, 16 by 16 inches, or 18 by 18 inches. The artist who created the design, Thiago Correa, offers many other options for cat/tarot lovers, like The Hermit, featuring a cute kitty in a box, and Five of Cups, starring a mischievous cat knocking over goblets of red wine.
10. 299 Cats & a Dog Puzzle
This cluster puzzle is a fun and challenging way to spend an evening with friends. As the name suggests, it features 299 felines and one sausage dog (trying to spot him in the crowd feels like a game of "Where's Waldo?"). The jigsaw pieces are pet-shaped and beautifully illustrated by Léa Maupetit. It's suitable for ages 8 and up and is a welcome departure from the traditional jigsaw puzzle.