Fish oil is widely used among people and pets as a dietary supplement that offers a number of health benefits. The benefits of fish oil for cats include improved coat health, better joint health and mobility, lowered blood pressure, and improved cognitive function. Because it is naturally rich in omega-3, an essential fatty acid, it's ideal for cats who may suffer from heart disease or kidney disease, the latter of which is fairly common among older felines. Adding any dietary supplement to your cat's regimen should only be done under the guidance of a veterinarian, especially if your cat has health issues or is currently taking medication. If you're looking to add fish oil to your cat's diet, there are a number of products available over the counter, both as liquid formulas to add to your cat's meals, or in convenient chews.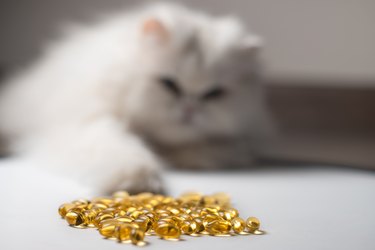 What to consider when purchasing fish oil supplements for cats
​Consult Your Veterinarian:​ As with any change to a pet's diet, always be sure to consult your veterinarian before adding any dietary supplements to your cat's meals. Fish oil is generally safe for most pets but can result in side effects like stomach upset, delays in wound healing, lethargy, and itchiness if given in high doses. A veterinarian can help determine if adding an omega-3 fish oil supplement is right for your cat, will prescribe the correct dosage, and if your cat is currently on medication, can ensure that this supplement is safe to take with it without compromising efficacy.
​Flavor Preferences:​ While many cats love the taste of salmon, anchovies, sardines, tuna, and other types of fish, some cats just don't enjoy it, so adding fish oil to their food will probably only result in your cat not eating as much. Fish oil offers a number of benefits to people and cats alike, namely, because it's rich in omega-3 fatty acids. It's also anti-inflammatory, which can improve joint health and some skin concerns like dermatitis, and it's a natural anti-coagulant so it can lower blood pressure and prevent blood clots when taken regularly. If your cat doesn't like the flavor of fish, you can still offer them some of these benefits from other oils rich in omega-3 fatty acids, like flaxseed oil and coconut oil.
​Stomach Sensitivity:​ When added to pet food, fish oil doesn't have too many side effects, but it's definitely possible for some cats to experience them. The most common side effect of fish oil is an upset stomach, which can include vomiting and diarrhea. If your cat already has a sensitive stomach, there are some brands that are formulated to be gentler than others and may help avoid symptoms.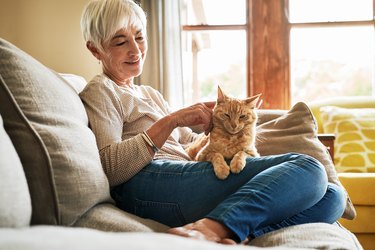 The best overall fish oil supplement for cats
Zesty Paws Wild Alaskan Salmon Oil Liquid Skin & Coat Supplement for Dogs & Cats, 8-oz. Bottle
For quality fish oil at a reasonable price, this one tops our list. Made from GMO-free ingredients, and devoid of any artificial preservatives, flavors, and synthetic colors, this is pure salmon oil from sustainably harvested wild Alaskan salmon. Each pump equals about one teaspoon, which contains 850 milligrams of omega-3 fatty acids, including docosahexaenoic acid (DHA), and eicosapentaenoic acid (EPA), both of which are anti-inflammatory and keep the immune system working properly. This oil can be added to dry or wet cat food, and the recommended dose is one pump per 20 pounds of weight, but be sure to check with your vet for the most effective dosage.
The best budget fish oil supplement for cats
American Journey Wild Alaskan Salmon Oil Formula Liquid Supplement for Cats & Dogs, 18- or 32-oz. Bottle
You don't have to spend a fortune to ensure that your cat is getting her daily intake of omega fatty acids. At just 77 cents an ounce (68 cents if you buy the larger bottle), you can offer your cat her daily serving of EPA and DHA omega fatty acids from wild-caught Alaskan salmon and pollack. This option goes right on top of your cat's food to promote healthy skin, and to keep your cat's brain and vision functions operating normally.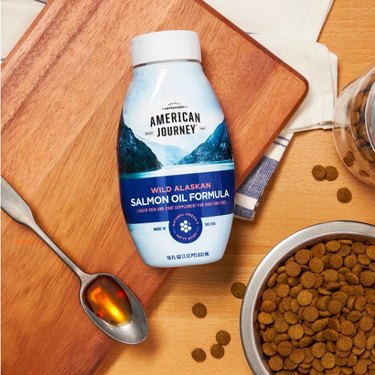 The best fish oil supplement for sensitive stomachs
Nordic Naturals Omega-3 Pet Liquid Supplement for Cats & Small Dogs, 2-oz. Bottle
An upset stomach is one of the most common side effects of using fish oil for cats, so if your feline friend has a sensitive tummy, you'll want to shop for something with high-quality ingredients. This oil, which dispenses from a dropper rather than a pump, is made with wild-caught anchovies and sardines to support heart health, skin and coat function, and joint pain relief. This oil is known for its optimal absorption rate thanks to its processing technique, which keeps fish oil in the triglyceride molecular form (AKA the natural form that fish oil takes in the fish).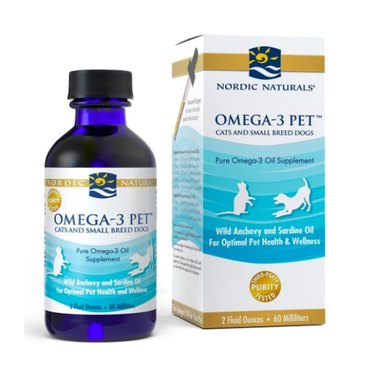 The best fish oil supplement for weight gain
PetHonesty Wild Alaskan Salmon Oil Liquid Skin & Coat Supplement for Cats, 8-oz. Bottle
Some cats, like sick or injured felines, or senior cats, may need a few extra calories from time to time. While fish oil is naturally rich in omega-3 fatty acids, fish is not actually a great source of calories, and neither is the oil, assuming you're offering it as directed. That said, some types of fish are higher in calories, like salmon, which is the only ingredient used to make this oil, and because it's wild-caught and not farmed, it does contain more omega fatty acids like DHA and EPA. Additionally, this oil is mineral-packed and includes vitamins and minerals commonly found in fish oil, including B12, D3, biotin, and potassium.
The best fish oil supplement for weight loss
Fera Pet Organics Fish Oil Drops for Dogs and Cats, 8- or 16-oz. Bottle
If your cat doesn't exactly need the extra calories each day but you still want to offer them the many health benefits that come with taking fish oil, you can find lower calories options out there, including this one. This oil is made with GMO-free ingredients including wild-caught sardines, anchovies, mackerel, and herring, all sourced from Icelandic waters. These smaller fish are lower in calories than salmon, which is commonly used to create fish oil. Additionally, this oil is distilled to remove toxins and heavy metals commonly found in wild-caught fish, and contains sunflower oil, which naturally adds a dose of vitamin E to every serving—a great ingredient for coat and skin health.
The best chewable fish oil supplement
21st Century Essential Pet Alaska Wild Salmon Oil Skin & Coat Support Soft Chews Cat Supplement, 100-Count
Fish oil is commonly served in its oil form and delivered via a pump or dropper. Some cats, however, just don't appreciate having a slick oil on top of their food and may prefer a chewy treat to get their omega-3 fix. These soft chews are made from salmon oil that comes from wild-caught Alaskan salmon, and contain the fatty acids EPA and DHA to promote healthy joints, a healthy coat, optimal heart function, and reduce itchy skin in some cats. Because this is not pure oil it does contain more ingredients than the other supplements included on this list, including brewer's yeast, rosemary extract, dried cheese, liver meal, and corn starch. One chew is recommended per 10 pounds of body weight and can be offered with food or as a snack daily.