Puppy teething is a natural part of every dog's life and can be pretty uncomfortable for many dogs. Dog toys designed to alleviate the pain and discomfort associated with teething can be a huge relief during this time, which usually begins at about two weeks old and can continue for anywhere between six and eight months, which is when most dogs have their adult teeth. Finding the right chew toy for baby teeth will depend on your dog's preference, and most teething toys for puppies are made of rubber, plastic, rope, plush, and sometimes edible materials. Your puppy will probably go through multiple chew toys during their teething stage and finding one that's durable can be easy on your budget, and serve as a sense of comfort and dependability for a young pup.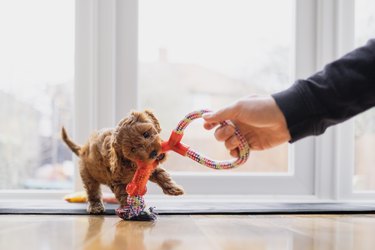 What to consider when purchasing toys for teething puppies
‌Size:‌ Finding the right size chew toy for your teething puppy is probably the single most important thing to keep in mind when shopping. Playthings that are too small are prone to breaking but they can also become choking hazards if your puppy attempts to swallow the toy or pieces of it. Most chew toys are labeled by age and size, but a good rule of thumb when selecting a non-edible chew toy is to find one that your dog will chew with the sides of his mouth, rather than from the front.
‌Durability:‌ Chewing is destructive, and most likely, no toy will be free from damage after it's been chewed day in and day out for six months. Some toys are more durable than others, like KONG brand toys, and any toys made from a rubber material, thick rope, or even hard plastic if your puppy's teeth are small enough. If you don't have a terribly aggressive chewer on your hands, or you don't mind purchasing new toys on a regular basis, a plush toy could be a very soothing option for sore gums.
‌Flavor:‌ Some chew toys are flavored, namely, edible toys that are intended to be eaten. It's important to keep in mind which flavors your puppy prefers, as an unwanted flavor chew could encourage your puppy to seek out other materials to get their mouth on, like shoes or furniture. Some non-edible toys are flavored as well, so always be sure to look for this detail if you have a picky eater.
‌Material:‌ It's obvious that not all materials are created equally in terms of durability, and not every puppy will enjoy the same feel in their mouth. Helping your puppy get through the teething phase as safely as possible relies on finding a toy they enjoy, so if you're not sure, a variety pack of toys that includes options like rubber chews and thick plastic bones. Rope toys are another fairly safe bet for most dogs, and when sized correctly, can stand up to a healthy amount of destruction.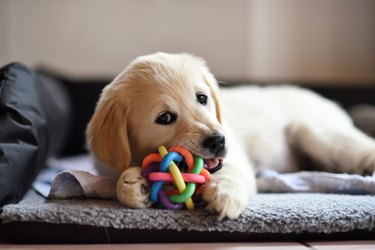 The best overall puppy teething toy
When it comes to shopping for a chew toy that's made of long-lasting materials, KONG is a name that comes to mind for many pet owners for the durable toys they offer dogs of all sizes. Unlike the classic hive shape, this chew toy is a teething stick, still made with KONG's classic rubber material. The smooth ridges engraved into this toy clean teeth gently and can hold small puppy treats for a bit of extra enjoyment.
The best budget puppy teething toy
Most puppies go through a number of chew toys on their teething journey, and many enjoy having multiple options to choose from. This starter pack features three different Nylabone puppy chews—one smooth to soothe painful gums, one bristled to clean teeth and massage the mouth, and one edible chicken-flavored treat to enjoy as a long-lasting snack. This pack is intended for use among puppies under 25 pounds, and each of these toys is available individually in a variety of sizes for larger pups.
The best teething toy for small puppies
Small puppies need smaller-sized toys to fit in those little mouths, but when they're teething, those toys still need to stand up to constant gnawing. This key ring, similar to human baby teething toys, is made of a soft thermoplastic polymer material that can withstand baby teeth on small canines. The bumpy raised texture also massages sore gums while cleaning teeth, preventing tartar buildup, and getting your puppy started on their oral hygiene wellness routine in a way that's enjoyable and not invasive. This toy is designed for extra-small puppies, and should not be given to big puppies or adult dogs who have permanent teeth.
The best teething toy for large puppies
Big dogs need toys that are built to last, and big puppies are no different, especially during those potentially destructive teething stages of life. Available in two colors, pink and blue, and three sizes, from extra-small to large, this classic toy can keep your puppy entertained for hours. Like regular-sized KONG toys, this puppy teething toy can be filled with treats for interactive fun, packed with dog-safe peanut butter and frozen, or offered as-is as a chew toy.
The best edible puppy teething toy
Some puppies don't need to constantly chew to alleviate their teething pains, and just the same, some dogs just like to eat what they put in their mouths. These lamb and apple edible chew treats contain fish oil to supplement healthy joints, heart health, and brain and eye development, and taste great in a natural bacon flavor. This long-lasting treat is completely edible, made with natural ingredients, and free from artificial preservatives, flavors, and colors. It's recommended that these treats be reserved for puppies under 20 pounds as they are on the small size with each chew measuring just under two-and-a-half inches in length.
The best freezable puppy teething toy
One thing about teething is that it irritates the gums, leaving them inflamed and sometimes swollen and feeling like they're on fire. If you notice your puppy whimpering due to teething pains, a frozen chew toy may be a good choice as the cold temperature can temporarily soothe inflamed gums. Already filled with water, all you need to do is pop this in the freezer and then offer it to your puppy, or you can add treats to it and turn it into an interactive playtime game. It is designed to withstand aggressive chewers while relieving discomfort thanks to its endless ring design that's fitted with smooth bumps to massage gums. This toy is 4.5 inches in diameter and 1.2 inches thick.
The best puppy teething toy for aggressive chewers
Some puppies have worse teething experiences than others, and some dogs are just naturally inclined to chew and destroy. In that case, a toy designed to withstand aggressive chewers is the best way to keep toy costs low and ensure that your puppy always has something to chew on in the house. This wishbone-shaped chew toy is made of durable nylon and is offered in four sizes, so it can be an option for any size, including large breed puppies. It's also flavored to appeal to dogs even more and is offered in chicken, bacon, and peanut butter flavors.
The best puppy teething toy multipack
Want to alleviate your puppy's teething aches but not sure where to start? A variety pack is a great way to offer your pup a multitude of different toys to chew on and can help you learn which types of toys she likes best. This multi-pack comes with 18 toys, including rope toys, squeaky plush toys, a soft flying disc for playing, rubber balls, and teething rings. Because the items in this package are not designed for strong chewers, it's best intended for very young puppies, small puppies, or pups who keep gnawing on the light side.
The best rope puppy teething toy
If you're looking to play a fun game of tug-of-war with your puppy, or want to provide a somewhat interactive toy to keep your canine pal entertained, this rope bone is a good option for either situation. Equipped with both a rubber KONG chew and thickly woven rope, this toy encourages chewing and soothes irritated gums while allowing pet parents to maintain a firm grip if they wish to play. Additionally, the rubber bone on the toy is designed to hold treats, turning this toy into interactive fun for puppies learning to self-entertain.