If you're looking to purchase a gift for the dog lover in your life, you'll be happy to know that there are plenty of options. In fact, there might be ‌too‌ many options, which can make the process feel a little overwhelming. But don't fret—we've corralled 10 of the very best gift ideas for those who own or admire canines. From customized sweatshirts to treat-dispensing pet cameras to dachshund-shaped drink markers, we've got something for every type of dog lover on this list.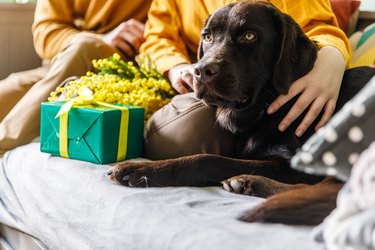 What to consider when purchasing gifts for dog lovers
‌Style:‌ Before purchasing any gift, you should reflect on the personal style of the recipient. Think about their style of dress or how their home is decorated. If their interior design style leans minimalist, a busy, brightly-colored art print probably isn't a good fit. You might also consider what their dog looks like, and search for gifts that are specific to that breed, such as a corgi or dalmatian.
‌Practicality:‌ If you're shopping for someone who lives in a small space or is picky about what they bring into their home, shop for a practical gift they'll get a lot of use out of. Examples could include a pet camera for checking in on their dog while they're at work or a coir doormat that prevents dirt from being tracked inside the home.
‌Personalization:‌ Some of the most special gifts for dog lovers are ones that can be personalized. Etsy is the go-to online marketplace for custom, handmade goods, and you can find plenty of gifts that feature the dog's name and/or likeness, whether it be through a photo, illustration, embroidery, or something else entirely. Don't have a reference photo of your gift recipient's dog? Social media makes it easy to nab one on the sly.
1. VanWoof Custom Dog Portrait
For the dog lover who has everything, consider gifting them a custom dog portrait. Etsy shop VanWoof offers a whopping 97 background options to choose from, inspired by renaissance paintings, pop culture, sports, and more. Once you've paid for the portrait and selected a background, send the seller a high-resolution, close-up shot of the dog in question. You can choose between a digital-only print, a poster, or a canvas in several sizes.
2. Fred Dachshund Dog Drink Markers, Set of 6
For the dog parent who loves to entertain, opt for these adorable drink markers that curl around the stems of wine glasses. The charms are made of BPA-free silicone and are flexible enough to fit around most styles of stemmed drinkware. Each mini dachshund is a different color, and the pack of six comes in a box that's ready for gifting.
3. York Wallcoverings Dog's Life Wallpaper
Gifting someone wallpaper is a risky choice, but if you know they are planning to tackle a home improvement project like a powder room remodel or a home office makeover, this print is an adorable option. The wallpaper features an array of dog breeds including bulldogs, dalmatians, and poodles, some sporting fun outfits like bowties, sweaters, top hats, and glasses. It's made in Pennsylvania by York Wallcoverings, one of America's oldest wallpaper manufacturers. Each roll measures 33 feet long and 20.5 inches wide, covering 56 square feet of wall space.
4. ​​OllieandPenny Custom Dog Ears Sweatshirt
This subtle and sophisticated crewneck sweatshirt can be personalized with the silhouette of a dog's ears and their name. There is a wide range of ear shape options to choose from, making it possible to find one that looks like the dog of your gift recipient. Just note that the Etsy seller does not draw custom ear silhouettes. This one-of-a-kind sweatshirt is sure to delight any dog lover and is perfect for walking the dog or pairing it with jeans. Choose from 15 different colors and five sizes, ranging from small to 2XL.
5. Entryways "Wipe Your Paws" Bone Shape Doormat
This bone-shaped doormat makes an ideal housewarming gift for any dog parent. Made of coconut fiber coir, the mat is hardwearing and traps dirt to keep it from reaching your floors. The doormat features a paw print design and the phrase "Wipe Your Paws," which is hand-stenciled using eco-friendly dyes. The doormat is fade-resistant and long-lasting, complete with a PVC slip-resistant backing to prevent it from sliding around on your front porch or doorstep.
If your gift recipient has ever wished they could spy on their dog while they're at work or running errands, consider the Furbo 360-degree dog camera. Featured here is the latest version of the pet camera, which offers a 360-degree rotating view, color night vision, 1080p live view video quality, and 4x zoom. If your dog gets up and walks away, the camera will automatically turn and follow them to keep them in the frame. The Furbo also boasts two-way audio and treat-tossing capabilities and will send push notifications to your smartphone when your dog is barking. It's super easy to set up using your home's WiFi, and you can upgrade to Furbo's Dog Nanny subscription for additional safety alerts.
7. Pearhead Pawprints Wall Picture Frame, 4 x 6-in.
Crafty dog parents will appreciate this photo frame and paw print keepsake. The dual-slot picture frame comes with pet-safe clay, so the recipient can create an imprint of their dog's paw. A rolling pin, adhesive tab, and ruler are also included. Once the paw print impression is completely dried, it can be placed on one side of the frame, and a 4-by-6-inch photo can go on the other. The frame is neutral with a distressed finish, so it blends in well with most home decor styles.
8. 4275handmade Starbucks Reusable Pup Cup
Does your friend's dog get excited every time they pull up to the Starbucks drive-thru? Then this reusable pup cup could be a fantastic gift idea. Instead of throwing away those weekly pup cups, your dog-loving friend could bring along their own reusable cup. This listing is for a yellow pup cup, but the seller offers other color options like blue, purple, pink, black, and clear. Choose from three text options: Pup Cup Queen, Pup Cup Addict, or [dog's name] Pup Cup. For an added fee you can also add the dog's name or social media handle to the side of the cup. The label is holographic, and the 8-ounce plastic cup is BPA-free.
For dog lovers who enjoy spending time in the kitchen, this countertop treat baker makes it easy to whip up goodies at home. There's no need to turn on the oven because this all-in-one treat maker turns out eight bone-shaped treats in mere minutes. It's super easy to use—just pre-heat, add batter, and bake. The treat maker even comes with easy-to-follow recipes using yummy, all-natural ingredients. It has a bone and paw print exterior and is relatively compact at only 10.5 inches long and 9 inches wide. As an added bonus, the plates have a BPA-free nonstick coating to prevent the treats from getting stuck while they are baking.
10. Fringe Studio Stitched "Dog Lover" Canvas Pouch
This small canvas pouch is perfect to pop into a training bag and can be used to contain poop bags, clickers, or treats, or human necessities like credit cards and lip balm. It's a simple and useful accessory (measuring 5 inches long and 4 inches wide) that can fit with practically any look. The pouch is made with 100% heavyweight cotton, has a zippered closure, and features fringed edges and a tassel zipper pull. The pouch has an embroidered design of a running dog and the text reads "dog lover." It's so charming you may want to buy one for yourself, too.