Signing up for a monthly subscription box is a great way to try new things, keep your home stocked, and, simply, experience the joy of receiving a little gift at your doorstep each month. This also applies to our cats, who benefit from monthly subscription boxes and the new toys, treats, and other gadgets they bring. Subscription services vary in price, are sometimes customizable, may be themed, and can be ordered on a monthly, quarterly, or annual basis. If you're shopping for a monthly cat box, consider your budget, the number of felines you have, and what kinds of items your cats like best.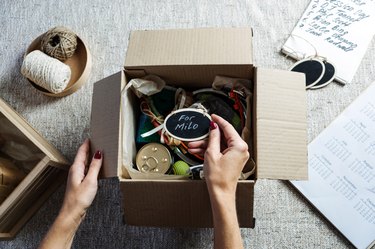 What to Consider When Purchasing a Cat Subscription Box
‌Needs:‌ Getting your cat a box of fun stuff will only go the distance if it's filled with things they like and want. Some boxes are more toy-heavy, while others lean toward treats, food, or wellness items like skincare or catnip.
‌Cost:‌ The right subscription box has to be the right price, so don't overlook what you're able to spend monthly or annually when shopping for a service. There are many excellent subscription service options out there that won't cost you an arm and a leg, especially if you're able to customize the number of items you receive in each box.
‌Frequency:‌ Not all cats need a new box of items each month, and finding a schedule that's practical will not only serve them but will also make more fiscal sense for you. Some services require a monthly frequency, although it's absolutely possible to find services that send boxes less often.
The best overall cat subscription box
The best subscription service for you will depend on what your cat wants and needs. This one is a great overall option as it works for most people and their feline friends. Unlike other services, which arrive on a monthly basis, this one runs on a three-month schedule, saving you money and giving your cat enough time to run through the previous quarter's box. Each box costs $45, and the price drops to $37 if you order by the year. They're filled with a variety of different cat products with each arrival, including handmade cat treats, vegan skincare for cats, toys, gadgets, and cat gear.
The best value cat subscription box
Cat parents can get their cats a subscription service without spending a ton of money in the process. KitNipBox makes it possible to renew your cat's toys and treats supplies on a regular basis by offering a variety of boxes for under $30 a month. Their Happy Cat box comes with an assortment of five toys and treats, the Dietary box sends an extra toy in place of treats, and the Multi-Cat box comes with seven items to keep multiple cats entertained. Boxes start at $22.99 a month, and the first box is discounted, running between $17.24 and $25.49 depending on your choice. Additionally, a portion of the proceeds is donated to support shelters, rescues, and TNR efforts around the country.
The best subscription box for kittens
When it comes to keeping curious cats busy, engaged, and entertained, nothing has higher needs than a kitten. This box, available at Chewy, is filled with a whopping 13 toys including a catnip toy, a plush, a teaser and ball, two treats, and a sample of ORIJEN kitten food, so your new friend can sample a wide variety of enrichment items and find their favorite ones. Cat parents will save over 30% off the retail price of the items included in this box. The boxes aren't customizable but are offered in different themes which are updated regularly. Unlike many of the other boxes included in this list, this is a one-time purchase box and does not come sold as a monthly subscription.
The best cat food subscription box
Just looking to have cat food sent to your front door each month? This company offers some truly high-quality cat food that's made with all-natural ingredients to create high-protein, human-grade meals meant for felines. Featuring formulas made from chicken, beef, and turkey, you can choose from ground meat or pâté consistency. You can get your first plan for $10 off the standard price, and you are able to customize your subscription to change recipes, tweak the quantity in your order, or even delay shipments for any reason. In order to find the right food for your feline friend, you are asked to fill out a simple questionnaire before ordering so the Smalls team can get an understanding of your cat's age, body type, and flavor preferences.
The best cat subscription box for giving back
If you wish to spread some joy to cats who really need it, all while offering your own feline something special every month, find a service that gives back. The RescueBox is committed to providing an excellent service to fortunate cats and extends that dedication to helping our less fortunate furry friends. In their work with The Animal Rescue Site, this organization provides 142 bowls of food to animals in shelters with every purchase. Each box contains five pet products, including fun toys and healthy treats for cats of all ages.
The best cat subscription box with a monthly theme
Seeing the themes that subscription boxes are modeled after each month is one of the most fun things for cat parents and their cats. With Meowbox, you can either choose the theme or let them pick one for you, and boxes can be ordered either in monthly increments, or every other month, depending on your needs and preferences. Canceling is easy, and shipping is free, as it is with most boxes, but this company extends that offer to those in Canada. The treats contained in this box are either grain-free, single-ingredient, or organic, and the toys are functional and high-quality for the best experience.
The best cat box with no monthly subscription
Not everyone who wants a great deal on an assortment of cat toys and treats wants or needs to commit to a monthly subscription. If that sounds like you, consider a one-time purchase like this one, which is described as the "ultimate birthday bundle for cats." Items in the box include a festive bowtie, eight catnip toys, one cat chute toy, one tasty treat, and a Happy Birthday banner.