The type of litter box you choose for your cat will depend on your cat's preference, the size of your space, your aesthetic taste, and the frequency in which you can commit to cleaning it. Many people like top-entry litter boxes as they usually come with a lid, which encloses the litter box. This can help with a number of litter box-related issues, including odor control, privacy, and keeping curious dogs out of the litter pan. Top-entry litter boxes come in a number of sizes and design styles and are offered in a wide array of price points so just about any budget can be met.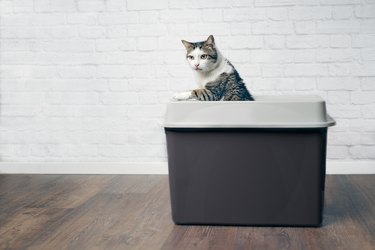 What to consider when purchasing a top-entry cat litter box
‌Size:‌ There are two sizes to consider when shopping for a litter box; 1. the size of your cat, and 2. the size of the space the box will be stored in. Top-entry litter boxes are usually sold in various sizes, especially if there is a cut-out entry hole for your cat to hop into, so be sure to shop for the correct size to ensure that your cat uses the box without issue. And, like any litter box, the size of the room it will stay in is important, perhaps more so as top-entry boxes usually come with an attached lid, which can take up even more space than the standard open box.
‌Dexterity:‌ Your cat's physical abilities will absolutely affect how they use a litter box like this one, so if you have a cat who has joint pain, muscle stiffness, or other mobility issues but still wish to find an enclosed litter box, you might need to search for one with high sides only, a front-entry option, or provide something for your cat to walk onto that will make the top-entry accessible (just make sure they can easily hop out.)
‌Cleaning:‌ Keeping a litter box clean is a task that most cat owners don't exactly look forward to, and while a top-entry or enclosed litter box can help with odor control issues, you will still need to keep the litter tray clean if you want your feline friend to keep using the box. Some top-entry options feature a tray that slides out, others rely on removable liners, and some will require detaching the lid to scoop waste.
‌Litter Tracking:‌ If you have a cat who tracks litter around the home, or have multiple cats who sometimes use the same box, you will benefit from a lid that comes with a grate or mat built-in to collect litter from the cat's paws before they step onto the floor.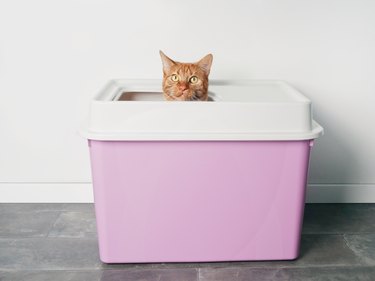 The best overall top-entry litter box
While this litter box sits at a higher price point than some of the others included on this list, we chose this as the best overall option as it comes with everything a cat owner would need to get their cat using a top-entry litter box. This model comes in a sleek, tasteful design, and includes a litter scoop, a grated lid to prevent litter tracking, and a reusable pan liner that can be used for up to three months before replacing. The top is a swivel lid for easy cleaning, which locks onto the box to remain secure for cats to jump onto, stand on, and climb out without moving. The box measures 16 inches long, 16 inches wide, and 15 inches high, and the opening is 9 inches in diameter.
The best budget top-entry litter box
Just because something is on the lower end of the price point scale doesn't always mean it's lower quality. This litter box made by IRIS—one of the most trusted names in top-entry litter boxes—proves that point. For less than $30 you can purchase this large litter box, which comes with a litter scoop, a snap-on grooved lid that's grated for litter scatter, and rounded corners for easy placement in the room of your choice. This box measures 20.5 inches long, 14.75 inches wide, and 14.38 inches high.
The best self-cleaning top-entry litter box
One issue to keep in mind when shopping for a top-entry or enclosed litter box is how easy it will be to clean. Since this one is self-cleaning, that issue is solved for you. This litter box uses crystal litter, which is less dusty than clay litter and controls odor up to five times better. When it comes time to clean this model out, just toss the disposable tray and replace it with a new one every few weeks. This self-cleaning litter box features a top-entry hooded cover that helps prevent tracking and keeps dogs out.
The best top-entry litter box for multiple cats
If you've got more than one cat in the house you probably already know that each cat should have their own litter box available to them. In some cases, however, cats are perfectly content to share a box from time to time, in which case, you'll want one that's large, sturdy, and will reduce litter tracking after each use. This box is large enough for most cats to comfortably turn around in and is made of BPA-free, durable plastic. The attached lid cleans paws after use, and snaps on and off the box securely to create a dog-proof litterbox that's easy to clean. This box measures 23.2 inches long, 15.4 inches wide, and 15 inches high.
The best top-entry litter box for large cats
Most top-entry litter boxes are designed with medium to large cats in mind, but sometimes you need to keep an eye out for a box built specifically for a sizeable feline. This box features a circular entry hole to make hopping in and out that much easier while making an enclosed space for cats to eliminate in, which is perfect for cats who spray or dig around in their litter. This lid is grooved to collect litter from the feet, the box comes with a scoop, and everything measures 20 inches long, 15.5 inches wide, and 14 inches high.
The best no-frills top-entry litter box
Not everyone is looking for a handsome design when it comes to their litter boxes—some people place their value in purchasing a product that gets the job done. This box has a simple design that allows cats to hop in and out comfortably, move around within the box with ease, and not track litter throughout the house when their potty time is finished. Made to be leak-proof and easy to open and close, it measures 15.6 inches long, 23.4 inches wide, and 15.7 inches high.
The best top-entry litter box with high sides
Sometimes all a cat needs to use the bathroom without making a huge mess is some high walls on the sides of the litter box, and not necessarily an entirely closed structure. This box is great for anyone looking to fit a litter box in a smaller space as the antimicrobial plastic bends easily, and the two sides are fitted with handles to make moving and cleaning that much easier. The curved shape of the base makes clean-up a breeze, and it measures 22.3 inches long, 17.6 inches wide, and 16 inches high.
The easiest-to-clean top-entry litter box
Cleaning a top-entry box is a huge concern for a lot of people, and most require cat owners to remove the lid and then either reach in to scoop waste or remove a liner or bag. This fully-enclosed box features a litter pan that pulls out, making clean-up easy and quick. The design on this one is a bit different from some of the others on this list, as it's made with a front-entry door and a top-entry and exit hole (so that's one way in, two ways out). If you ever need to put this litter box away, you can just fold the sides down onto the pan to save space. The box measures 19.2 inches long, 15.2 inches wide, and 15 inches high, with the front-entry hole measuring 11 by 8 inches, and the top hole measuring 7.8 inches square.
The best top-entry litter box for senior cats
Some senior cats can struggle with a top-entry litter box as they do require hopping up and down, and crawling in and out. If you have an older cat who doesn't get around as well as they used to, or have a feline friend with mobility issues, this somewhat-enclosed box with high sides is a fantastic option. The high walls prevent scattering and spraying outside of the litter box but cats can simply step right into the pan for easy access. This all-plastic litter box measures 19 inches long, 15 inches wide, and 11.5 inches high.
The best enclosed top-entry litter box
If you need a dog-proof litter box, or if odor control is your main concern when shopping for a litter box, this lidded option may be for you. Extra-large for large-sized cats to use with ease, this fully enclosed box comes in a modern design that won't be an eyesore in any room. Made with a drawer-style pan for easy kitty litter removal, this box measures 20 inches long, 16 inches wide, and 15 inches high, and the top has a 30-pound holding capacity for larger cats.