If you can't arrange for an in-home cat sitter, you may need to board your cat at a cattery. It can be stressful to arrange accommodations for your kitty companion when you go out of town. If it's your first time boarding your cat, the process of finding a boarding facility can feel a bit overwhelming. With a little research and planning, you'll have the information you need to choose a great boarding kennel.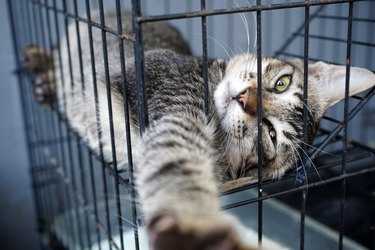 Do your research on the boarding kennel
Start by putting together a list of local boarding kennels. Plan to visit several before you choose the right facility. If possible, you might consider taking your cat to the cattery for a daycare visit to see how she handles being in a new environment. Some important factors to consider are location, cost, type of kennel (cat-only or cats and dogs), policies, and amenities.
Ask for recommendations from fellow cat parents and your veterinarian. Do a web search to round out your list and read reviews from other customers.
Once you have a good list of kennels, compile information by visiting websites and/or calling. Determine if the kennel is certified by (or members of) a professional organization, and whether they comply with your state's requirements for licensure, inspection, and insurance for pet boarding facilities.
Questions to ask a boarding kennel
Have a list of questions ready before you call each kennel so you can easily compare answers. You'll get the best feel for each facility by visiting and meeting with the staff, but calling ahead can give you a good idea of whether or not you want to visit at all.
Cat health policy questions to ask:
What happens if my cat gets sick or won't eat?
Which veterinarian is the kennel associated with?
What arrangements should I make to pre-approve emergency care?

Which vaccinations will my cat need to have to be boarded?
What time is check-in and check-out?
Cat care questions to ask:
Where will my cat stay?
Is supervision provided day and night?
Will my cat have playtime outside of her enclosure?
What supplies can I bring or will I need to bring? (Cat food, litter box, favorite toy, etc.)
Are cats and dogs housed in separate areas? (If the kennel boards both pets)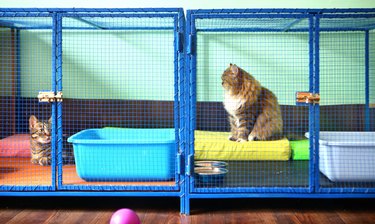 Visiting a cat boarding facility with your cat for the first time
Ideally, you'll want to bring your kitty with you on visits so you can see how staff members will interact with him. Carriers can be a source of stress for both of you, but with a little carrier training the process can become much smoother. If it's not possible to bring your cat for visits, be sure to discuss any important behavioral or medical notes with the kennel to ensure that they can accommodate any specific needs.
During a visit, you'll tour the facility to scope out the accommodations. Assess the kennel's hospitality, safety, cleanliness, and noise levels. Are the staff members friendly to you and your cat? Is the space clean and organized? Is the environment loud or distracting? Are the kennels adequately-sized? Do the play areas have plenty of enrichment items?
Remember, this is your time to fully vet the facilities you visit — don't feel bad about asking lots of questions!
A cat's needs at a boarding stay for the first time
Once you've chosen a boarding kennel, you'll have a better idea of what your kitty will need for her sleepover. If your cat takes any supplements or medications, bring the appropriate amount and give instructions on how much/when to feed them.
Outside of making sure your cat's basic needs are taken care of, you'll want to try and make the experience as positive as possible for her. Your kitty may feel nervous or scared about being boarded, so give lots of love and comfort to reassure her. You can also pack one of your shirts for your cat to snuggle with while you're gone, as it can be comforting for cats to have an item that smells like you.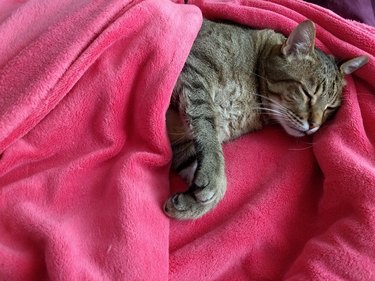 Boarding a cat with separation anxiety
You might have additional concerns about boarding if your cat experiences separation anxiety. Ask kennel staff about their experience with separation anxiety and their techniques for helping cats adjust. If you've noticed behavioral and/or physical symptoms of separation anxiety, be sure to communicate these to the kennel. If you don't feel comfortable with the kennel's approach to boarding cats with separation anxiety, look for another facility that has this experience.
It's normal for cats to experience some anxiety when being boarded for the first time. Cats with separation anxiety may have a harder time adjusting, but there are plenty of kennels who are familiar with caring for anxious kitties.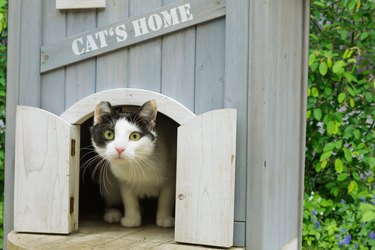 By doing some research up-front, you can choose a great boarding kennel for your kitty companion. Get firsthand recommendations, visit kennel facilities, and ask as many questions as you need to before making a decision. A good kennel will have not only prioritize your cat's health, but also their mental and emotional well-being during their stay.