Summer is here and many people enjoy pulling out the barbecue grill to gather with friends and family. Unfortunately, barbecues can also be very dangerous for dogs. But with some preparation, you'll be able to have your barbecue and have fun with your dog at the same time.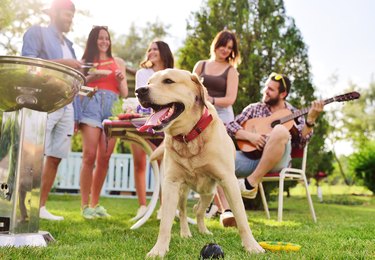 How to have a dog-safe summer barbecue
When your dog is at a barbecue, you'll want to focus on making sure they are supervised during the cookout. Your dog should stay safely in the yard and they don't eat anything they shouldn't. Here are nine tips for how to keep your dog safe at your next summer barbecue.
1. Avoid giving your dog raw meat
Just like you don't eat raw meat your dog shouldn't either. Raw meat can contain a variety of harmful bacteria including E. coli and salmonella — both of which can make your dog sick. Supervise all food before, during, and after cooking to make sure your dog isn't tempted to try and get a taste.
2. Avoid giving your dog any toxic foods
Unfortunately, some of your favorite barbecue foods can be harmful to your dog. For example, potato chips and hot dogs are high in salt which can be harmful to dogs. Other barbecue favorites like egg salad frequently contain seasonings like onions and garlic which are toxic if consumed by our dogs. Similarly, fresh or grilled onions (frequently available as toppings) are also harmful to dogs.
In addition, barbecue sauce and other marinades can contain the artificial sweetener xylitol which is extremely toxic to dogs. Drippings from the grill can also make your dog sick. Even foods that aren't technically toxic for dogs like cooked hamburgers and dairy can be too rich for dogs. This can lead to an upset stomach or even pancreatitis. It's best to stick with your dog's regular treats or some dog-safe fruits like blueberries or raw vegetables if you really want to let your dog try something off your plate.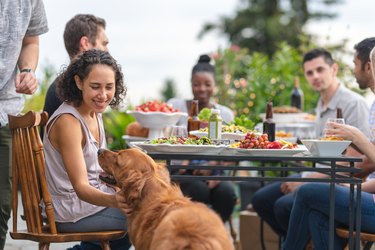 3. Don't give that dog a bone
Although dogs and bones seem synonymous it's important to avoid giving your dog access to any bones from your barbecue. Chicken bones are brittle and can easily splinter which can be very dangerous for them. Even ribs and other bones can splinter when chewed. If chewed and ingested the shards of these bones can puncture your dog's stomach or intestines and require emergency intervention by a veterinarian. Make sure that all bones and other barbecue trash are properly disposed of in a trash can with a secure lid to prevent your dog from getting into them.
4. Safety tips for dogs that eat the strangest things
One of the unexpected dangers of barbecues for our dogs is the potential that they could consume items that aren't edible or can't properly be digested. Even though they don't look tasty to you dogs will eat all kinds of things that aren't food. Particularly risky for dogs are wooden kebab skewers. These sharp sticks smell like meat after use, and dogs are frequently tempted to chew and eat them. If ingested, a skewer can puncture your dog's mouth, stomach, or intestines.
Other uneatable barbecue items dogs might be tempted to eat include anything that is used for storing or preparing food. This includes aluminum foil, plastic containers, napkins, and plastic wrap. Ingesting these can lead to blockages in a dog. Even some food items can be dangerous. Corn cobs can present a choking hazard for dogs and if eaten can lead to serious blockages that need surgical intervention. Other hazards include lighter fluid and food packaging containers.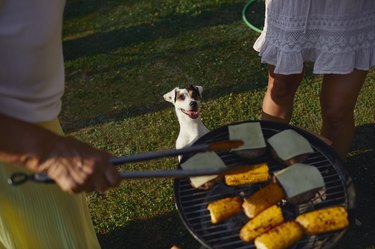 When people are having fun at a barbecue they aren't always the most attentive to the whereabouts of their dog. If you're having a barbecue, make sure that you or someone in your family is designated as being responsible to watch the dog. If people are coming in and out, it can be helpful to keep your dog leashed. This can help prevent your dog from door or gate darting and getting lost. As an additional precaution make sure your dog is wearing identification tags and is microchipped. Make sure that your contact information with the microchip company has been updated.
6. Dogs can't have alcohol or marijuana
While there's nothing wrong with adults responsibly indulging in alcohol or marijuana (if it's legal in your area) both are toxic for dogs. Mixed drinks, seltzers, and cocktails can also include sweeteners that may have ingredients toxic to dogs like xylitol. When entertaining ask your guest to keep an eye on their drinks, and ask people to set them on tables, not on the ground where your dog could reach them.
7. Help your dog to stay cool
Keep an eye on the temperature and how your dog is doing if they are with you at a barbecue. Dogs can easily overheat which can lead to heatstroke. To help keep your dog cool and comfortable at the barbecue be sure to provide fresh water and options for being in the shade. You can also give your dog a cooling bed to lay on. Whenever possible, it's helpful to give your dog breaks from the heat inside an air-conditioned area to help stay cool.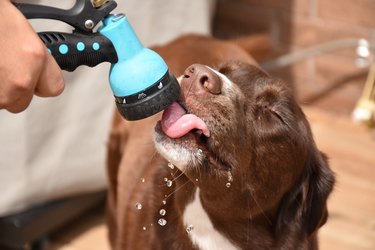 8. Keep dogs away from the fire
Although some dogs naturally are uncomfortable or fearful of heat sources or open flame, other dogs are curious and drawn to the hot grill. While the barbecue is hot it will smell really enticing to your dog. Be sure to always keep your dog a safe distance from the barbecue to prevent them from jumping up on it trying to get to the tasty treats. Similarly, if you have any kind of bonfire or fire pit make sure to keep your dog away from the open flame and hot pit even once the fire is out.
9. Avoid having your dog become overstimulated
Some dogs are real party animals, but many get overwhelmed and overstimulated by the presence of a lot of guests. Take into consideration how comfortable your dog is or isn't with people before bringing them along to a barbecue. It's helpful to keep your dog leashed and bring treats and toys so you can reward your dog for engaging with you and being calm. If your dog struggles with being around groups of people, consider giving your dog a quiet safe space away from the barbecue festivities.
What to do if your dog gets into something dangerous
Supervision is the best prevention. However, sometimes accidents happen. If you are having a barbecue and your dog gets into something that could be harmful to them during the barbecue it's important to get support as soon as possible. If it's during office hours, contact your regular veterinarian for support. If your barbecue is at night or over the weekend, contact your closest emergency veterinarian for advice about if your dog needs to be seen at the clinic.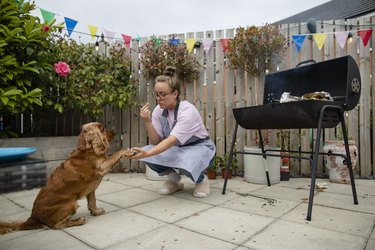 Barbecues can be a lot of fun, but they also pose dangers to dogs. When having a barbecue make sure that you are always supervising your dog. Have plenty of dog treats to reward your dog, but don't give them barbecue foods off your plate. barbecue favorites often include foods that are toxic or unhealthy for dogs to eat. If your dog gets into anything they shouldn't at the barbecue contact a veterinarian immediately.