For pet-obsessed dog or cat guardians out there, wearing apparel with your favorite companion can be so much fun. These days, finding a small business to create such clothing is easy thanks to Etsy, which thousands of shop owners use to advertise and easily sell their specialties. Shirts, aprons, socks, hats, and other items are easily customized with your pet's face and name simply by uploading an image through the messaging function on the site, which makes it easy to communicate with the creator so both of you end up happy with the exchange. These are just some of the endearing items you can find on the site to help you rep your pet every time you leave the house, all while supporting small business owners directly.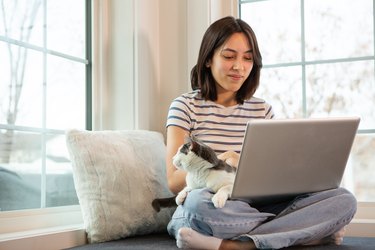 Custom pet portrait T-shirts, sweatshirts, and hoodies
If you're looking for a fairly low-cost shirt with quality pet portraiture but can't quite decide which style to go with, this shop makes it easy for you. You start by choosing from unisex T-shirts, crewneck sweatshirts, and hoodies, then add customization. Your pet's portrait can be done in an outline design, a black and white sketch design, or just the silhouette of ears, then you choose from an array of colors, including tie-dye. To get your pet's likeness onto the shirt, just send the shop a front-facing photo of your furry friend, and be sure to include their name if your wish to personalize it further.
Custom pet caricature T-shirts and sweatshirts
Ever wish you had a T-shirt with a giant drawing of your dog or cat's face on it? This shop offers pet owners just that, for a sweet, comfortable way to help you rep your favorite pet. Available in sizes XS to XXXL, and offered in six colors, these shirts feature a realistic etched design of your pet, with the option to personalize it with their name. This shop ships items for free within the U.S., and offer an entirely unisex line to choose from. Additionally, you can choose from two types of fabric—regular, made from combed and ringspun cotton, and premium, made from Airlume-combed and ringspun cotton for a softer feel.
Custom pet portrait T-shirts, sweatshirts, and tank tops
For the most realistic depiction of your pet, look no further than these hoodies from AgelessMoxie, which feature color images of pets with optional personalization. Sold in sizes small to 5X in all unisex options, these hooded sweatshirts are made with a 50/50 polyester and pre-shrunk cotton blend. The hoodie features a handmade color illustration of your pet, which is rendered from the photo you submit. Proofs of the final image are sent via Etsy messenger to ensure that you'll get exactly what you're looking for, and shipping within the U.S. is free.
Custom pet portrait swim trunks, Hawaiian shirts, T-shirts, sweatshirts, and more
Looking for something fun to gift a friend (or gift yourself?) You can order the most unique suit on the beach from this shop, like these swim shorts, which feature a colorful floral and leaf background and are peppered with images of your pup's face for some truly fun beachwear. These are offered in unisex sizing ranging from small to 5X, and can feature up to four different pet images on each pair, with an increase in price with each additional pet. They're 100% polyester, and they will ship free almost everywhere in the U.S., with the exception of Alaska, Hawaii, and military bases.
Custom pet portrait aprons, fanny packs, tote bags, socks, T-shirts, baby onesies, and more
If you're looking to send a sweet gift to a pet-owning friend but aren't sure if they'll appreciate a shirt or a hat, an apron from Hanna's shop is an excellent option as just about anyone with a kitchen can use one. This apron is designed from a photo of your pet, and comes in one size, measuring 27.5 inches wide at the waist and 22 inches in length. To order an apron, include a photo upon purchasing, then wait for and approve a draft of the design. The company will provide a second option for free if you don't like the first one and charges $2.00 for each draft edit after that, and the item ships for free when it's finished.
Custom pet portrait T-shirts, sweatshirts, baby onesies, tote bags, and more
For a tie-dyed T-shirt option, this pet-themed online store offers a cute, cartoonish way to keep your pet close to you. The image of your pet is taken from a photo and placed off-center on the chest in an outline design with their name (or social media handle if they have one) personalized underneath it. This shirt has a lot of customization options, including the tie dye pattern, the colors used, and the font for their name to create a truly one-of-a-kind item. You can add up to five pet faces on each shirt, with the cost adjusted accordingly, proofs are sent for approval, and the items ship for free once it's ready to go home.
Custom pet portrait T-shirts, sweatshirts, tote bags, and bandanas
A sleeveless tank is a must-have closet staple for many people, and this one comes with a personalized image and written emblem of your pet's name. The tanks are unisex sizes and made from a 50/50 poly-cotton blend that's comfortable and functional. To order from this seller, just choose the color shirt you like and list the number of pets you wish to include, the color you want your pet's image pressed in, their name, and their photo. The pet portraits are on the smaller side and resemble a stamped image for a clean look that's understated and tasteful.
Custom pet portrait beach towels, blankets, pajama pants, and more
Is a T-shirt just not big enough to express your love for your pet? Why not get a beach towel to bear their image on? In this shop, you can choose from two different fabrics—standard microfiber measuring 56 inches long by 28 inches wide, or 50/50 poly-cotton measuring 60 inches long by 30 inches wide. Multiple pets can be added to the towel for an additional $5.00, and the shop asks that pics be of pets either sitting or standing and facing forward for the best possible images. In addition to your pet's pic, you'll choose from a list of fun backgrounds, including donuts, rainbows, tie dye, and camo, so there's something that's sure to represent your pet's personality.
Custom pet portrait socks, blankets, bandanas, T-shirts, beach towels, and more
Not one to wear your heart on your sleeve, or shirt, but still enjoy a little humor when appreciating your pets? Try some custom socks from ZeekCreativeShop by M. Zarif Zeek. These graphic print socks feature repeating images of your pet inlaid with a background design of your choosing, including paws and bones, hearts, custom text, or just a plain blank slate. Available in small, medium, and large, these socks are fleece-lined, crew length, and made of polyester, spandex, nylon, and acrylic fibers.
Custom pet portrait embroidered hats, sweatshirts, T-shirts, tote bags, pillows, linen cocktail napkins, crop tops, and more
If you're looking for a hat with your dog or cat's image on it, this small but incredibly reliable shop has your back. Available in 25 colors, each baseball hat (except the denim option) features a leather tuck strap with a brass buckle, so it's easy to adjust the fit. You can opt for the pet's image only or the pet's image and a message/name displayed on the back. Up to three pets can be featured per hat, but the cost increases with each image. There's a separate listing for cat parents who wish to purchase custom embroidered baseball hats, but don't worry, they're equally as cute.
Custom pet ears sweatshirts, T-shirts, baby onesies, kid's apparel, and more
Looking for a sweatshirt with a simple, sleek design to honor your pets? OllieandPenny does that by creating items that only feature the outline of ears and the top of their head, creating a silhouette image that's flowy and original. You choose the color of the shirt as well as the color of the design and can personalize this with their name if you like. Unlike the other items on this list, this one allows choosers to pick from a set of pre-drawn ears according to breed rather than render the image from an original photograph, so be sure to list the breed type that's closest to your dog's ears when ordering this shirt.