The love that cat parents have for felines can sometimes go beyond their own personal furry friend. If you like decorating your home with cat-themed items, there are so many websites and online shops out there that cater to just that. If you're looking for something handmade and small-batch, finding a small shop on a site like Etsy is a great place to look as many sellers offer a variety of designs to choose from. You can also find lower-cost items for everyday use, like towels or photo frames, from larger retailers as well.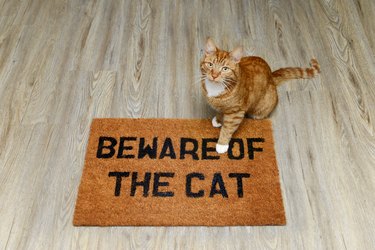 What to consider when purchasing cat-themed home decor
‌Gifts:‌ Gifting home decor to a friend or acquaintance is a very different thing than shopping for home decor for yourself, as everyone has different styles, free space, and desire for decorative items around the house. If you're shopping for a gift and you know the person's style, then it's great to go wild. If you're not quite sure what kind of decor they'd appreciate, however, it's best to go with small, useful items that can be tucked away, like hand towels or mugs.
‌Sellers:‌ When you're shopping for home decor, there are a number of places to choose things from. It's important to remember that smaller sellers and artisans are often running their entire operation from their personal studios, and may not be able to ship as quickly as a large company like Amazon or Walmart. When ordering from an Etsy shop, or similar, always allow for a little extra time and know that the handmade item arriving in your mailbox will be worth the minor wait.
‌Practicality:‌ Now, not every cat-themed piece of home decor is going to be practical, and it really doesn't need to be! If something brings you joy and you can get it, there's no shame in that. That said, it's always good to consider how long you can see yourself using or appreciating an item before buying, and consider donating your old cat-themed home decor when you're done with it (many areas have thrift shops that directly benefit the local shelter, which could be a great place to try).
For a cute item to keep around the house, it's hard to go wrong with hand towels, especially when they add a little humor to the rooms. These poly/nylon blend towels are created to look like your cat hanging from the towel rack, and come in 13 different options of cats, including calico, siamese, black, and orange. The arms hook over the front of the rack, and the head is made to balance the piece so it won't fall off when you're using it. These are functional towels made to feel super soft and can add a pop of playfulness to any bathroom or kitchen.
2. A Walking Cat Unbreakable Neon Sign
Looking for some special lighting to go in a room? This gorgeous flex LED neon light comes in the outline of a feline walking, and is offered in three sizes and 10 colors to gently brighten up any room. It ships free anywhere in the world (import fees notwithstanding,) and because it's not made of glass like standard neon lights, it's not fragile. The lifespan of this item is 20,000 hours, and it can be hung from the wall or placed on a surface around the home.
3. Cat With Ball Shower Curtain
Another way to introduce a cat theme to your bathroom is to utilize the space taken up by your shower curtain to showcase a feline scene. This graphic is a simple but large design of a black cat resting over a yellow moon for a bold piece of artwork without the nails, screws, or frames. This curtain measures 71 inches by 74 inches and is made from machine-washable polyester. Like all shower curtains, hooks are not included, and the inner liner is a plain white background.
4. Entryways Fine Felines Handwoven Doormat
Want to let people know how much you love cats before they even have a chance to step inside your home? Try a doormat like this one, which is made from natural and biodegradable coir material to brush off your shoes in a safe and sustainable way. The cats on this doormat are printed with eco-friendly dyes made from plant materials, and the whole thing can be shaken or vacuumed clean for longevity. This doormat measures 18 inches by 31 inches by 1 inch and weighs around 3 1/2 pounds for a sturdy surface to wipe your shoes on.
5. Black Cat Pendulum Wall Clock
We're probably all familiar with the classic black-and-white cat pendulum clock, and while it is an iconic image, it may not be everyone's style. This option, made by Etsy shop ClerisArtStudio, uses the same tail-as-pendulum design, only affixes it to a sleek and tasteful black cat silhouette, which will likely compliment most rooms nicely. The hours are laser cut into the body, and the entire thing measures 20.9 inches by 6.3 inches. This is a non-ticking clock that runs on AA batteries, and features an amber jewel for the cat's eye.
6. Resin Cat Statue Home Decor Cat Figurine
If you need a place to set your keys, jewelry, or any small item, why not rest them somewhere fun? This resin figurine is designed to have a cartoonish look and features a black, red, or white cat holding a gold plate above their head to collect your things. It's made from non-toxic materials, and is fairly small for easy keeping on side tables, desks, or mantles—it weighs 1.2 pounds, and measures 9.84 inches long, 8.27 inches wide, and 8.27 inches tall.
7. Cute Cat Cup Ceramic Coffee Mug With Kawaii Cat Wooden Lid
A great gift to give just about anyone is a mug—it's practical, it's small, and if you find one like this one, it's cute to look at. This mug seems to be made for giving away as it comes in a sturdy, decorative box and includes additional items for any beverage sipper, be they into tea, coffee, hot chocolate, or something cold and refreshing. It comes with one stainless steel spoon, a cork coaster, a wooden lid, and the mug itself is made of silicone so it's durable and easy to clean. This mug set is microwave- and dishwasher-safe, and is available in blue, yellow, pink, and purple.
8. Colorful Cats Succulent Cactus Flower Small Pots
If you're a cat parent who's also a plant parent, these small, inexpensive planters may be the perfect thing to add to your space. These are made for holding mini succulents, so they're small in size and perfect for keeping on a desk, windowsill, or other limited-space surfaces. Available in six colors, these ceramic pots are painted with striped, spotted, or outlined cats, which you get to choose from.
9. Kitty Biscuits You Need We Knead Cat Retro Sign
Kneading biscuits, making pies...whatever you call it, that little motion many cats do with their paws is adorable and worth being recognized with a little piece of artwork. This wall mount is made from aluminum that won't rust, and can be mounted, hung, nailed, or even taped to most surfaces, and is pre-drilled with four holes in case you prefer to hang it.
10. Popular Cat Sun Catcher
Suncatchers can add an ethereal element to any room so long as you have a sunny window to keep it in. This one is handmade and can be personalized to suit your cat's name if you like. The ornament is in the shape of a heart and colored in either red, yellow, and orange, or lilac, purple, and pink. The flowers are made with hand-pulled murine cane glass and create a three-dimensional or ridged effect on the glass. Each sun catcher is handmade in the seller's studio, and is usually ready to ship about 10 days after the order is placed.
11. Cat Garden Flag Holder Stand
If you'd rather have something to keep outside in your yard, this flag stand is a great way to add some feline decor. Made of black powder-coated steel to prevent rusting, this is sized to fit a flag about 14 inches wide. If flags aren't your thing you can still use this stand to hold any number of items to brighten up your backyard, like hummingbird feeders, a small hanging plant, or even a crystal suncatcher to spread prisms around your space. It's made of three pieces for easy assembly, and features a silhouette of a cat reaching up to bat at whatever you decide to hang from it.
12. Stupell Industries Fisherman Feline Yellow Coat Cat Wall Decor
A painting is something that has to speak to a person in order to get displayed on the walls, so shopping for this item may be best left to a gift for yourself rather than a friend. This is a stunning and colorful image of a "feline fisherman" in a yellow slicker on a dark blue background and holding a red-orange fish, which makes it likely to compliment any room thanks to its primary colors. Available in two sizes, this comes ready to hang or display on a shelf.