Keeping a litter box in the home is just part of having an indoor cat. Some people prefer to keep their cat's litter and poop hidden away from plain sight with a covered litter box. A hidden litter box can help with odor control, keeping spray in an enclosed space, and can also provide privacy for your feline friend, which can lend a sense of safety for some cats. Covered litter boxes come in a variety of shapes and sizes, and many are designed to meet specific needs. Enclosed litter boxes usually snap together and come as a top and bottom piece, but sometimes they're designed with high sides and detachable lids, each of which comes with its own benefits.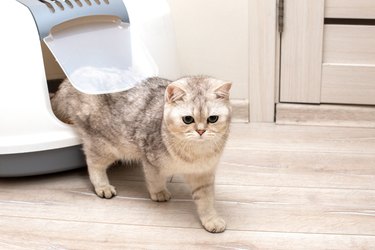 What to consider when purchasing a covered cat litter box
‌Needs:‌ Cat owners opt for covered cat litter boxes for a number of reasons, including controlling spraying, odor control, or even just to keep unsightly poop out of view. If you have a specific need, like minimizing smells or keeping litter from spilling out of cat litter pans, it's best to shop according to that as not all boxes are designed in the same way. Generally, litter boxes with flap doors are best for odor control, and a top-entry box is ideal for controlling spraying.
‌Size:‌ The size of your litter box will depend on the size of your cat, and the number of cats who may be using the box if you live in a multi-cat home. Generally, a litter box should be large enough for a cat to comfortably turn around inside of it, and obviously the door your feline uses to get into and out of the box should be tall and wide enough for your cat to get through with ease. Some cats will not share litter boxes with others, but if you have cats who will, finding a jumbo or extra-large box is your best bet at ensuring waste won't build up so much that cats might refuse to use it.
‌Litter Type:‌ The type of litter you plan to use can affect the type of litter box you purchase, although not greatly. Generally, automatic litter boxes do great with crystal cat litter, which is super absorbent and controls odors better than clay litter. They also produce less dust than clay types, which can be something to keep in mind if you have a fully enclosed box with not much ventilation.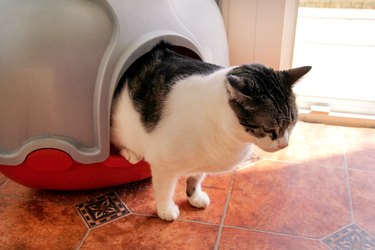 The best overall covered litter box
The best enclosed litter box will be made of safe, thick plastic that won't leak, and be simply designed for easy use among cats. This option is made from BPA-free plastic and is completely covered, including the entrance, which features a hinged door that's easily pushed forward by cats. The top snaps onto the bottom, which can hold a litter pan, and the entire container measures larger than average at 21.75 inches long, 17.75 inches wide, and 18.125 inches high. Additionally, this litter box contains an air purification system that cleans the air through a filter and vents through the hood.
The best budget covered litter box
Finding a lower-cost option for a covered litter box is possible, and you don't have to compromise quality to get one. This box is perfect for one cat as it measures 19.5 inches long, 15.25 inches wide, and 17 inches high. It's made of two BPA-free plastic pieces, a base, and a hood, that snap together to create a private, enclosed space for cats to use the bathroom. This box comes with a swinging door attached to the opening, and the plastic is polished with a high gloss finish to make wiping away messes easy and quick.
The best covered litter box for multi-cat households
A box to meet the needs of multiple cats should be larger in size and have a lot of entry and exit options. This litter box kit comes with a box, liner, and scoop, with an optional floor mat (sold separately) to set outside of the front entry door to reduce litter tracking. It does not come as two parts that snap together but as one large box. The top lid can be left three ways—fully closed, half closed, or completely open, which can give cats entry and exit options, as well as privacy and odor control, according to you and your cat's preferences. The included liner is reusable and hooks into place, and the structure measures 20 inches long, 16.75 inches wide, and 15 inches high.
The best covered litter box for odor control
Odor control is one of the top reasons why cat owners purchase a covered litter box, and this one does that well thanks to thick, quality plastic and a durable swinging door that keeps the front entry closed off. This box comes with a hood and a base, which snap together and apart for easy cleaning, and is designed in a vertical L-shape to fit snugly up against a wall or tucked away into a corner. This box is on the larger size and measures 21 inches long, 16.13 inches wide, and 14.25 inches high, and the top contains a handle for easy moving and disassembly.
The best designed covered litter box
Most people want their cat's litter box to be out of the way and, ideally, out of sight, so sometimes the design element alone is enough of a reason to purchase a particular litter box. This stealthy litter box looks like a houseplant container, resembling a terracotta pot with a cut-out entry in the front for your cat to enter and exit through. This litter box even comes with a quality faux houseplant and includes fake moss and a dust filter for odor control and air purifying elements. The base of this container is circular and is designed to serve as a litter box, so there's no need for an additional pan. Also, the entire thing is, quite simply, huge, measuring 36 inches long, 19 inches wide, and 19 inches high, so if you have a large cat or multiple cats this can be an excellent option for them.
The best covered litter box for large cats
Bigger kitties need bigger litter box systems to do their business in, and this one is not only large, measuring 17.32 inches long, 21.26 inches wide, and 16.54 inches high, but also convenient thanks to its options and durability. With two built-in entryways, one in the front and one on top, your cat can choose which is most comfortable for them. A grated top helps clean litter off of paws if the top is used, and unlike some covered litter boxes that snap apart, this lid simply swivels for easy cleaning. The product comes with a reusable liner and a litter scoop and is designed with seamless high sides for leak-proof usage.
The best covered self-cleaning litter box
Self-cleaning litter boxes are a practical choice for many cat owners, and this one comes with a sleek, durable lid to create a cat washroom with total privacy. A 20-minute run-time keeps the litter tray clean for weeks, which is disposable, replaceable, and filled with non-clumping crystal litter for the easiest clean-up ever. Additionally, this self-cleaning cat litter box is app-connected, so you can use the My PetSafe app to track your cat's litter box activity and schedule cleanings appropriately. This box measures 27.6 inches long, 19.1 inches wide, and 6.2 inches high, and is a bit weighty compared to standard litter boxes, weighing 15 pounds.
The best top-entry litter box
Not all cats like to use the front door, some prefer to hop in and out through the top-entry opening. This isn't a completely enclosed cat litter box but isn't a totally open-top design either, and features a circular opening situated on a grated litter tray/lid for cleaning your cat's feet. This box is available in medium and large sizes with four color options and comes with a kitty litter scoop. It's round in shape, giving it an aesthetically-pleasing design, and is suitable for use with most types of kitty litter, including clay, pine, and wood.
The best covered litter box with a door
Some cat owners prefer a closing door element on their cat's litter box, which can help with odor control to a certain extent. This particular litter box enclosure is made of polypropylene and covered in a high polish finish to make it not only odor-proof but stain-proof and easy to clean. It comes with a litter pan, and a Zeolite air filter for added odor control, and measures 21 inches long, 19 inches wide, and 20 inches high. One exceptional thing about this pet product is the corner litter box design, which saves space and looks great even in small rooms.
The best litter box enclosure
If you're looking for a litter box that doesn't look like a litter box at all, this solid wood option is a great choice to consider. The cover is finished with a glossy veneer to make it not only functional but attractive. This item can be used as shelving in any room of the home and features two doors—one for your cat to climb in and out of, and one for you to open when it's time to clean up. The interior of this litter box cover measures 17 inches long, 18 inches wide, and 18 inches high, and the exterior measures an additional two inches on each side. This is just a cover and will require a cat litter pan inside of it, and you can even utilize this as a pet or cat house if keeping a litter box inside of it just isn't practical for you.