Halloween is almost here, and if you're looking to have a spooktacular time with your dog, don't forget to treat those tricks with some new toys! These Halloween-themed toys are sure to delight your pup and have the added benefit of serving as festive decorations around your house. Whether you have a puppy or a senior dog, we've rounded up 10 terri-furing Halloween toys that will inspire your pup to playfully embrace spooky season.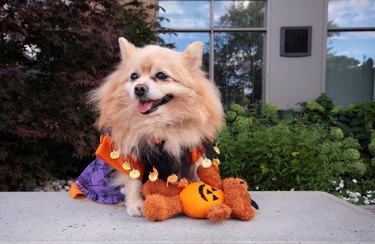 What to consider when purchasing Halloween dog toys
‌Size:‌ When purchasing toys for your dog—Halloween-themed or not—be sure to select the appropriate size for your dog. Toys that are too small can be a choking hazard for large dogs and should be avoided. Toys that are too big for small dogs can be frustrating for them to play with, especially if they can't fit their jaw around the toy or it's too heavy for them to carry around the house.
‌Play Style:‌ When purchasing Halloween toys for your dog, consider how they like to play. Is fetch their favorite pastime or are they happiest playing tug-o-war with their fur sibling? Select toys that will be engaging and stimulating for your dog and the way they most enjoy playing.
‌Toughness:‌ Some dogs play with toys tougher than others. When selecting Halloween-themed toys for your dog, think about how hard of a chewer your dog is, and make sure to select a toy that will hold up to your dog's playing. If a toy gets worn or excessively chewed, take it away from your dog and discard it.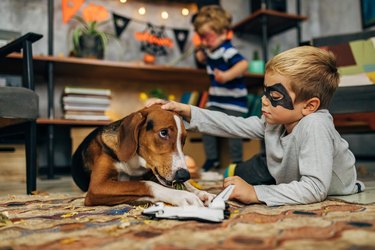 1. ZippyPaws Halloween Squeakie Buddies, 3-Count
This spooktastic trio includes a bat, pumpkin, and Frankenstein. These 5.5-inch-long toys are stuffing-free, meaning they are more likely to last the entire Halloween season—even with exuberant playtime. The extra-tough plushies are well constructed and each one has a large blaster squeaker inside. Each bite delivers a loud squeaking nose to keep your dog engaged. These toys are specifically designed for small- to medium-sized dogs.
2. Frisco Halloween Pumpkin Rubber Treat Dispenser Dog Toy
Designed for moderate chewers, this natural rubber toy dispenses treats as your dog plays with it. It's carved into a pumpkin shape and has a gum-massaging texture. The inside of the jack-o-lantern can be stuffed with treats, wet food, or dog-safe peanut butter to encourage your pup to play with it for long periods of time. It also bounces erratically if your dog enjoys games of fetch. The toy was made in the U.S. using globally-sourced materials and can be hand-washed in warm, soapy water or placed on the top rack of the dishwasher.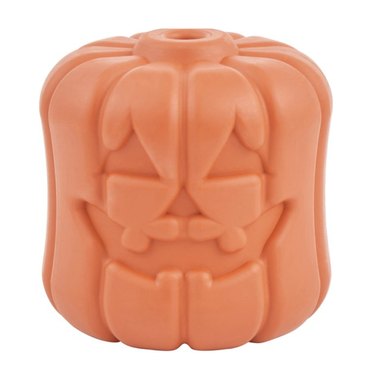 3. ZippyPaws Pumpkin Spice Donut Toy
A plush donut is a sweet treat to give your pup this spooky season. The "pumpkin spice donut" keeps dogs engaged as it has two crescent-shaped squeakers that emit loud noises. It's stuffing-free, meaning less mess for tough chewers, and has Halloween-colored, embroidered sprinkles. The doughnut toy is 7 inches long and is appropriately sized for all dog breeds. It's a durable toy that's subtly Halloween-themed, so you can leave it out all year long.
4. KONG Wild Knot Bear Squeaky Plush Dog Toy
For dogs who enjoy a snuggly toy, this Halloween teddy bear is sure to be a hit. The plush bear has an internal knotted rope skeleton, making him fun to shake while playing. The toy has minimal stuffing to help it last longer and embedded squeakers. The bear is approximately 11 inches high and is wearing a sewn-on witch's hat. He also has green and black patchwork for some seasonal fun.
5. Frisco Zombarie Boy Plush with Rope Squeaky Dog Toy
Your dog can add 'zombie hunter' to their resume with this plush and rope squeaky toy. The zombie boy's soft body and knotted rope arms and legs make him fun to shake, fetch, and carry. The toy has two internal squeakers to keep dogs engaged in play. It's easy to toss this toy in a game of fetch or play tug-o-war with your pup. The zombie boy toy is designed for medium- and large-breed dogs and is made of polyester, rope, and synthetic fabrics. It measures 12.5 inches wide and 14.5 inches high and is not recommended for heavy chewers.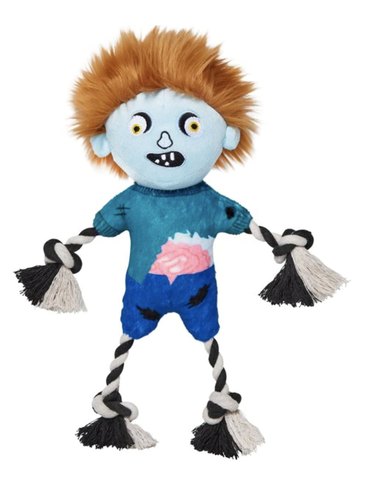 6. BARK Cranky Frankie Halloween Dog Toy with Crazy Crinkle
Does your dog go crazy for crinkle material? If so, they'll love this 'Cranky Franky' original BARK toy. Intended for extra-small to small dogs weighing between 9 and 20 pounds, the toy has a whopping six squeakers and makes plenty of crinkle noises. It's long enough for a game of tug-o'-war and cuddly enough for your pup to curl up with.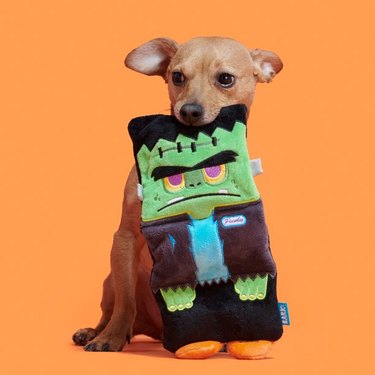 7. Frisco Cupcakes Plush Squeaky Dog Toy, 3-Count
This three-pack of Halloween cupcake toys is a sweet way to treat your dog this Halloween. The set includes a mummy cupcake, a bat cupcake, and a Frankenstein monster-themed cupcake. The plush toys are made of super soft fabric and ample stuffing. Embedded inside them are squeakers and crinkle paper. Intended for small- and medium-sized dogs, the cupcakes are fun to toss, catch, and fetch.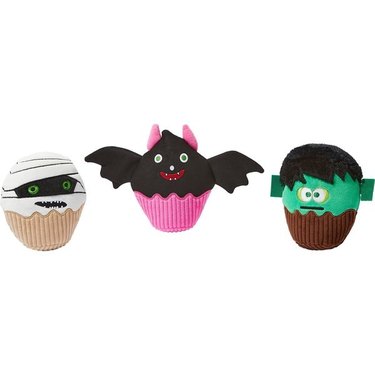 8. Frisco Monsters Under the Bed Hide & Seek Puzzle Plush Squeaky Dog Toy
This monsters under the bed toy is a Halloween spin on the classic hide-and-seek puzzle. It comes with three adorable plush monsters and a bed base with two openings for concealing the toys. Each monster has a squeaker inside of it to entice dogs to play. The toy is meant for medium- and large-breed dogs. There's no need to fear the monsters under the bed because this puzzle is a great way to provide your dog with some mental stimulation during playtime.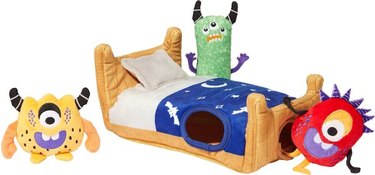 9. HugSmart Pet Spiky Monsters, 3-Count
This three-pack of soft yet durable monsters features plush fabric on the outside and a bouncy, spiky ball on the inside. Each toy measures 3 inches by 3 inches and is stuffing-free. There's a squeaker inside that activates when your dog chomps down on the ball. If your dog is an aggressive chewer and rips off the outer material, the toy is still functional as a spiky ball that's perfect for playing fetch outside.
10. Frisco Halloween Spider's Web & Spider Plush Toy
Designed for extra-small and small dogs, this two-in-one toy includes a soft frisbee spider web and a detachable plush spider—both with enticing squeakers. The spider has hook and loop fastener on its underside so you can stick it onto the web. The soft frisbee measures 9 inches by 9 inches, while the spide is 6.5 inches by 4 inches. Your pup will have fun ripping the spider off its web and tossing around the frisbee.