Spoil your kitty this spooky season by adding some Halloween-themed toys to their collection. There are a variety of fun and festive cat toys for your kitty to enjoy solo or with you. As an added bonus, many of these terri-furing cat toys double as decorations to complement your haunted house. Here we've rounded up 10 of the very best Halloween cat toys including kickers, scratchers, tunnels, teasers, and more.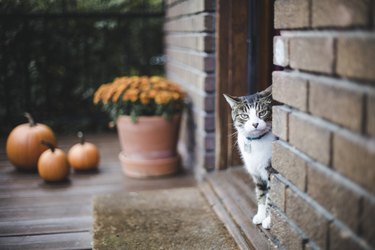 What to consider when purchasing Halloween cat toys
‌Preferences:‌ When selecting Halloween toys for your cat keep in mind your individual cat's preferences and play styles. Select toys that are festive versions of toys your cat has liked in the past. Keep in mind your cat's specific play styles and select toys that will bring out your cat's favorite ways of playing.
‌Supervision:‌ When giving your cat toys to play with it's important to supervise your cat while they are playing. Supervision is important to make sure that your cat doesn't get tangled in any toys. You'll also want to make sure that your cat doesn't chew any pieces off their toys which could be choked on.
‌Experiment:‌ Play is an important way to provide your cat with physical and mental enrichment. Taking time each day to play with your cat is a great way to increase your bond and can provide your cat with needed enrichment. Experiment with different kinds of toys your cat might not have seen before and see if those inspire your cat to get more active in play.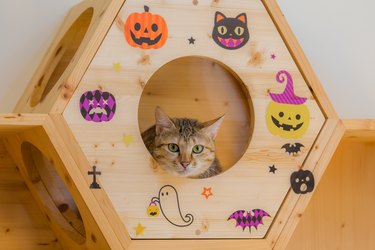 1. Thrills & Chills Halloween Ball Cat Toys, 4-Count
If your feline is a fan of ball toys, opt for this four-pack of Halloween-themed chasers. Included is a black ball with hair-like texture, an orange and black striped ball, an eyeball with a blue iris, and an orange and black crinkle ball. Your cat is sure to find a terrifying toy he loves to chase, bat, and pounce on.
2. Frisco Halloween Mansion Cardboard Cat House, 2-Story
This haunted mansion is a fun way to decorate for Halloween ‌and‌ provide your cat with appropriate scratching opportunities. The first story, which is open on both sides, provides a cozy spot for your cat to hide. The floor is lined with lightweight, corrugated cardboard, as is the second-story landing. You could sprinkle some catnip (not included) in the crevices of the scratching surfaces to make the cat house even more enticing. The mansion's purple exterior features Halloween motifs like bats, jack-o'-lanterns, ghosts, spiderwebs, and mummies.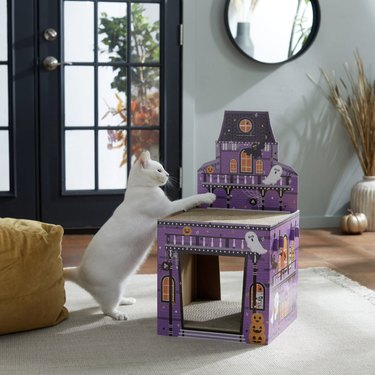 3. Frisco Bat Mice Plush Cat Toy With Catnip, 5-Count
This five-pack of frightening mice can be given all at once to spoil your cat or split up and shared with your friends cats. The set includes mice with bat wings and pointy ears in shades of purple, green, and orange. The play mice are plush, making them ideal for cats who enjoy chasing, biting, and batting their toys. They're made of claw-friendly fabric that is made to last through many play sessions. These plush mice are infused with catnip to encourage cats to play.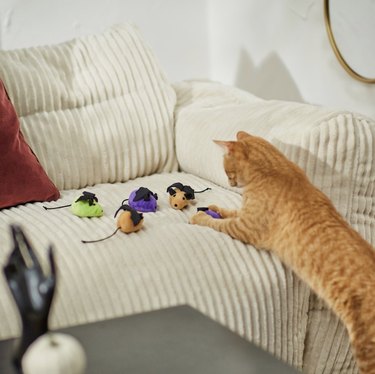 4. Frisco Friendly Monsters Plush Cat Toy With Catnip, 2-Count
Aaahh!!! Plush monsters! These two friendly monster toys have soft fleece covers and ample stuffing. The green monster with three eyes and horns is 8.25 inches tall and 2.75 inches wide, while the red monster with fangs and tentacles is 7 inches tall and 2.5 inches wide. Both toys are frightfully fun for cats to chase, pounce, and bite. The monsters are infused with catnip and crinkle material, making them irrisistable to cats.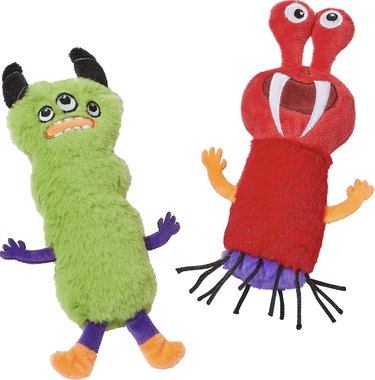 5. Frisco Vampire & Black Cat Plush Kicker Cat Toy With Catnip, 2-Count
This gruesome twosome consists of a black cat and a vampire, both revealing their fangs. These kicker toys are made especially for cats who like to wrestle and bunny kick. Covered with soft fabric and filled with stuffing, the toys have feathers attached to them, which makes them more engaging for cats to play with. They're also filled with catnip and crinkle texture to add to the excitement. The toys are on the smaller side for kickers—the body of the black cat is 7.75 inches tall and the vampire is 7.5 inches tall—but they're still endlessly enjoyable.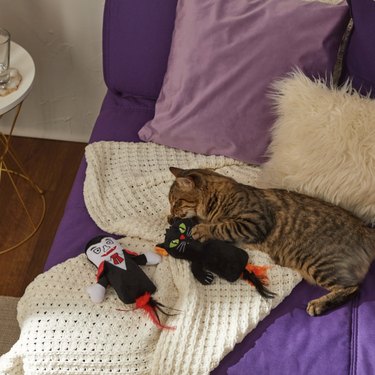 6. Frisco Halloween Cat Tracks Cat Toy
If you've just adopted a cat or kitten, you've got to get them this three-tier track with spinning balls and springy toys. The Halloween version of the classic toy, this model comes with three colorful balls and removeable eyeball and bat toys that your cat will enjoy swatting at. The toys have crinkle material and feathers to up the excitement. The entire cat track measures 5.25 inches high and 9.85 inches wide, and batteries are not required for operation.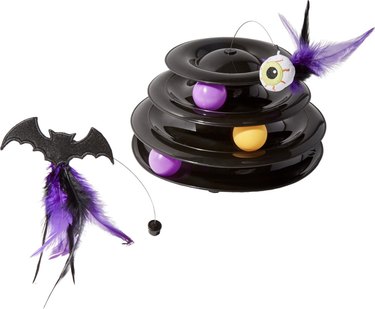 Provide your cat with hours of entertainment (perhaps while you indulge in a scary movie marathon) with this glow-in-the-dark play tunnel. It's 47.2 inches long and features two peek-a-boo windows and a dangling ball for swatting. The exterior is covered in plush polyester fabric, complete with stars and moons that glow when the tunnel is exposed to natural or artificial light. The tunnel folds flat when not in use for easy storage.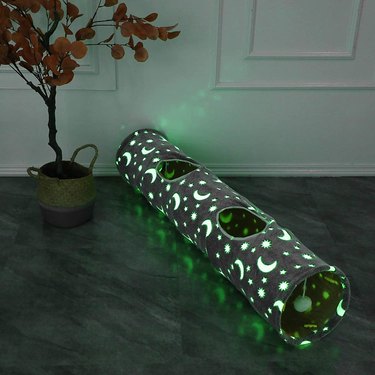 8. Yeowww! Halloween Pumpkin Catnip Toy
Made in the U.S., this Halloween jack-o'-lantern is a sweet treat for any kitty during spooky season. The toy pumpkin is stuffed with organically grown catnip. It's 3 inches tall and wide, making it a great size for cats to pounce, grab, and kick while playing. The pumpkin's outer layer is a thick canvas, so it's a sturdy toy that can withstand hours of playtime.
9. Frisco Witch & Spider Bouncy Cat Toy With Catnip, 2-Count
Bond with your cat during playtime by picking up a pair of these bouncy buddies. Your cat will love pawing and batting at the green mouse-witch and fuzzy spider, both featuring rope appendages. There's a finger loop at one end that's attached to a 12.5-inch-long springy string. The spider and witch are covered in soft fabric and have plush stuffing. They're also infused with catnip to motivate cats to get moving. If your cat isn't a big fan of wand toys, try these Halloween-themed springy string toys instead.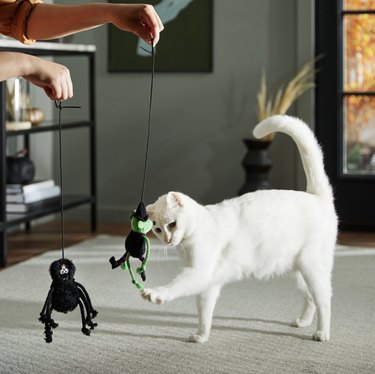 10. Lepawit Halloween Cat Toys, 4-Count
For cats who enjoy pouncing and biting at teaser toys, this four-piece set is a great way to encourage them to play. There are four plastic wands with 17-inch strings attached to catnip-filled felt Halloween characters. Included are two jack-o'-lanterns, a spider, and a bat, all with feathers attached for added excitement. Crinkle paper is also hidden inside the plush characters for cats who are stimulated by sounds.