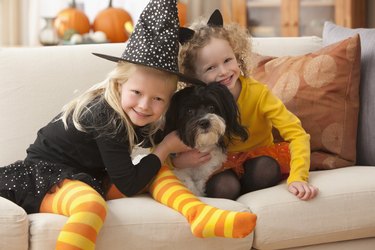 Do you love spooky season? The 1993 Disney classic "Hocus Pocus" is the perfect Halloween movie watch with your pets while curled up on the couch (one of the characters is an immortal black cat, after all). With the sequel streaming on Disney+ starting September 30, now is the time to stock up on "Hocus Pocus"-themed pet toys and accessories to make this Halloween hex-tra special. From food bowls to collars to scratchers, stans of the Sanderson sisters (and their pets) will be bewitched by these frightful finds.
What to consider when purchasing pet toys and accessories
‌Sizing:‌ Closely check the sizing for any toys or accessories that you are purchasing for your dog or cat. Even if your pet wears a specific size in one brand that doesn't mean they will wear the same size in another. Examine size charts and measure your pet if necessary to ensure you purchase the right-sized toy or accessory.
‌Supervision:‌ Always supervise your dog or cat when they are playing with toys or wearing certain types of accessories. If left to their own devices, your dog or cat could get tangeld in an accessory or ingest part of a toy that could result in a medical emergency.
‌Comfort:‌ If you're purchasing any wearable accessories for your pet, make sure that your dog or cat is comfortable wearing it. You might want to opt for seasonal versions of the accessories that your dog or cat wears daily, such as a collar, ID tag, or bandanna. Always make sure that the accessories don't interfere with your pet's normal movement. If your pet is displaying any signs of discomfort, discontinue use of the accessory.
‌Delivery:‌ Many of these "Hocus Pocus"-themed accessories for dogs and cats are handmade. Some of the products are made to order, so plan ahead if you would like the toy or accessory to arrive before October. During the Halloween rush, delivery times may be longer than usual.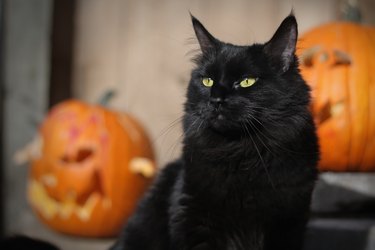 This teaser-style cat toy is a fun way to incorporate some "Hocus Pocus" magic into playtime with your cat. Perfect for cats who love to swat and chase, the toy includes a plush version of Mary Sanderson holding onto her vacuum, which you'll remember from the iconic flying scene. Best of all, the plushies at the end of the 29-inch cord are stuffed with irresistible catnip. Mary is sure to encourage your cat to stalk, pounce, and run amok, amok, amok! This officially-licensed Disney toy is a Chewy exclusive.
2. "I Smell Children" Dog Bandana
Available in sizes extra-small through extra-large, this wicked bandanna can be slid over your dog or cat's collar. The bandanna is made of soft, high-quality cotton and is comfortable for pets to wear. Choose from three styles: tie-on, snap-on, or over-the-collar. It's the perfect festive accessory for pets who don't like to be dressed up in costumes. The black bandanna features the silhouettes of the Sanderson sisters' hair, with the text "I Smell Children," which was famously uttered by Mary. The heat-transferable vinyl design is hardwearing and the bandanna can be machine-washed.
3. "Hocus Pocus" Thackery Binx Cat Collar
For cats who are super fans of Thackery Binx and want to do some daily cosplay, this collar is an enchanting accessory. It's 1/2-inch wide and fits necks between 8 and 12 inches. The collar is made from high-density polyester and features a plastic buckle and a metal D-ring for attaching an ID tag. The orange collar has black text that reads "Thackery Binx" alongside illustrated black cats. This collar is officially licensed by Disney and has been handcrafted in the United States.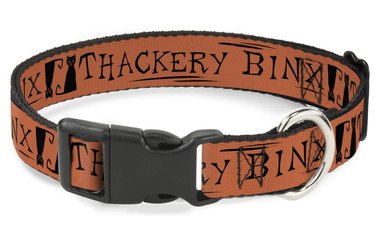 4. "It's Just A Bunch Of Hocus Pocus" Dog Bandana
Max's famous (and foolish) line, "It's just a bunch of Hocus Pocus" is emblazoned on this orange bandanna, ready for your dog to wear this Halloween. The handmade bandannas comes in small, medium, and large sizes to fit most dog breeds. If it gets dirty, the bandanna should be hand-washed and then laid flat to dry. This accessory is a great alternative for dogs who aren't comfortable wearing Halloween costumes but still want to look fun and festive.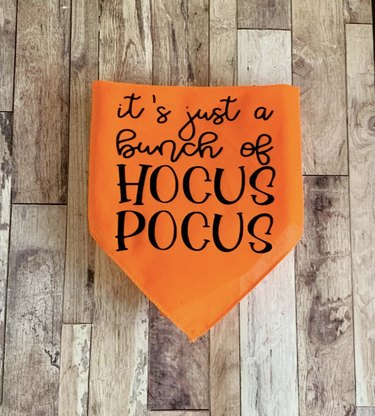 5. Disney "Hocus Pocus" Cauldron Hide & Seek Puzzle Plush Toy
This hide-and-seek toy will put a spell on your dog—seriously, they'll want to play with it all the time. It includes five plushie characters, Winifred, Mary, Sarah, Billy, and Binx, and a soft cauldron with three holes where you can hide the witches and their sworn enemies. Each plushie also has a squeaker inside of it to boost excitement. This interactive toy is best suited for medium-sized dogs.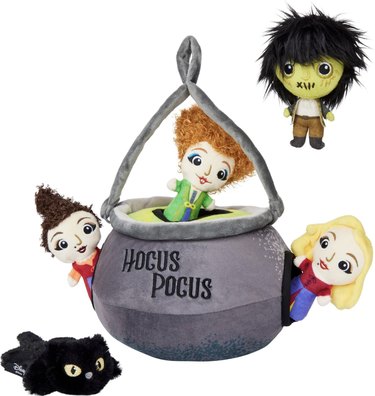 6. "I Put A Spell On You" Double-Sided Pet ID Tag
This customizable, double-sided pet ID tag is a fun way for your dog or cat to celebrate their love of "Hocus Pocus" year-round. The front of the aluminum tag features brightly-colored hair silhouettes of the Sanderson sisters and the text "I put a spell on you," while the bag of the tag can be personalized with your pet's name and your contact information. The tag is 1.25 inches in diameter and is waterproof to make it durable for pets to wear. The design is permanently adhered to the tag and is protected by a silicone silencer that makes the tag glow in the dark.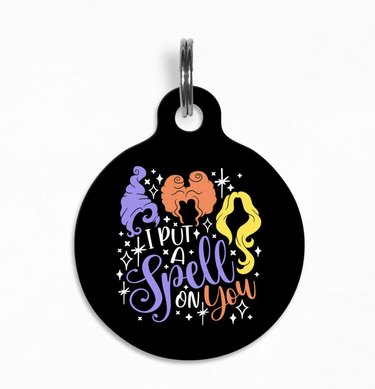 7. Disney "Hocus Pocus" Graveyard Cat Scratcher Toy
If you love "Hocus Pocus" and your cat loves to exercise his claws, gift him this scratcher toy that resembles the cemetery scene. A tombstone border surrounds the corrugated cardboard base, while a back panel features illustrations of Sarah, Winnifred, and Mary Sanderson under a twisted-branch arch. The toy weighs less than 3 pounds and measures 24.3 inches long, 11 inches wide, and 19.7 inches high. It's designed for adult cats of all sizes. To entice your cat to use the scratcher, you could sprinkle some catnip over the crevices of the cardboard.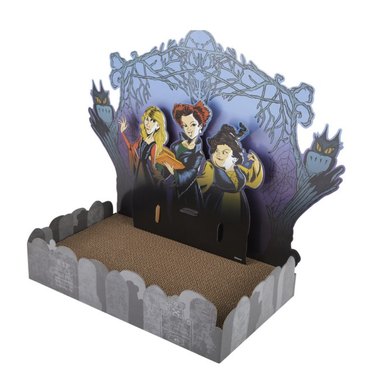 8. Sanderson Sisters Ceramic Pet Bowls
If your pet is named Salem, Binx, or Max in honor of "Hocus Pocus," you've got to get them an on-theme ceramic food or water bowl. The bowls come in two sizes: small (6-inch diameter) or large (7-inch diameter). The small bowl is the ideal size for cats, puppies, and small-breed dogs. The larger size is best suited for medium- and large-breed dogs. The design—colorful silhouettes of the Sanderson sisters' hair—is printed directly onto the bowl and won't wear off. The bowls are microwave- and dishwasher-safe.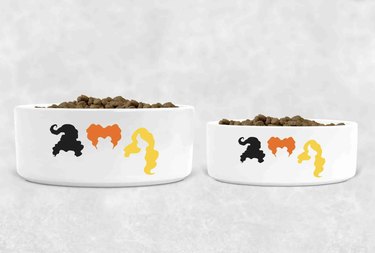 9. Frisco Magic Potions Plush Cat Toy with Catnip, 2-Count
Your cat can whip up an evil elixir using these plush potion bottles. Each potion bottle in the set of two is stuffed with catnip and crinkle paper to encourage cats to play. These plush toys are ideal for felines who love to kick, pounce, and chase. The set comes with one black bottle and one red plush bottle, complete with faux corks and labels.
10. "Hocus Pocus" 1-inch Dog Collar
If you're planning a "Hocus Pocus 2" premiere party, get your pup one of these brightly-hued collars featuring the silhouettes of the Sanderson sisters. The collars are made with heavy-duty nylon webbing to provide structure and stability, which "Hocus Pocus"-themed grosgrain ribbon is then adhered to. Each collar has a side-release buckle and a welded D-ring for attaching ID tags and/or a leash. Box stitching provides extra support and there's an adjustable tri-glide to ensure a perfect fit. The collar should be hand-washed to preserve the glitter and laid flat to air dry. It's available in electric green or grape in sizes medium (12-16 inches) or large (14-20 inches).