If you're a fan of spooky shows, chances are you and your pets have curled up on the couch to binge Netflix's "Stranger Things." For the pets—or let's be honest, pet parents—who are really into the series, there are plenty of toys and accessories to show off their fandom. Whether you're looking for wearable accessories like collars or bandanas, cat furniture for scratching and hanging out, or interactive toys that squeak and bounce, there's something for every pet. With these 11 pet accessories (pun very much intended), your cat or dog can transport themselves to Hawkins, Indiana, and the world of "Stranger Things!"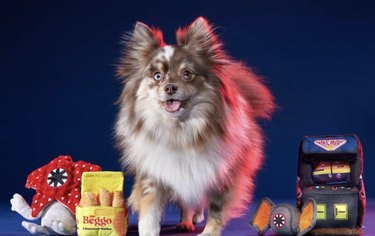 What to consider when purchasing accessories for your dog or cat
​Supervision :​ Always supervise your pets when they are wearing accessories, and while they are playing with toys. If at any time your pet seems distressed by a harness, collar, bandanna, or T-shirt that they are wearing, remove it immediately.
​Fit:​ When purchasing anything for your pet to wear, such as collars, harnesses, or bandannas, make sure they are sized appropriately. If you're ordering an item online, jot down your dog or cat's measurements and use the size chart (when available) to figure out what will work best for your pet. Your pet should be able to move comfortably in their "Stranger Things"-themed apparel. An item of clothing that's too small could be constricting, while one that's too big could be a tripping hazard.
​Appropriate Size:​ When selecting toys for your dog or cat, pick appropriately sized toys. Toys that are too small can be a choking hazard for pets and should be avoided. Similarly, for dogs that are heavy chewers, you'll want to pay special attention to make sure that they don't chew off small pieces of a toy that could be ingested.
1. Netflix "Stranger Things" Pet Bandana
Available in two sizes, extra-small/small and medium/large, this bandanna features repeating "Stranger Things" logos. The bandana is black with the classic red text. It can be tied loosely and comfortably around your pet's neck. Be cautious to not tie the bandanna too tightly, and never use the bandanna in the place of a harness or collar. This bandana is made of polyester—when it gets dirty, it can be spot cleaned. The smaller size accommodates a maximum neck girth of 24 inches and is 11 inches long. The larger size accommodates a maximum neck girth of 32 inches and is 15 inches long.
2. Netflix "Stranger Things" AV Club Burrowing Dog Toy
For dogs who enjoy a challenge, this plush puzzle that references the second season of "Stranger Things" is the perfect activity. The hide-and-seek game includes some of the show's main characters as plushies, including Dustin, Will, Mike, and Lucas, and a nesting toy that resembles the Palace Arcade. Each character is plush, soft, and has a built-in squeaky. The toy can be used for collaborative or solo play.
3. Kitty City Stranger Things Demogorgon Cat House
Is your cat ready to curl up in the belly of the beast? This "Stranger Things" hideout and scratcher is a cozy hangout for any feline fan. Resembling a Demogorgon, the interior features a corrugated scratching block that gives your cat the opportunity to scratch and stretch. It's also a sheltered place to curl up and take a nap. Encourage your cat to use the hideout by sprinkling some catnip over the scratching block or tossing their favorite toys inside. The cat house is easy to assemble and doesn't require any tools. If the Demogorgon is simply too scary, you can opt for an arcade machine version that looks straight out of The Palace.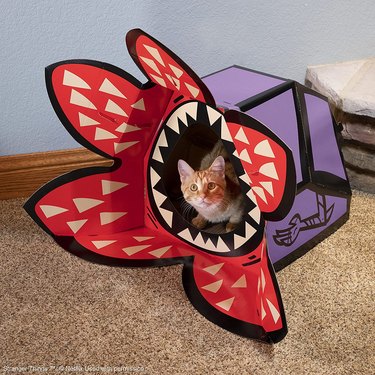 4. Netflix "Stranger Things" Hawkins Basketball Jersey Dog Tee
If your dog wants to play for the Hawkins High School basketball team just like Lucas (go tigers!), get them this jersey made with breathable polyester fabric. It's lightweight enough that it could even double as a comfortable Halloween costume. The jersey features a slip-on design that makes it easy to get your dog dressed and undressed. It's available in sizes extra-small through extra-large and is machine-washable if your dog soils the jersey while playing fetch.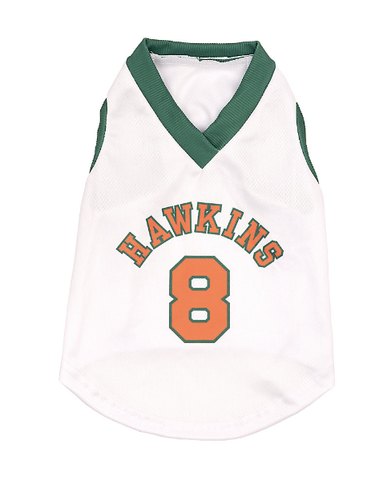 5. BARK Netflix "Stranger Things" DemorGoFetch Ball Dog Toy
Has any dog toy ever had a punnier name than the DemorGoFetch ball? Part of the BARK "Stranger Things" collection, this toy has a tennis ball center and whip-n-flip wings for thrashing or games of tug-of-war. It's great for fetch and has a squeaker in the tennis ball. The toy is intended for small- and medium-sized dogs. It can be spot cleaned or wiped with a damp rag if it gets dirty while your pup is playing with it. The toy has an unpredictable bounce and measures 2.5 inches long, 3 inches high, and 6 inches wide.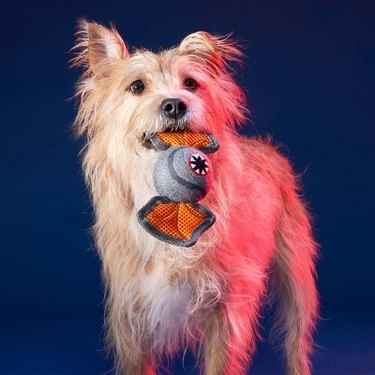 6. Chew King Netflix "Stranger Things" Dice Dog Toy, 2-Count
Just like the members of the Hellfire Club, your dog needs a good set of D&D dice. These ones happen to be made from natural rubber and can be used to hide soft treats like dog-safe peanut butter or wet food. The 20-sided dice design of these toys gives them a fun and unpredictable bounce that will keep dogs engaged and interested in games of fetch. The rubber is durable enough for aggressive chewers and doesn't have a chemical smell. These dice come in a two-pack and are designed for medium-sized dogs weighing 25 to 50 pounds. You also can buy a single die in size large (for dogs weighing 40 to 75 pounds) on Amazon.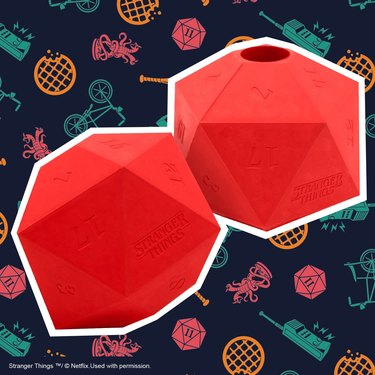 7. Netflix "Stranger Things" D&D Die Dog Toy
Make Eddie Munson proud with a Dungeons and Dragons die that doubles as a fetch toy. The ball-shaped toy is made from sturdy nylon that can withstand chewing and active play. It measures 6 inches in diameter and is fun to throw and chase, both inside and outside. The toy has a loud built-in squeaker that will entice your dog to play. It's got the traditional 20-sided dice numbering on it as well as the official "Stranger Things" title card.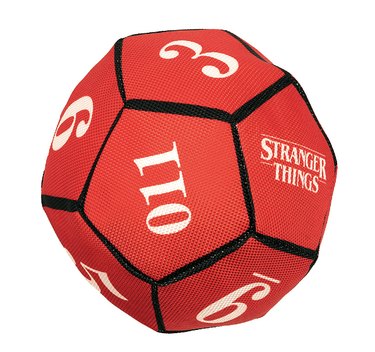 8. Netflix "Stranger Things" Dog Collar
If you named your pup after a character on "Stranger Things" (we think Hopper and Eleven are good picks), you need to get them this adjustable collar featuring the show's iconic title card. It's made of woven nylon for strength and comfort and is available in sizes extra-small to large. Be sure to measure your dog's neck and consult the size chart before making your purchase. The collar is mostly black with red plastic buckles and nickel-coated hardware. It has a D-ring for attaching a leash, and if you want to go all out, you can even buy a matching "Stranger Things" 6-foot leash.
9. Netflix "Stranger Things" Hawkins High Backpack Dog Harness
Currently available in sizes small and medium, this dog harness has a unique backpack look. It touts Hawkins High School's colors (green, white, and orange) and their tiger mascot. Best of all, the backpack is actually functional. The zippered compartment can hold keys, dog treats, and poop bags while you're out on a walk with your dog. The harness has a secure plastic closure and metal D-ring attachment to connect to your dog's leash. It's made of nylon, poly canvas, metal, and plastic. When dirty, this harness/backpack can be spot cleaned.
10. Netflix "Stranger Things" Pineapple Pizza Nesting Dog Toy
As everyone's favorite pizza boy, Argyle, would say, "try before you deny" the deliciousness of pineapple on pizza. This adorable nesting dog toy includes the Surfer Boy Pizza box and a removable pineapple-topped pizza with a squeaker inside of it. The pizza box even has a hook and loop closure for authenticity. The pizza box boasts a fun retro design and is part of the official "Stranger Things" dog toy collection. The box measures 6 inches square, and the pizza is 5 inches in diameter. You might want to turn on "Pass the Dutchie" while you and your dog play with this entertaining nesting toy.
11. Kitty City "Stranger Things" Cat Tunnel
Get your cat in Vecna-fighting shape by exercising her in this Demogorgon cat tunnel. It's collapsible and can be stored flat when not in use. The tunnel pops open in seconds and measures 36.2 inches long, 17.9 inches wide, and 16 inches high. The Demogorgon's flower-like head marks one of the openings to the tunnel, and the 'body' is purple with a black vine motif. It's well-made and encourages cats to run, jump, hide, and pounce.