When choosing a new doctor, you likely research different providers to find the right fit for your needs. A doctor's affiliations with professional medical organizations can be a good indicator of the standard of care you'll receive. When it comes to choosing a veterinarian, it can be tricky to know what affiliations to look for. The American Animal Hospital Association, or AAHA, is a valuable resource to have when researching for a new veterinarian.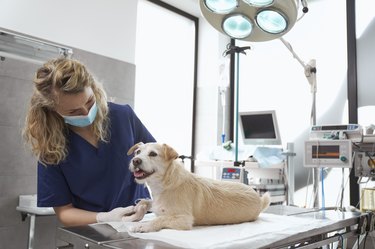 The AAHA was founded by seven prominent veterinarians in 1933 with the goal of setting high standards for veterinary care. Over the decades, the AAHA has continually revised and updated their requirements to reflect current industry standards. The association offers accreditation to veterinarians in the United States and Canada who meet these standards. Currently, there are around 5,000 AAHA-accredited veterinary practices.
Unlike human medical providers, veterinarians are not required to be accredited by the AAHA. Accreditation is voluntary, and veterinarians must pay an initial fee for an accreditation evaluation and pay yearly membership dues. For a veterinary practice, an AAHA accreditation is a great investment that shows a commitment to a higher standard of care. For pet owners, this accreditation provides assurance that a veterinarian is following the most up-to-date industry standards when it comes to caring for your best friend. It also provides an extra level of accountability in the event that a pet parent needs to file a complaint.
AAHA standards and guidelines
The AAHA provides standards that cover the veterinary facility, patient care, clinical protocols, and services. All practices seeking accreditation must meet mandatory standards in anesthesia, dentistry, emergency and critical care, human resources, laboratory, medical records, pain management, patient care, pharmacy, and surgery. There are additional standards for specialist referrals and end-of-life care.
The association also provides up-to-date guidelines for veterinary medicine which are designed to assist veterinarians in developing and implementing evidence-based protocols for pets. AAHA guidelines cover a wide variety of topics as well as provide educational resources for both pet owners and veterinary staff.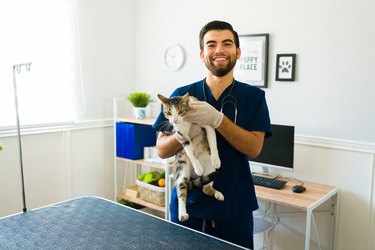 How does a veterinarian receive an AAHA accreditation?
The accreditation process can take between two and six months and begins when a veterinarian or practice submits a preaccreditation application to the AAHA. They will then pay a fee for an initial onsite evaluation by an AAHA specialist. The veterinarian will be given a complimentary team membership, valid for up to six months or until the date of the first evaluation, and will have their status listed as "preaccredited" with the AAHA.
Next, the AAHA will give the veterinarian online access to their evaluation tool. The evaluation tool requires veterinarians to answer questions pertaining to AAHA standards. There are 50 mandatory standards out of over 900 standards total, and the mandatory standards must be met in order to become accredited.
Leading up to the scheduled evaluation, veterinarians will review their protocols and may revise or update them according to AAHA guidelines. While it is not a requirement that all staff members at a veterinary practice become AAHA accredited, veterinarians may conduct additional staff training to ensure everyone receives the appropriate education.
The onsite evaluation process
The initial AAHA evaluation will be performed by an AAHA practice consultant and can last anywhere from three to six hours, depending on the size of the practice. It is recommended that the veterinary practice remain open to patients during the evaluation so the consultant can see the day-to-day operations.
The consultant will evaluate the practice based on the AAHA's standards and will offer feedback and suggestions for improvement. Once the evaluation has been completed, the consultant will present the results to the practice. If a practice does not initially achieve accreditation, the consultant will provide information on necessary adjustments and schedule another evaluation.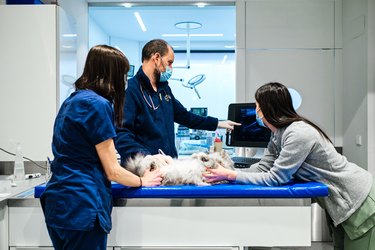 The AAHA provides a rigorous set of standards for veterinary medicine in the U.S. and Canada. Veterinarians can choose to become accredited by the AAHA by going through the accreditation process. As a pet owner, you can access AAHA pet owner resources and use the hospital locator tool to find AAHA accredited veterinarians.