Cat trees are a must for some cat owners, but finding the right one for your feline, and your personal style, can take some searching. For anyone looking for more than just the standard carpeted tower, certain brands offer exceptional designs in their cat houses to cater to everyone from the minimalist to the cat parent yearning to bring the outdoors inside. Most cat trees are designed with the clcassic multi-level style, and feature scratching posts, perches, and private areas for resting, and these unique trees are no different. Each tree featured on this list offers several ways to enrich your cat's days, improving their quality of life and keeping them entertained.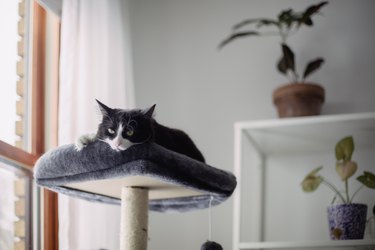 What to consider when purchasing a cat tree
‌Physicality:‌ In order to ensure that your cat tower of choice will be appreciated, you have to consider whether your cat can use it easily. Most cats, regardless of their mobility level, age, and size, enjoy exploring around corners and in holes, but not all cats are up to jumping up or climbing onto high surfaces or small landing pads. There is plenty of cute cat furniture that's low to the ground and simply constructed if that's something your cat will enjoy playing in more.
‌Size:‌ Not only does the size of a cat tree need to work with the cat you're buying it for, but the tower itself should work well within your own living space. Cat furniture is available in a wide variety of sizes and shapes, and some even hang over the backs of doors, which can be a helpful and practical way for people in smaller dwellings to offer enrichment to their feline friends.
‌Function:‌ Items like cat condos are meant to enrich the lives of our cats, and each cat has their own preferred activities that add to their mental health and physical well-being. Most cat towers offer places to climb and perch on, while others feature hiding spaces, tunnels, hammocks, scratcher posts, and nests for napping as well. Learning what types of enrichment activities your cat enjoys can help inform your decision when searching for the best cat furniture.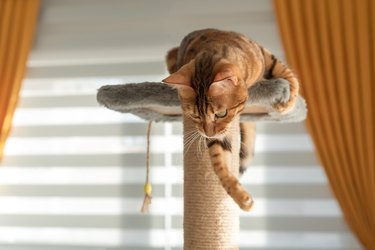 An out-of-this-world cat tree
This celestial cat tree comes in six different configurations, so you're sure to find one that fits your space and your cat's needs. There are several hammocks and perches for your cat to observe their surroundings from, plus dangling stars, pompoms, a cloud, and a moon for batting. The cat tree features a sturdy wood frame and is covered in soft carpeting and 5-millimeter-thick sisal rope that's wrapped by hand. The style pictured here (F) is best suited for cats under 15 pounds and measures 23.6 inches long, 18.9 inches wide, and 65 inches high. It's pretty enough to display in your living room and really pops in photos for social media.
Sleek, simple, and certainly stylish, this cat tree is ideal for indoor cats who love to climb, perch, and just take in their surroundings from a higher vantage point. It's offered in three sizes to fit just about any room and features an optional hammock you can purchase separately if you like. You can easily secure this post without drilling into walls as it tightens onto the ceiling, and further stays in place with anti-skid padding on the bottom. The main post of this cat tree is nine centimeters thick and is wrapped in a durable sisal cord to make a functional scratching post, and the cat perches are made of real wood. There are three height options to choose from: 93.7 inches to 101.1 inches, 101.2 inches to 108.6 inches, or 108.7 inches to 115.4 inches.
A cat condo for small spaces
If you have limited space but still want to offer an indoor cat more places to explore, this space-saving cat condo hangs over the back of any door. Available in three and five-story sizes, this item is made of denier fabric that's waterproof and thick for ensured durability and support. To use it, simply secure it to your door with the included straps and buckle it to fit, then allow your cat to climb in and explore, where they can hide inside, or look out through peepholes and mesh windows.
A cat tree that's on point
If a themed tree is more your thing, this cactus-shaped tree house is equal parts cat perch and cat scratcher thanks to sisal cording around the posts, and two plush perches plus one cave for napping or resting. It's also fitted with two balls for playing with—one that hangs and one that sits atop a spring. This cat condo is designed to support cats of all sizes, from kittens to large cats, and comes with a one-year warranty, with a full replacement of any items that become damaged within the first two months of purchase. Once assembled, this cacti cat tree measures 21.5 inches long, 15.6 inches wide, and 32.9 inches high.
A cat tree fit for royalty
Another themed tree, this one is perfect for the prince or princess in your life. With a playful castle design and colorful purple accents, this two-level cat house features one scratching post and three resting spots, two of which your cat can hide inside for deep rest, security, or just a little privacy. The main resting condo at the base comes with a removable and reversible cushion, as does the resting pad at the top. It's 14.75 inches long, 27 inches wide, and 35.25 inches high, so it's compact enough to fit in your own royal castle.
A cat tree that's a literal tree
If you're looking for a large cat tree designed to support a large cat or two, this one is durable, functional, and unique to boot. Made to resemble an actual tree, leaves and all, this unique cat tree assembles in 15 minutes with no tools needed and is constructed from pet-safe, nontoxic materials including real wood and artificial turf. It's available in multiple sizes and leaf colors, but pictured here is the Large Square model in Zen Green, which measures 5 feet tall. It will certainly stand out in a smaller room but it does offer indoor cats an experience as close to the real thing as possible without leaving the home.
A pretty-in-pink cat tree
If you're looking for something a little different that will make a statement in any room, this entirely bubblegum-pink large cat tree will do just that. This tree is huge at 19.5 inches long, 19.5 inches wide, and 54.5 inches high, and could be perfect for multi-cat homes. It comes with a climbing ramp, two private hideaways with windows, three resting perches, two sisal-wrapped cat scratching posts, and two dangling balls, all wrapped in pink carpeting for a soft, luxurious cat play experience.
A farmhouse-style cat tree
If a print design could add to your living room but cotton candy pink just isn't your style, this red and black scotch plaid cat tree may be a better fit. This condo is perfect for cats who love to scratch as it includes seven scratching posts. These posts hold up the various levels in this condo, like two perches, a padded nest at the top, and a private condo with a veranda attached to make entering and exiting easy. The carpeted base is made of sturdy pressed wood for wobble-free playtime, and also features a large, hollow ring for playing in. Its overall dimensions are 31 inches long, 28 inches wide, and 50 inches high.
An organic modern cat tree
For a more modern piece of furniture that doubles as home decor, this luxury cat condo is as stylish as it is comfortable. Available in brown or white, this is a minimalist piece of cat tree furniture that's handmade with real tree branches to hold up two woven baskets for your feline to rest in. Each basket comes with removable cushions that you can easily wash, and the base is wrapped in faux fur, creating a beautiful hiding space for your cat to rest inside. This tree isn't only for relaxing—it's also fitted with two, fur-wrapped balls that hang from the baskets for batting and playing with.
A cat tree that's got flower power
If you're searching for a nature-inspired cat tree that doesn't look so much like a literal tree, this floral design might be to your liking. Featuring three flowers of various heights (up to 35.4 inches), the cat tree is multifunctional with scratching posts, cat beds, and dangling 'insects' to swat at—they've even got bells inside to pique your cat's interest. The cat tree is made of high-quality particle board, soft flannel, and natural sisal rope. For added support, the 'stem' of each flower is reinforced with iron piping. The overall dimensions of the product are 23.6 inches long, 21.7 inches wide, and 35.4 inches high. It's intended for cats under 20 pounds and is easy to assemble in just a few minutes. It's a great piece of home decor and a fun space for your cat to explore!