Keeping a cat's food in a bowl is the standard practice for most pet parents, but some cats may benefit from a different kind of feeding bowl at meal time. Lick mats are mats that rest on the floor, where cats can slowly eat or lick their food off of it. These feeding mats are textured and designed with different patterns and shapes to ease boredom, slow down eating habits, reduce stress, and even assist with oral hygiene when used regularly. Lick mats are usually made of food-grade silicone, rubber, or other easily washable materials, and can be reused for years when properly cared for.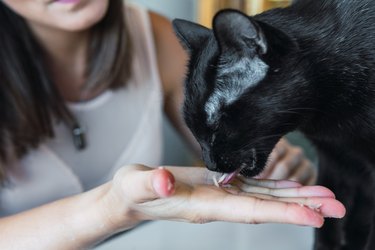 What to Consider When Purchasing a Lick Mat
​Suction:​ If your cat is going to be licking food off of a mat, they'll probably end up moving it around quite a bit. Unless you have a support structure in place, like a floor mat, look for non-slip mats that have suction cups attached to help keep it in place.
​Needs:​ The right mat for your cat will depend on their needs. Some cats need a slow feeder to reduce fast eating and the symptoms that can come with it, like bloating. Other cats may just get bored easily and could use some enrichment in their lives, which they can get from exploring different textures at feeding time. Most lick mats will meet a variety of needs, but keep an eye out for extra details if you're looking for something specific to offer your cat.
​Food type:​ Most lick mats are designed to support wet food, dry kibble, and cat treats, but some will do better with certain consistencies than others. Generally, a mat with more depth will be better able to support dry food and will make eating kibble slower, while more shallow mats are great for wet food formulas.
​Shape:​ The shape of the lick mat is probably more for cat owners than their feline companions, but the pattern on the mat can be more or less enjoyable to certain cats. A slow feeder will likely have more ridges or deep pits for wet food or dry food to sit in, and something that's just meant to be a boredom buster may feature intricate designs to keep cats engaged.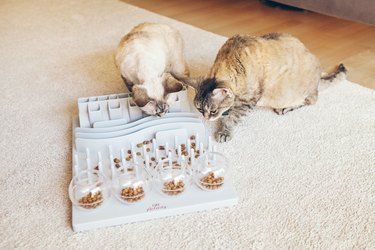 The Lickimat is one of the tried and true lick mat brands out there. These particular Lickimats are designed in the shape of a fish and are sold in three options—Casper, Felix, or a combo pack containing one of each, both of which are textured to mimic what eating would be like in the wild. This style mat requires cats to crouch low, slows eating, and improves dental health by encouraging saliva production through repetitive licking. This mat can support wet food, dry food, and spreadable treats like yogurt and peanut butter, and is made of rubber, making it an easy to clean, dishwasher safe, and environmentally friendly product.
2. Pet Zone Boredom Busters™ Relax Slow Feeder Licking Mat
For a simple mat with shallow depth and a clean texture, this mat is a great choice to consider (and extra points for the price tag!) Made in a square shape and featuring dozens of raised bumps separated into quadrants, this mat can work as a slow-pace cat feeder, or a great way to pass the time. Dishwasher safe and freezer safe, you can easily spread wet food or treats onto this mat, freeze, then offer to your cat for hours of enriched engagement. This mat is made of TPE, or thermoplastic elastomer, which is similar to rubber and is often used to make sippy cups and medical equipment.
3. MateeyLife Licking Mat for Dogs and Cats 2PCS
Need a little suction to keep your mat in place while your cat enjoys using it? This mat contains 77 suction cups on the bottom of it, so you can stick it to the floor, wall, or any surface your cat may enjoy eating off of (wall-mounted mats are a great way to keep cats distracted during grooming.) Made from food-grade silicone, this mat is safe to eat from, freeze, and clean in the dishwasher, and contains a hole at the top for hanging dry after cleaning. This mat is designed with different textures on it to reduce anxiety and keep cats engaged, and supports all formulas of foods and treats.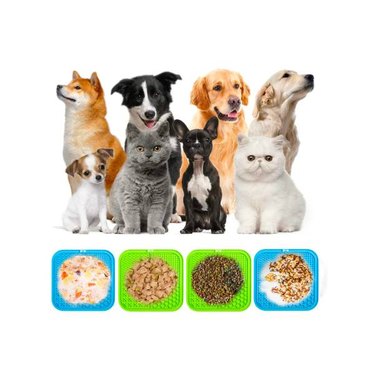 4. Disney Mickey Silicone Dog & Cat Treat Yummy Mat
For the Disney fans among us, this themed mat features a Mickey Mouse outline to keep your pets busy during cat feeding time. Made of a silicone and BPA-free plastic mixture, is safe to place is the dishwasher and the freezer, and holds wet and dry food. It is listed as non-skid but does not contain suction cups on the bottom to hold it in place, so use your discretion if you have a cat who's a particularly enthusiastic eater.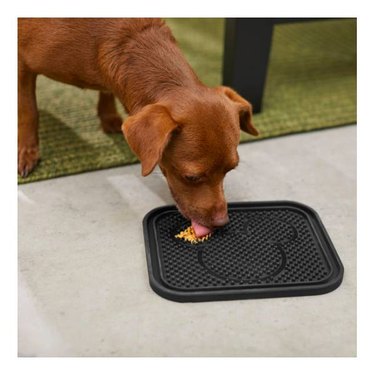 5. CIICII 3Pcs Slow Feeder Dog and Cat Bowls with Suction Cups
If you need a lick mat that acts primarily as a slow feeder, this one may be for you. This features a deeper texture in the mat for food to settle in, which engages cats by making them work a little harder for it, slowing down chewing and swallowing in the process. It's made of food-grade silicone, features 25 suction cups to keep it in place, and is dishwasher safe, or can be soaked in warm water and rinsed clean. This mat is listed as refrigerator safe, and can hold all food types, including hard and soft treats, and is sold in a three-piece set, featuring two mats and a spatula.
6. Ancistro Dog and Cat Lick Mat
For an affordable lick mat option, this two-pack offers two different designs featuring a number of textures to keep things fresh and interesting for your feline friend. Made of food-grade silicone, this is a dishwasher-safe lick mat with a hole for hanging dry, and is made with strong suction cups on the back to help keep it in place around the home. One mat is made in a fish design with texture built in from head to tail, and the other is separated into three parts, each containing completely different textures for an interesting time.
7. Manunclaims Fish-Shaped Cat Slow Feeder Pet IQ Treat Mat Lick Mat
Another fish-shaped mat, this silicone option is textured a little deeper to act primarily as a slow feeder, which can help prevent gulping, bloating, and choking. It features four sections in the face area, and wavy ridges throughout the body, which works to stimulate problem-solving in the way that a puzzle feeder would. This mat is sold in three colors—blue, grey, and green, and is tear-resistant in case you care to share it with your dog friends.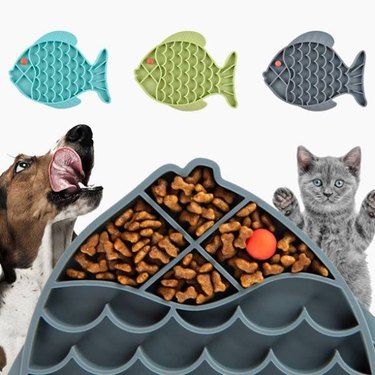 8. Hyper Pet IQ Banquet Dog & Cat Lick Mat
If your cat is in need of mental stimulation, this lick mat can keep them engaged thanks to four separate feeding spaces, textured with small ridges or large, deep pockets. This mat is excellent for offering spreadable treats like peanut butter, yogurt, and pate-style wet food, and is dishwasher-safe. It is made of plastic material, and the primary design element is to reduce stress, although it also works as an excellent slow feeder.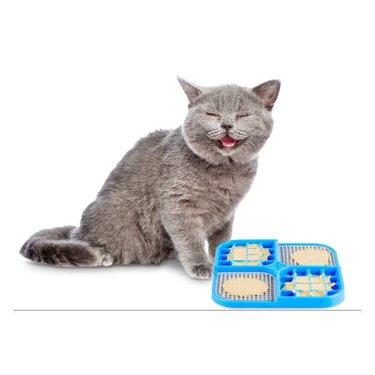 9. Neater Pets Neat-Lik Slow Feed Licking Pad for Dogs & Cats
Another sweet and simple mat design, this option is made from food-safe TPE, and is freezer and dishwasher-safe, or can be soaked in warm water to hand wash clean. The spiderweb design offers a licking area that changes in size throughout the mat, which can make eating fun and stimulating for cats and is an excellent enrichment option for our indoor friends. This mat is non-slip and is suitable for pets of all sizes, including dogs.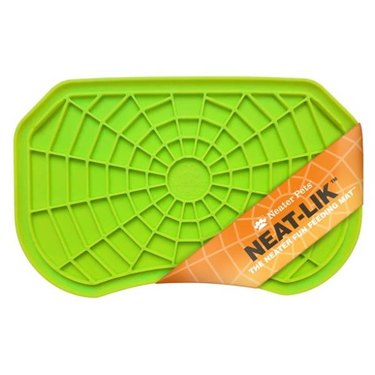 10. STAR WARS THE MANDALORIAN GROGU Silicone Dog & Cat Treat Lick Mat
Another themed mat, this Star Wars Grogu mat is made with BPA-free silicone and plastic, and features a non-slip bottom, although it is not fitted with suction cups. This is dishwasher safe, and is designed with so many interesting sections and textures, including the pointed ears, which can keep cats busy during meal time. As this mat is shallow it's a great option for spreading things onto, and it can go in the freezer to make a long-lasting lickable treat for your cat.