Most people are familiar with hamster wheels—those small, metal, or plastic circular pet products that a small animal can step inside and run in, essentially, forever. Now, cats can experience the same type of exercise with wheels made large enough for them. People offer cat exercise wheels to provide stress relief, alleviate boredom, provide physical activity for indoor cats who may not get adequate exercise, and help cats living with obesity build healthy habits. Cat wheels typically run around $300 a piece, and should be made with high-quality materials, including sturdy liners, to provide a safe exercise option that lasts a lifetime.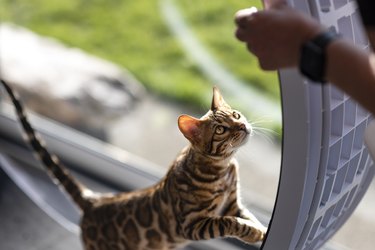 What to consider when purchasing an exercise wheel for cats
‌Size:‌ When you're shopping for a cat exercise wheel, size is the absolute most important detail to keep in mind. Exercise wheels should be large enough to support the height, width, and weight of a feline, so finding a wheel of the right size may not be possible for all adult cats. Ensuring that the wheel is durable and sturdy enough to support the weight of your cat is an essential part of ensuring your cat's safety while using one, so be sure to research the specs on any wheel you're seriously considering.
‌Your Space:‌ In addition to being the right size for your cat, be sure any cat wheel you purchase is the right size for your space as well. Cat wheels are sometimes designed to support very small cats and kittens, while others are big enough to provide large cats with the room and support they need to get a good workout. If you're working with a small amount of square footage in your room, take the time to measure the product and make sure it fits before you have it delivered.
‌Price:‌ Quality cat running wheels aren't exactly cheap, but if you're looking to offer your indoor cat some non-stop exercise without leaving the house, it can be worth every penny. A safe wheel will be constructed with quality materials, including slip-resistant carpeting or other material that provides traction. That said, the most expensive wheel isn't necessarily the best wheel, so be sure to consider specs like measurements and liner materials when shopping.
‌Reviews:‌ Shopping for an exercise wheel may not be as easy to do as shopping for other more traditional cat products since there just isn't as much user feedback on them. Often, people look to user reviews to determine the pros and cons of a purchase, especially one that can cost a few hundred dollars. Because there aren't as many reviews for cat wheels as say, cat collars, look to important criteria to help make your decision, like the ease of assembly, cat sizes, and how long it took cats to figure out how to use it.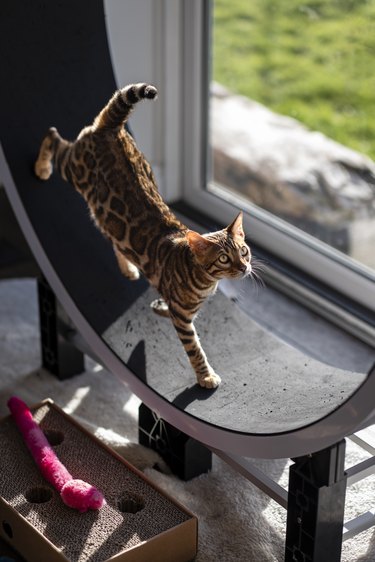 The best overall cat exercise wheel
A great cat exercise wheel should be simple in design, sturdy and supportive, and safe and inviting for cats to use, and this one checks all of those boxes on the lower end of the pricing scale. The One Fast Cat wheel is a great interactive cat toy in that it features a foam surface for safe running, is lightweight and easy to clean, and can support up to 25 pounds so larger cats can also enjoy the fun. This wheel measures 47 inches long, 10.75 inches wide, and 48 inches high, so your cat won't be cramped while enjoying a fun run.
The best multipurpose cat exercise wheel
If you're shopping for a multi-functional piece of cat furniture, consider this exercise wheel and cat tree combo. The wheel is 20 inches in diameter, but the overall size of the cat tree is 31.5 inches long, 15.75 inches wide, and 35.04 inches high. It can support cats weighing up to 15 pounds and has three spots for lounging, complete with removable cushions. There are also two sisal scratching posts and a peekabo hole. The wheel's exterior and interior surface is lined with sisal carpet to provide traction for safe playing, and this item can be spot cleaned with a wet rag or sponge.
The best cloth-lined cat exercise wheel
This wheel falls within a great price point but is on the smaller side, measuring 23.5 inches long, 12.5 inches wide, and 26.25 inches high. The running surface on the interior of the wheel is carpeted and measures 10.5 inches in diameter. Rather than sisal carpet, which can be a bit scratchy on soft paws, this wheel is lined with carpet cloth for a smooth ride. Additionally, there is a brake device on the outer part of this wheel near the base to allow you to stop your cat in the event of an emergency (or if you have a feline friend who just doesn't know when to stop).
The best DIY cat exercise wheel
Another carpet-lined wheel, this item comes in four pieces—the base, and the wheel, which bolts together in three parts. Each wheel includes all of the necessary hardware required for assembly, which is easily done in just minutes. Carpet patches also come with the parts so you can line the wheel for better gripping and safer running. This is a great wheel for larger cats as the wheel measures 35.8 inches in diameter. The inner track is 12.2 inches wide and comes with a small base for mounting.
The best silent cat exercise wheel
Most cats are active at dawn and dusk because that's when cats hunt for prey when they're out in the wild. Even when living indoors, this instinct can still kick in and may disturb a cat owner's sleep. This wheel is a great option for active night owls who need to run while everyone else is in bed. It's ultra-quiet when it spins, and no assembly is required. The inner surface of the wheel is lined with sisal carpet, so it doubles as a scratcher, and the frame is made of wood with cut-out paw motifs on the base. The wheel measures 37 inches long, 15 inches wide, and 40.6 inches high. It's designed for cats weighing 15 pounds or less. It comes in a wood or white finish, but at the time of publishing, only the white model was available for purchase.
The best kitten exercise wheel
Just looking for something to keep your young kitten entertained and exercised? You can purchase this wheel for a fraction of the price of standard wheels as it's made to support and engage small felines. Unlike the other wheels on this list, which are constructed from solid wood and carpet, this toy is made of corrugated paper, including the frame, which makes the outer side of this wheel easy to climb and play on. Kittens can run on this wheel, climb on the structure, or claw at it, depending on their preference. This wheel can support kittens up to 10 pounds, and measures 23.7 inches long, 10.6 inches wide, and 24.5 inches high.
The best cat exercise ball
If you're thinking about getting an exercise wheel to help with weight loss for your feline friend, it's important to consider their physical aptitude and size before purchasing an exercise wheel. Many cats who struggle with obesity will not take to a product like an exercise wheel right away and may need something less intense to engage them at first. This item uses the concept of a hamster wheel to offer an engaging way to get some cardiovascular exercise for a fraction of the price and half the space. The base is made of sturdy solid wood, and the scratchy ball is covered in sisal carpet. Additionally, there are two carpeted posts along the base of the stand. This toy is not only a great way to keep cats in shape, but it can also discourage scratching on furniture or carpeting around the home.