If you're a dog owner you're likely familiar with the feeling of walking around the house in your socks or bare feet and stepping in a little puddle of water thanks to your canine friend's recent visit to the water bowl. Spill-proof bowls are designed to prevent just such an occurrence from happening and are often created with splash-proof rims, floating disks, or elevated stands for less mess on your floors.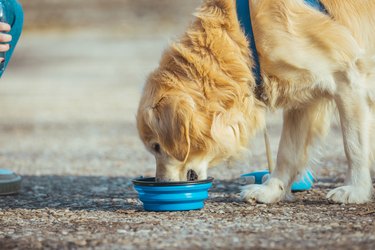 Many of these types of bowls are travel-friendly, and all of them are easy to clean for long-lasting usage. Keeping your dog hydrated is an essential part of canine healthcare, so we don't want to reduce the water we offer them, but can find products to meet both of our needs. Here are our top picks for the best dog bowls that are designed to reduce or eliminate spilling.
What to consider when purchasing a spill-proof dog bowl
‌Size:‌ The diameter of a food or water bowl is something to consider in any case, and it may be even more important with a spill-proof bowl as the opening is usually a little smaller. Many non-spill bowls are designed with a top cover or raised outer rim to keep water in place, so be sure to measure the diameter of the opening on these bowls, especially if you have a larger dog or a dog with a more rounded snout.
‌Needs:‌ Non-spill bowls are often used for water, but can be used for food as well in many cases. If you're looking for both, paired sets can usually be found, and are often sold in a mount or matted to keep an eating and drinking space clean. If you need a bowl for travel, look for something durable with a removable lid, and one that will hold enough water to keep your pup hydrated.
‌Material:‌ The materials used in spill-proof bowls vary a bit. You can find bowls in stainless steel which won't rust, food-grade silicone which is easy to clean, PP resin which is lightweight but incredibly durable, or standard plastic which usually results in a lower pricepoint. The best material for your dog's bowl will depend on their needs and your lifestyle.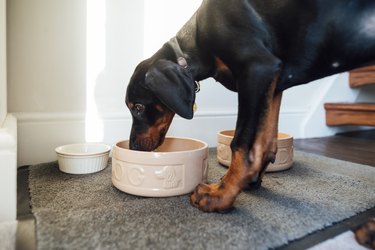 The best overall spill-proof dog bowl
A spill-proof, splash-proof, and nonslip design, this bowl is meant to dispense water without the mess and it does just that. It's made of three parts—the bowl to hold water, a floating cover to keep water intact, and a border piece for keeping everything snapped together and working properly. This is a slow-feeder water bowl and requires a slight push down to dispense water from the bowl, where it then rests on top of the floating cover. When drinking, a dog's tongue provides enough pressure to push the cover down and allow water up, and it can hold up to 35 ounces of liquid, perfect for an afternoon outing if you're taking it with you.
The best budget spill-proof dog bowl
For the most simple spill-free design on a budget, this stainless steel bowl with an extra wide base to prevent tipping is a great option to consider. Walmart sells it in two sizes, 32 ounces (medium) or 64 ounces (large), so it's perfect for large dogs, messy drinkers, or multi-pet homes. The wide base is wrapped in silicone for a nonslip grip on the floor, and the stainless steel bowl will never rust, making this dish a great value for anyone looking to save money and keep their floors dry.
The best angular spill-proof dog bowl
For some dogs, like our bearded friends or dogs with long ears, the directly underneath positioning of a bowl can lead to a soaked face that dribbles water all over the house. This bowl comes with a stand that's shaped at a 15-degree angle for a more forward approach to drinking, which can lead to fewer messes. The base is built with a nonslip pad at the bottom, and the bowl that holds liquid or food is stainless steel, holds 31 ounces of liquid or food, and is removable for easy cleaning.
The best large spill-proof dog bowl
For large dogs, a spill-proof bowl that holds a lot of water is essential for staying properly hydrated. This bowl can hold up to 48 ounces of liquid or food. It's made of sturdy plastic material that's durable and long-lasting, and dishwasher-safe, making this a smart economical decision as well. The spill-proof design element of this bowl rests on the lid, which keeps water contained but accessible through a hole in the middle. Excess water can rest on the rim of the lid, which is easy to snap on and off for cleaning or refilling.
The best small spill-proof dog bowl
Smaller dogs, on the other hand, should have a bowl that's sized to them, because less surface area means fewer chances of spillage or soaking. This bowl is offered in two sizes, the smaller of which holds only 16 ounces, making it a great choice for any pet who only needs a little drink or bite. Made of BPA-free silicone, this bowl also uses a rimmed lid design with a cutout hole in the center for easy access without the mess, and is a good choice for traveling companions.
The best elevated spill-proof dog bowl
One way to keep messes off of the floor is to keep eating and drinking bowls off of the floor, which is what this elevated dog bowl set does with its included stand. Offered in small, medium, and large sizes, this stand consists of a sturdy plastic base to lift bowls off the ground and act as a reservoir for catching spilled water while drinking. On top of the base is another splash-proof plastic stand to hold the bowls, as well as a built-in drain that sends spills into the reservoir. Not only is this a good way to keep food and water messes from hitting the floor, but it's also a great option for dogs who have trouble bending their necks down to the ground due to digestion issues, or neck and joint pain.
The best spill-proof dog bowl set
If you have more than one companion drinking and eating at the same time, a spill-proof set is a great way to keep spaces clean during mealtimes. This bowl set contains a dog water bowl and a dog food bowl, both made of rust-proof stainless steel, that rest in a BPA-free silicone mat stand for nonslip security. In addition to holding the bowls in place, the mat is designed to collect spilled food and water with a raised outer lip and is easily cleaned with soap and warm water, or in the dishwasher.
The best durable spill-proof dog bowl
If you're on the road with your canine companion, or just find yourself out and about on particularly hot days, a durable bowl is crucial. This bowl is made of food-grade polypropylene (PP) resin, which is an incredibly rigid crystalline thermoplastic that's tough but lightweight. It's affixed with nonslip pads at the bottom of its base and has a splash-guard lid that fits around the edge of the bowl for reducing messes while making access to water easy for dogs. This bowl is on the small-ish side, holding 25 ounces. Choose from four eye-catching colors.
The best slow-feeder, spill-proof dog bowl
Spill-proof bowls are not just great for keeping water and slobber off of floors, but they can also work as slow feeders. This travel-friendly bowl made of durable PP resin is offered in two sizes, small and large, and features a removable lip lid to keep water from spilling and to encourage slower drinking and eating. It comes with velcro strips you can attach to the bottom for security if you like, and is a good option for anyone looking to keep a dog bowl in kennels, cars, RVs, or just around the home.
The best spill-proof dog bowl for travel
Whether you're on the road for a long trip, or just coming home from an afternoon of playing outside, having a water bowl for your dog to drink from on the road is a great way to ensure proper hydration. This no-frills bowl offers a sturdy, BPA-free PP resin vessel to drink from even in a moving vehicle. As the hole in the center of the lid only measures 4.25 inches in diameter, it is probably more functional for a small dog if you wish to keep the lid on, although the top is removable to create a sturdy water dish for dogs of all sizes.