Camping can be a great way to get away from it all and connect with the natural world around you, and for many people, it's even better done with a canine companion by their side. Camping in any situation takes some planning, which is even more true if you have a dog with you. Finding the right gear for your camping trip will depend on your dog, their capabilities, the length of your stay, and the climate during your time out. We've come up with a list of items anyone can use to camp out with their furry friend, but not everything on this list is needed for every excursion, of course. Generally, the basics of camping include a place for your dog to rest, bowls for food and water, a durable leash or tie-out, and a towel or waterproof blanket.
What to consider when purchasing dog camping gear
‌Getting There:‌ Camping comes in many forms, including car camping, where you can drive up, pull through, and pop up a tent right outside of your vehicle, and primitive camping, which might take a bit of a hike to reach. You may need some additional items if you need to hike far to reach your camping spot, so stocking up on things like convertible water bottles, a durable dog leash, poop bags or disposal options, and even booties to protect sensitive paw pads can make things easier on your furry friend. Always shop with your dog's capability in mind, and always carry ample water if you're hiking.
‌Weather:‌ The climate you're camping in will absolutely determine what items you'll need to make everyone's stay comfortable. Hot weather camping gear for dogs might include cooling pads, extra water, and a shade cover, while cooler climates may require extra blankets, additional food, and waterproof everything. If you're unsure about the weather for your trip, a waterproof canopy to keep everything covered is a safe bet.
‌Safety:‌ If we live in a city or suburb, keeping our dogs safe likely extends to leash control, a fitted collar, and caution when approaching triggers. Camping requires a few additional safety measures, like making sure you can see your dog after dark, and providing a water container and first aid kit in the event of a bite, sting, or scrape. Always pack with the worst-case scenario in mind, especially if you're on a camping trip that may last for days, and consider equipping your dog with flea and tick repellent if you're going deep into the woods.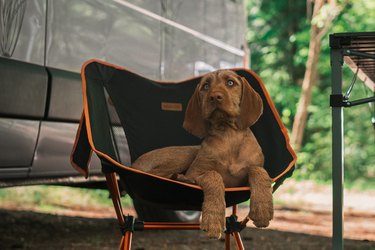 XiaZ Dog Tie Out Cable for Camping
Making sure your dog is safely secured at your campsite while still able to enjoy the outdoors is essential when camping, especially if your dog doesn't have great recall or has a strong chase drive, no matter how wide open and seemingly empty the space is. Creating a tie-out with cables and hooks, like this one, allows dogs to do just that, so long as you have two sturdy posts, like trees, to affix the ends to. This kit contains rope in three sizes—50 feet, 75 feet, and 100 feet, and is made of reflective Kernmantle rope with alloy steel clasps. It also comes with a carrying bag and two carabiners for easy assembly.
Arcadia Trail Outdoor Ultimate Dog Shade Tent
Not every pet will need their own tent, but if you're tight on space, or if your dog prefers to sleep with a little room and privacy, offering a small pup tent can make camping more comfortable for them. This tent from Arcadia Trail is waterproof and offers UV protection. It's easy to assemble and touts a front awning for additional shade. The whole thing packs into a convenient carrying case, and there are six ground stakes to keep the tent in place on windy days. When fully assembled, it measures 31.5 inches long, 41.25 inches wide, and 30 inches high.
Arcadia Trail Cozy Sleeping Bag for Dogs
A sleeping bag can make camping very comfortable for dogs, especially on chilly nights and early mornings when temperatures drop. This dog sleeping bag is made with a nylon outer cover and comes with a built-in pillow for an all-in-one sleeping experience. Like most sleeping bags for people, this bag is flame retardant to keep your camper safe and is easily packable into the included drawstring bag. The size measures 30 inches by 38 inches, so it's not ideal for larger dogs but can be a great option for keeping small dogs warm and cozy.
Arcadia Trail Inflatable Dual Layered Dog Bed
Many people like to sleep with the help of an inflatable sleeping pad when they camp out, and some dogs also appreciate the little bit of added comfort. It's water-resistant and made with polyfill material for comfortable cushioning, and includes a non-skid base along the bottom to prevent moving in the night. This bed can support up to 75 pounds so it's a great option for larger dogs, and comes with built-in straps to make transporting easy. To inflate, simply turn the air valve and allow it to autofill, and deflate it by turning the valve the opposite way.
DogGoods Do Good Dog Leash Fanny Pack
For anyone who's hiking out and back with their dog to reach a campsite, keeping your hands free can be a real amenity, especially if you're carrying additional supplies. This kit comes with a belt that straps around the waist and is built to fit a water bottle, treat pouch, collapsible bowl, and a reflective leash that clips on. All of the fabric used here is reflective, and the included accessories clip on using plastic clips.
SLSON Collapsible Dog Bowls, 2-Pack
Keeping your pooch hydrated is a must when out in the elements, and having collapsible dishes makes it easy to keep containers with you at all times. This two-pack can be used to offer water and kibble in BPA-free silicone that's nontoxic, durable, and even dishwasher-safe. There are two sizes available—the small size can hold 12 ounces of water or about one-and-a-half cups of standard dog food, and folds down to only half an inch when it's collapsed. The specs aren't listed for the large size, but it measures 6.8 inches in diameter and 2.9 inches high, or 0.7 inches when flattened. Both come with an attached carabiner clip.
Arcadia Trail Elevated Canopy Cot with Water-Resistant Roll-Down Sunshade
OK, this isn't exactly an essential item for camping with dogs, but if you have the space to carry it, and plan to camp with lots of daytime heat and sun, it can make things very enjoyable for your friend. Complete with an elevated cot for resting on, this canopy is also fitted with a water-resistant roll-down sun shade and roof for keeping your canine protected from a variety of elements. It's easy to assemble and pack up with secured fasteners, and can support up to 150 pounds.
A warm, waterproof blanket can make all the difference when camping out, and this one is designed to keep pets dry and comfortable in style. Available in small, medium, and large, this blanket is made with a synthetic top layer and Sherpa liner on the inside. In addition to being waterproof, it's also chew-resistant and can work as a soft blanket or a protective pad that a dog can sleep on.
Fashion&cool USB Rechargeable LED Dog Collar
Keeping tabs on your dog at night is crucial when you're in an unfamiliar area, and light-up dog collars make that easy. This silicone collar fitted with LED lights inside of it is offered in six colors to make spotting your dog easy after dark. It comes with three blink speed settings and is USB rechargeable, holding a three-hour charge. This collar's original size is 27.5 inches, but it can be cut to fit your dog's neck, is water-resistant, and visible from over 1500 feet away when it's on.
ARCA PET Dog First Aid Kit, 35 Pieces
Perhaps the most important item in terms of dog safety that most people don't keep with them is a first aid kit. Outdoor adventures can come with bug bites, scrapes, falls, cuts, and stings at a moment's notice, so keeping the essentials in one place can help ensure you're prepared. This 35-piece first aid kit includes scissors, gauze, antiseptic wipes, ointment for bug bites, a thermal blanket, and more. It comes in a lightweight pouch you can clip onto a day pack or travel bag, and features reflective lettering on the outside of the bag in case your doggie needs assistance after dark.
Dog poop is an issue whether you're walking around your neighborhood or camping in the great outdoors, and disposing of it properly can not only leave a camping space as you found it, but it can also detract predators like bears. Poop bags can definitely work for picking up messes in the wild, but a safe and eco-friendly way to deal with poop is to simply bury it out of sight and scent. This basic hand trowel can do just that thanks to its stainless steel head and ergonomic grip rubber handle. If you need to hike out with it, simply wrap it in a bag and attach the handle to your pack with a clip.