Taking a cat on the road is different than taking a dog for a number of reasons. One major thing to consider when traveling with a feline companion is how and where they're going to use the bathroom. Taking a litter box with you is most likely going to be necessary, and a travel kitty litter box can make things easier in terms of transporting, managing odors, and keeping everything organized. Most travel litter boxes are foldable, zip close, and lined with a waterproof material to keep messes inside, but always be sure to check the specs when shopping for one to find the best litter pan for your needs.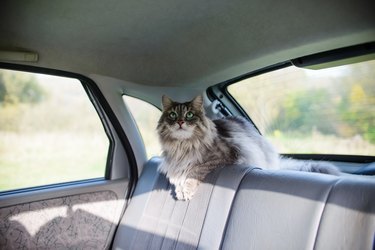 What to consider when purchasing a travel litter box for your cat
‌Portability:‌ You don't want to end up with a litter box that's clunky and tough to transport, so finding a travel litter pan that's easy to pack up and carry around is essential. Most cloth litter boxes will fold up for easy storage and carrying, and some come with handles to make things even more convenient once it's all zipped up and ready to go.
‌Waterproof Lining:‌ If you have a travel litter box that's made of cloth material, it should be lined with material that will make it waterproof and leakproof. Plastic litter boxes usually aren't lined but should still keep messes contained, and disposable or biodegradable litter boxes are made of thick materials but may need an additional surface underneath them just to be safe.
‌Depth:‌ The depth that your litter box needs to be will depend on your cat's preferences, but most are around four or five inches deep, which is plenty for cats to paw around in. Cats who don't mind a shallow pan may prefer a less bulky box on the road, and smaller litter boxes are available as well.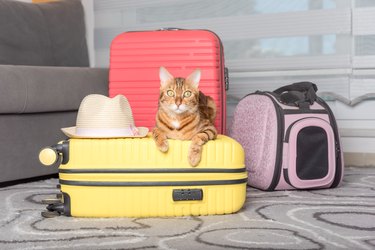 The best overall travel litter box
Durable, foldable, and easy to transport, this fabric litter box is completely machine-washable, including the inner waterproof layer meant to keep liquid and waste from leaking out (although many people still prefer to line it with disposable liners for cleaning litter easily). Handles affixed to the top make it super simple to grab and carry, and the top hood detaches via a zipper to make the filling, cleaning, and folding easy. This product comes in two sizes—the standard size, which can carry cats weighing up to eight pounds, and the large size, which can transport up to 20 pounds—and each includes a handle for keeping a litter scoop nearby at all times.
The best travel litter box for kittens
For kittens or small to medium cats, a compact box like this one should suffice. Fitted with a waterproof liner, this suitcase-style foldable cat litter box zips open for seamless filling, cleaning, and using. Made with heavy-duty oxford cloth, this litter box is durable yet lightweight for easy transporting and folds flat when not in use. It's recommended to line this litter box with biodegradable litter box liners, which can be easily disposed of when it needs to be cleaned or emptied.
The best disposable travel litter box
If you're not looking to keep your travel litter box for multiple uses, or just need something for one trip, a disposable option may be for you. Sold in a pack of three, these disposable litter boxes are made of 100% post-consumer waste recycled cardboard that's thick and durable for holding messes. It's built to contain urine and other waste by itself, but you can certainly add a litter box liner if you wish for added protection. These disposable litter boxes are designed for cats weighing 2 to 25 pounds. Each box measures 13.8 inches long, 17.8 inches wide, and 4 inches high.
The best budget travel litter box
For a travel litter box on a budget, this collapsable box is a fantastic option at under $15. The outer layer is made of durable and easy-to-clean nylon, and the inside is lined in poly-plastic to keep messes in. It can hold about five pounds of litter, plenty for most cats to use and paw around in, and also comes with a travel water bowl to make life on the road just a little easier on everyone.
The best shallow travel litter box
Some cats need a deep mound of litter to comfortably use the bathroom in, but for cats who just need a little bit of litter, a shallow pan can totally suffice. Made of lightweight canvas, this 3.94-inch deep litter pan comes with a lid that zips open for easy access and is coated with PVC on the inside to prevent leaks. This is not machine-washable but does wipe clean, and should be suitable for cats of all sizes so long as they're comfortable in a 15.5-inch diameter pan.
The best plastic travel litter box
When it comes to litter boxes, some people just feel more comfortable having their cats use one that's made of plastic all around. This litter box isn't exactly made to be a travel litter box and it will not fold up, so it may be best left transported in a vehicle with room to spare rather than on a plane or bus. That said, it features built-in handles for easy lifting and carrying, and is made of antimicrobial plastic for a truly leak-proof litter box to use anywhere. Additionally, the high sides are great for preventing splashing and spraying, and the curved base makes it a cinch to wipe clean or fit with a liner.
The best travel litter box set
When you're on the road with your furry friend, a litter box alone won't do everything you need. This travel set comes with a travel litter box, a litter scooper, and a collapsable food or water bowl to meet all of your pet's needs. Sold in medium or large sizes, and available in green, black, or gray, the litter box is waterproof, leakproof, and zips open and closed. The box also folds down to a very small and easy-to-move size, and can also be used as a travel bag for your pet when it's not being used as a litter box thanks to its suitcase design.
The best travel litter box with handles
Having a handle on your travel litter pan isn't absolutely necessary, but it can certainly make things easier when it comes to transporting and cleaning. Designed like a duffel bag, this model features a litter pan compartment that slides out, which makes filling the pan and emptying it easy, and offers another option if your cat doesn't like to climb down to use it. There is a lid that zips closed to offer top entry for cats who prefer that, and is fitted with double pockets for keeping litter scoops, liner bags, cat food, and other items all in one spot. This portable cat litter box is made of oxford fabric, so it's durable and machine-washable. It's also lined with PVC on the inside to prevent leaks.
The best travel litter box accessory
If you've found the travel litter box that works for your cat but you still have messy litter tracking or other spills to contend with, a mat to keep outside of the box can help make any road trip more manageable. Made of easy-to-clean rubber, this mat is constructed with a ribbed texture to collect litter from the bottom of your cat's paws after they leave their travel litter box. This mat is waterproof and folds up easily so you can keep it with your litter box.