People make their own dog treats for a number of reasons, from saving money to controlling which ingredients are used, to showing appreciation for their canine friend. Unlike making dog food at home, treats are a bit more forgiving as they're meant to supplement meals, so you won't need to stick too closely to nutritional guidelines or exact ratios to ensure that your dog has a balanced diet. Homemade treats can be created with the help of kits, which may contain cookie cutters, mixing bowls, recipes, and treat mixes. If you wish to do it totally DIY, you can make treats without a kit, so long as you have the baking tools you need and a quality recipe to follow. We opted to leave the ingredients of choice up to you, but here is a short list of essential items for making dog treats at home.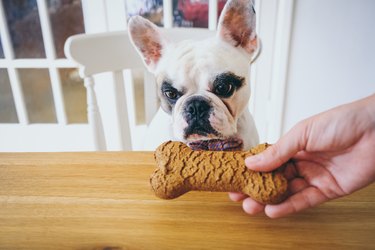 What to consider when making homemade dog treats
‌Ingredients:‌ Unless you purchase a kit with premade treat mix that's included, you will need to follow a recipe that should call for ingredients your dog likes and can tolerate. Many safe bets for main ingredients include dog-safe peanut butter, pumpkin puree, oatmeal, and yogurt, and the right one will depend on your dog. Obviously, do not use any ingredients that your dog is allergic to or intolerant of, and take these same precautions with any binding ingredients, such as eggs and flour. Some ingredients that are not recommended in homemade treats include corn syrup, artificial colors, propylene glycol, and vegetable oil.
‌Use:‌ Treats are used for a number of things, from reinforcing positive experiences and behaviors during training to quelling boredom, to simple enjoyment. When making treats, always consider what you'll be using your treats for and bake them according to those factors so you can ensure the right consistency and size for dispensing. Training treats are generally smaller, while treats used to keep a dog entertained are larger, and sometimes frozen or cool.
‌Expiration Dates:‌ Because homemade treats do not contain preservatives, they will expire quicker than store-bought treats. Keeping treats in an air-tight container can help them last longer, but generally speaking, most homemade treats will go bad within about a two-week period. Keep this in mind when making treat mix, and try to only make what you can use or give away within that timeframe.
‌Selling Treats:‌ Selling homemade treats is something a lot of dog lovers do, and you can do this safely by clearly stating all of the ingredients used in your treats, and when they were made. Many areas do have rules and regulations for selling food, which may apply to pet food and treats, so be sure to research this before selling or ask a fellow local treat maker if they can offer any insight.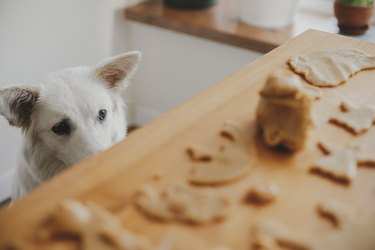 A cookbook with a huge variety of recipes
If you're a serious baker and would rather whip up your own dog treats than make them from a box, this cookbook includes more than 70 recipes, including KONG stuffers, biscuits, no-bake bliss balls, and birthday cakes. The recipes call for simple, human-grade ingredients, and alternatives are listed for dogs with allergies or food sensitivities. It's available in a hardcover or Kindle format and features gorgeous photos and helpful hints. "Healthy Homemade Dog Treats" would also be a great gift for the dog lover in your life!
A reliable set of mixing bowls
Another thing you'll need for making dog cookies, just like cookies for people, is a set of mixing bowls. This set of three bowls comes with three clear lids, so they're perfect for chilling dough or even storing treats once they're baked and ready to share. The mixing bowls are made of food-safe polypropylene and are fitted with a TPE base so they won't slip on any surface. These bowls are dishwasher-safe and are sized 1.5 quarts, 3 quarts, and 5 quarts.
You don't need a dog treat-making kit or pre-made molds to create dog biscuits on your own. Many people like to go full DIY in their treat-making, which just requires a few items you may already have in your kitchen. One very important item is a baking sheet, which is essential for dry treats and can provide a large area to keep frozen treats on as well. This large baking sheet measures 16 inches by 12 inches, and is covered in a nonstick coating for easy cleaning and treat removal. It comes with a limited lifetime warranty, and is dishwasher-safe but cleans best in warm, soapy water.
An easy-to-clean spatula set
Mixing spoons and spatulas are needed to combine all of your ingredients and evenly dispense them onto surfaces or in molds. This set includes a 9.72-inch jar spatula, an 11.38-inch spoon, an 11.38-inch spatula, and an 8.94-inch mini spatula. They are all made of food-grade silicone that's heat-safe up to 600 degrees Fahrenheit. Because each utensil is only one piece, there are no crevices for food or bacteria to hide in. They're a breeze to clean by hand but are also dishwasher-safe. Choose from five different colors: black, navy blue, orange, purple, maroon, or aqua (pictured here).
A comprehensive treat-making kit
If you have a recipe on hand that you like but just need some baking items to help turn it into goodies, this 55-piece kit is stocked with a ton of items to get you started. This kit comes with two bone-shaped cookie cutters, and two silicone molds for pressing cookies (one heart-shaped, the other paw prints and bone-shaped). Additionally, you'll get one rolling pin for smoothing out your dough, and 24 doggy bags with zip-ties and stickers—perfect for parties or giving away. This kit also includes two recipe cards if you need them.
An easy-to-use dog treat maker
If rolling out dough isn't up your alley, you can also create treats waffle maker-style with this all-in-one treat maker from DASH. Covered in a nonstick, BPA-free coating for easy use and cleaning, simply add the batter of your choosing to the molds, press, and enjoy up to eight healthy treats at a time. Each treat maker comes with a dog treat recipe guide that features recipe options you can create at home, all of which call for unprocessed ingredients for healthy treats that most dogs will love.
For the pup who prefers personalization, or the family with two dogs on different diets, these custom cookie cutters from Etsy maker CreativePixelCA are a must-have. There are widths ranging from 2 inches to 5 inches, and you can choose between a stamp and outline, a stamp only, or a one-piece item that includes both. The character limits span 6 to 15 characters depending on the width of the cookie cutter. The cookie cutters are 3D printed and made with nontoxic, plant-based PLA plastic. They're made-to-order and available in multiple colors. The depth of the outline cutters is 15 millimeters (0.6 inches) and the raised letters are 4 millimeters (0.2 inches).
A starter kit for frozen treats
If a cool treat is more to your dog's liking, or if you just wish to offer your canine treat something different on a hot day, pupsicles are an easy option with this kit. This starter kit is offered in regular and grain-free formulas, and comes with two dry mixes in each kit—one turkey and cinnamon-flavored, and one beef and cheddar-flavored. To make your treats, simply add some mix to water, pour the batter into the included bone-shaped and paw print-shaped mold, and freeze. This kit company is a small business based out of San Diego that uses real meat in all of their pupsicle mixes for a healthy canine treat.
A super simple birthday cake mix
If your dog might enjoy a treat that's not in cookie form, you can make them a cake at home too! This kit from PetCakes makes baking easy with an organic, carob-flavored cake mix (a dog-safe chocolate alternative) that you simply mix with water, add to the included pan, and pop in the microwave for a few minutes. This kit also comes with yogurt icing to add on top, and a birthday candle if you're celebrating your furry friend. This cake keeps for about a week in the refrigerator, and can be kept for two weeks in the freezer, but should be tossed after any longer.
... and some ice cream to go with it
Finally, what goes better with cake than ice cream? For a full party experience, or if your doggie friend just likes to lap their treats, this at-home ice cream mix comes in a pint-style container for the full ice cream look. All you need to do to make this ice cream is mix the ingredients in water, then freeze everything for eight hours for the perfect consistency. This mix is birthday cake-flavored and comes with naturally-colored sprinkles as a fun topping.