Tossing a frisbee for an active dog is not only great exercise and mental stimulation for them, but it can also be a wonderful way for dog owners to bond with their pets and enjoy a little movement on a nice day. These days, frisbees for dogs are offered in a wide variety of prices, materials, and designs. Frisbees can be made to float, glow in the dark, and even withstand damage from dogs' teeth, so if your dog loves to fetch, there's a frisbee out there for them. When shopping for a frisbee, keep an eye on sizes and weights and lean on the smaller, lighter end of things if you're not sure which kind to get for your dog.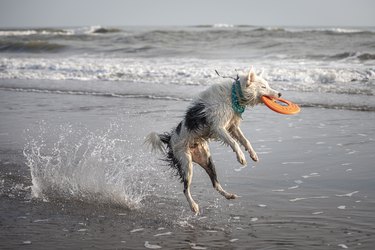 What to consider when purchasing a frisbee for your dog
‌Preference:‌ Like any toy, different dogs will have different preferences when it comes to frisbees. For some, a plain plastic disc will suffice, and for others, something that feels a little softer in the mouth, like rubber or fabric, may be a better fit. If your dog seems to enjoy the act of chasing a flying disc but doesn't seem to like bringing it back, you may want to experiment with different materials and designs until you find the right one for them.
‌Aptitude:‌ When you're shopping for a frisbee, it's important to keep in mind that not all dogs love chasing things. Having one to throw and play with can still be a fun toy to keep around, but before you go dropping top dollar on a competition-grade disc or an extra-durable piece of rubber, see if your dog enjoys fetching first, and remember, the point of play is to have fun!
‌Size:‌ Sizing is important to consider when it comes to finding the right frisbee for your canine pal. Not only does a dog's mouth need to fit around and carry the toy, but also, this flying projectile can turn into a weighty object when thrown, and a toy that's too big could really injure a small dog, so always be sure to shop by size.
‌Material:‌ Dog frisbees come in a variety of materials, including plastic, soft rubber, nylon, and other fabrics. Some discs are made to be puncture-resistant for tough chewers, some are made to float, and some are just meant for long-distance throwing—knowing what your dog enjoys about chasing frisbees can help you choose the right one for both of you.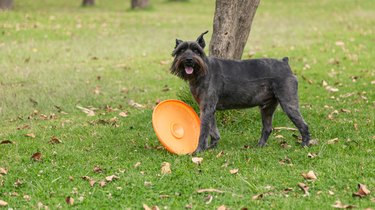 1. Starmark Easy Glide DuraFoam Flying Disc Dog Toy
A frisbee toy works thanks to a fairly simple design, but there are some elements that can make certain flying discs exceptional to play with. This option by Starmark takes the classic frisbee concept and elevates it slightly by using patented foam material to create a toy that's durable, floats, and that feels comfortable in a dog's mouth. It's durable yet soft, available in two sizes, 9 inches, and 11 inches, and as an added bonus, it can be used as a water bowl thanks to its ridged design.
2. KONG Classic Flyer Dog Toy
If you have a dog who tends to turn everything they touch into a chew toy, then you're probably familiar with the KONG line of products. In addition to their classic and durable cone-shaped toy, the company offers an extra-durable frisbee for use as a fetch toy, a training tool, or just to engage in a fun play session with your canine pal. Made from their classic KONG rubber, this frisbee is not only softer to catch in the mouth but also gives a bit of bounce for added chasing opportunities in case of an incomplete pass.
3. Monster K9 Ultra Durable Flying Disc
Another durable disc on the market is the Monster K9 brand flying disc, which is made of a natural rubber compound that's built to be virtually indestructible in the mouths of even the strongest chewers. This toy is nontoxic and made from natural materials, which include zero plastic, nylon, or other synthetic fibers that could splinter. The company is so confident you'll love this product that they'll even offer a one-time replacement if you feel it doesn't hold up as well or as long as you think it should, so there's little risk to trying this frisbee.
4. Chuckit! Zipflight Max Glow Dog Toy
If you and your dog tend to hit the park around dawn or dusk, then a toy that's easy to see in low light is essential to keep playtime going. This medium-sized disc is made of fabric material with a 3D glow-in-the-dark design printed on it to make fetching easier in the early morning or evening. There's also a rubber ring on the bottom of it that glows, which can be charged under bright light for five to 10 minutes for 30 minutes of illumination. This disc is designed to fly fast with a cut-out in the center and will float on water.
5. Petstages Orka Flyer Tough Dog Toy
Looking for a classic plastic disc that costs less than $10? This budget-friendly frisbee is made of durable plastic that's a bit thicker and softer than the thin plastic that likely comes to mind when you think of a frisbee. It's easy for dog owners to grab and fling, and is made with a textured rim for soft catching that's easy on the teeth and gums.
6. Hyperflite Jawz Competition Dog Disc
If you have a dog who absolutely loves chasing a frisbee (hello, border collie parents), then a competition-grade disc that's designed to go far and fast may be for you. Made of high-tech polymers, this 8.75-inch disc is puncture-resistant and designed with two surfaces to grip for efficient tossing and chasing. Unlike some rubber frisbees, this flying disc is not intended to be used as a chew toy and doesn't float—it's really recommended for dogs who love to run, chase, and retrieve.
7. Hyper Pet Flippy Flopper Flying Disc Dog Toy
If you don't have a natural-born athlete on your hands, but rather, a canine pal who still loves to engage with you and run shorter distances for their toys, a fabric flyer is likely best for you. Made of soft, flexible nylon fabric, this frisbee does float on water and glides through the air for a fun frisbee with no added bells and whistles. Because it's so light, this soft disc is a great choice for small dogs and dogs with sensitive teeth.
8. Chuckit! Paraflight Flyer Dog Toy
Another option for a floating, soft dog frisbee is this one by Chuckit! This one is durable thanks to its nylon fabric and multilayer construction, making it perfect for dogs who love water. It's made with raised sides and a soft rubber edge for easy grabbing and comes with a brightly-colored orange and blue design so people and dogs can spot it easily from far away.
9. Nerf Dog Elite Tire Flyer Dog Toy
If your dog likes to play a little tug-of-war upon returning the frisbee you just tossed, then finding something durable and made for play is essential. This frisbee by Nerf is made not only to fly but can also withstand chewing and tugging thanks to a durable plastic ring and a hole cut out of the center for easy gripping. Additionally, this tug toy will float and is easy to wipe clean after a day of intense playing. As this toy is considered a hard frisbee, and because it has a 10-inch diameter, it's best suited for large dogs and tough chewers.
10. DLDER Floating Dog Ring
If your dog likes to retrieve on the water, you may benefit from a frisbee-type toy that's actually just a ring to grab. This toy is a floating ring that will fly when tossed but is specially designed to fetch in water or tug on land. Made of EVA elastic material, this is a very durable toy that's recommended for medium to large dogs. Its bright yellow color is easy to see and the ring is textured for easy gripping. Plus, it wipes clean in just seconds!
11. Pet Life Denta-Bark Toss and Fetch Frisbee
Some people use flying discs for dog training, and this toy is perfect for just such activities. Made of TPR material that's as flexible as it is durable, this toy is intended to engage and stimulate dogs with a tendency to chew by helping them associate chewing with a specific toy and activity. It's designed with rivets on the outer edge to help clean teeth and massage gums and can be used as a chew toy, a flying frisbee, and a floating frisbee.
12. Chuckit! Flying Squirrel Dog Toy
If you're looking for a frisbee in a fun design that glides, floats, and can stand up to some serious playtime, this flying squirrel toy is a great option to consider. The aerodynamic design helps it soar for long distances, and its multi-layer polyester construction helps it float and withstand gripping, biting, and shaking. This toy also includes glow-in-the-dark paws for use at dusk and is available in small and medium sizes.