Looking for an interactive toy to give your dog some mental stimulation? Hide-and-seek dog toys are a fun (and adorable) way to keep your pup entertained. Typically, there's a larger plush toy with reinforced holes that's accompanied by smaller plush toys containing squeakers, crinkle paper, or pockets for treats. The smaller plush toys can be stuffed inside the larger toy—partially or fully—to challenge your dog and their sense of smell. These interactive dog toys are a fantastic way to introduce mental enrichment to your dog's playtime. Plus, they come in dozens of characters, shapes, and sizes, so you're sure to find something both you and your dog will love.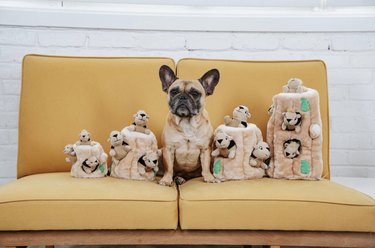 What to consider when purchasing a hide-and-seek dog toy
‌Size:‌ When selecting a hide-and-seek toy for your dog, check the dimensions to ensure that it's going to be appropriately sized for your dog. Some manufacturers will also provide the suggested breed size under specifications. Toys that are too small for your dog could be a choking hazard.
‌Supervision:‌ It's important to supervise your dog while they are playing with hide-and-seek toys. Although these toys can be an enriching activity, they're not meant to be chew toys—your dog could chew off and ingest small pieces, causing a blockage. Supervise your dog to make sure they are playing with their toys appropriately and remove them immediately if your dog starts to get destructive. In general, these toys are not designed for aggressive chewers.
‌Introductions:‌ Although some dogs take to hide-and-seek toys right away, others need a bit of an introduction to this style of toy. When introducing your dog to the hide-and-seek toy, it can be helpful to take the hidden plushies out so your dog can see and play with them. Then, when your dog shows interest, put them back into the larger toy so your dog understands that they are supposed to retrieve them. You can also encourage your dog to interact with the hide-and-seek toy by using the smaller toys in a game of fetch to build value.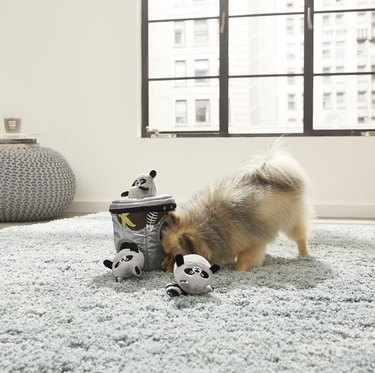 1. Outward Hound Hide A Squirrel Squeaky Puzzle Plush Dog Toy
One of the most recognizable hide-and-seek toys for dogs, this classic squirrel and tree trunk version will delight dogs of all ages. The toy comes in four sizes: Junior, Large, Jumbo, and Ginormous. Junior, Large, and Jumbo come with three squirrels, while Ginormous comes with six. The toy includes a natural-looking plush log with small plush squeaky squirrels inside. If your dog is an active chewer, keep an eye on them while they play with the toy squirrels as they may try to rip the fluffy tails off. Overall, this hide-and-seek toy is a fun, interactive game for dogs complete with enticing sounds and textures.
2. Lepawit Hide-and-Seek Snuffle Dog Toy
Part snuffle toy, part hide-and-seek toy, this option is great for dogs who are still developing an interest in toys. It's designed for small- and medium-sized dogs and taps into their natural foraging instincts. The base of the toy has a non-slip backing to prevent it from sliding across the floor while your dog is playing with it. There are seven cute-as-can-be mushrooms, all in different colors. Six of the mushrooms are stuffed and contain squeakers, while one of the mushrooms has a pocket for hiding treats or kibble. If your dog is extra food motivated, you could even hide goodies in the holes that the toy mushrooms fit into. As an added bonus, this toy is machine-washable for easy cleaning.
3. ZippyPaws Monkey 'n Banana Interactive Dog Toy
We're not monkeying around, this monkey-themed hide-and-seek toy is a real treat! Your dog will enjoy digging the three monkeys out of the plush banana, which has two reinforced holes. Each monkey has a squeaker inside of it to encourage dogs to search and play. The hide-and-seek toy is super soft, so it's a good choice for dogs who enjoy cuddling with their toys between play sessions. Perhaps best of all, Zippy Paws sells replacement monkeys if your dog is keen on shredding them.
4. Frisco Birthday Volcano Hide and Seek Puzzle Plush Squeaky Dog Toy
Celebrate a special pup's birthday with this quirky birthday-themed hide-and-seek toy. The base of the toy is a festive volcano oozing out faux icing and sprinkles. The hidden toys for dogs to find are a pack of dinosaurs (more specifically, smiling tyrannosauruses) wearing birthday party hats. This puzzle game is designed for all dogs, including medium- and large-breed dogs. Each plush dinosaur has a built-in squeaker to keep dogs curious and entertained.
5. Disney Pumbaa Hide and Seek Puzzle Plush Squeaky Dog Toy
For Disney-loving dogs, the base of this hide-and-seek toy is shaped like Pumbaa from "The Lion King." The small hideable toys are designed to look like bugs, as it was Pumbaa who uttered the iconic line, "Slimy yet satisfying!" These stuffed bug toys might not be "the little cream-filled kind" but they do have squeakers inside to capture your dog's attention. Meant for small- to medium-sized dogs, this toy can help reduce boredom and provide mental enrichment for your pup.
6. Bundle: Frisco Hide and Seek Plush Trash Can Puzzle and Raccoon Toy Refills
If your dog destroys plushies like nobody's business, you might want to purchase this bundle that comes with three replacement toys. The base of the toy is a plush metallic trashcan with two reinforced holes. The accompanying six raccoons each contain a squeaker and have flat tails that your dog might enjoy playing tug-of-war with. The raccoons are soft and snuggly, so don't be surprised if you find your dog napping with one!
7. YEPPUPPY Hide and Seek Snuffle Puzzle
This potato chip bag-themed toy offers multiple layers of play. The set comes with five plush chips, each with a unique funny face. Some plush chips have embedded squeakers, others contain crinkle paper, and a few are designed with pockets for hiding treats or kibble. It's perfect for multi-dog households with pups who have different play styles and preferences. All of the chips fit into a large plush 'bag,' which has crinkle sounds sewn into it.
8. AWOOF Hide and Seek Dog Toy
For a dog who is ready for an extra challenge, this 8-in-1 interactive puzzle game provides multiple opportunities for mental enrichment through play. The hide-and-seek toy comes with four treat dispenser pockets that resemble scaled-down snuffle mats, and three plush balls with squeakers that can also conceal treats. Everything fits into a monster-inspired base with a sturdy rope handle and built-in crinkle paper. The components are machine-washable for added convenience.
9. HugSmart Pet Foodie Japan Takoyaki Interactive Dog Puzzle
Ideal for providing dogs with opportunities to search and explore, this hide-and-seek toy resembles takoyaki, a Japanese street food that consists of fried balls of batter with minced octopus and other tasty ingredients inside. The toy version is housed in a yellow boat filled with crinkle paper. There are three hollow takoyaki balls that can be stuffed with treats or the included plush octopus. The takoyaki and octopus all contain squeakers to up the excitement level for your dog. This hide-and-seek toy is great for dogs who are still developing toy drives as it includes opportunities for food to be embedded within the toys, encouraging even reluctant players to explore.