Do you know what you would do if there was a fire in your house? Planning for an emergency is important for everyone but for families with pets, special care needs to be taken to make sure that pets are protected and planned for in the case of a house fire, or a wildfire approaching your home. National Pet Fire Safety Day happens every July. But, you don't have to wait until then to prepare for keeping your pets safe in an emergency.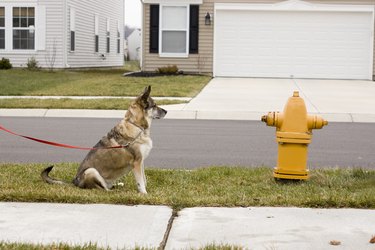 Take pet fire safety seriously
The most important way to protect your pets and your family from the risks of house fires is to take everyone's safety seriously. With pets, there are specific considerations to keep in mind.
Avoid using any candles or other open flames where your pets could reach and knock them over. Flameless candles or battery-operated candles are a safer option to prevent your pets from getting injured or starting a fire.
Dog and cat proof your home to prevent your pets from having access to electrical cords which could cause an electrical fire if chewed. You also want to keep your pets away from loose wires.
Avoid letting your pets have access to your fireplaces or space heaters, as well as stovetops and stove knobs as these are all places fires can accidentally be started.
It's also important to make sure that your house has working smoke detectors. Even better are to install monitored smoke detectors which will alert first responders and fire department if they detect smoke. The National Fire Protection Association has a wealth of resources to help pet owners be more prepared for house fires and wildfires.
Always keep your pet's information updated for emergencies
None of us like to think that anything bad could ever happen to our home and family but it's important to be prepared for emergencies. Make sure all your pets have microchips and that your contact information has been kept updated with the microchip company. You'll also want to ensure your pets are wearing collars with tags that have identifying information attached. If you and your pets are separated in the fire this identifying information will help you to be reunited quickly.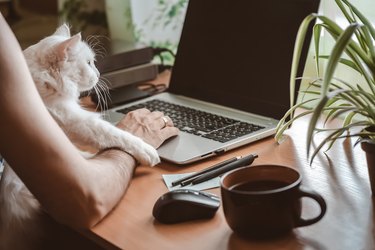 Use pet alert window clings to alert firefighters in an emergency
It's also a good idea to make or purchase emergency pet alert window clings that can be put on your home's doors and windows to alert firefighters that there are pets inside the house. These decals usually have a space to indicate the number of pets, and what speeches of animals are in the home. In the event of a fire, these decals can help firefighters quickly to know there are pets in the home in need of being rescued. If you use these decals, keep them updated and replace them if the pets in your household change.
Prepare a fire emergency bag with pet supplies and records
Part of preparing for a house fire is making sure you have access to all the supplies that your pets will need. In an emergency, you may have to replace all your pets' essential supplies. Making a list of these supplies can make it easier to keep track of them in an emergency. You can also keep a small amount of your pet's food and other essentials in an emergency bag. In your email or another easy-to-access digital space keep a comprehensive list the pet medications, supplements and food.
It's also a good idea to keep vet records and any proof of adoption or ownership documents you have either in this go-bag or ensure you have easy digital access to these files through a cloud storage system. You should also have photos of your pets in case they go missing and you need to identify them and prove ownership.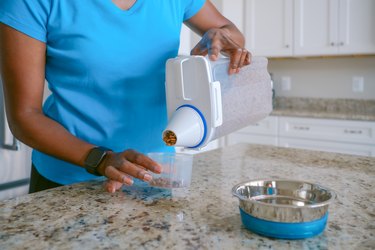 Create an emergency family and pet plan
Make sure that everyone in your family knows what to do and how to get out of the house — and from any area of the home. Plan what items different family members will grab. For example, one person might grab important family documents or photo albums. Someone else can be responsible for your pets.
Be sure to keep leashes and cat carriers in an easy-to-access location, so they can safely secure your pets. Agree on a family meeting space away from the house where everyone in your household will gather later on. It can also be helpful to keep a list of pet-friendly hotels where you can go if you need to. Make agreements with friends or family members where you can stay with if there is a house fire.
Have practice fire drills with your pets
Just like you did when you are in school, it's important to do fire drills at home — and to include your pets. Time how long it takes for you and your family to get your pets out of the house. The more you practice, the more quickly and comfortably you and your pets will evacuate.
If there is a fire or other emergency your pets are likely to be scared or stressed. Some pets especially cats may try to hide. Having family fire drills will give you and your family the chance notice the locations your pets might try to hide in during an emergency. Make a list of the hiding locations and figure out the most effective ways to lure them out of hiding.
The more you practice, the more comfortable you and your pets can do a quick evacuation. Practicing will also help make the process less scary for your pets. Fire Drills can also help you to identify any gaps in your plans for extra pet supplies that you might need such as leashes or carriers.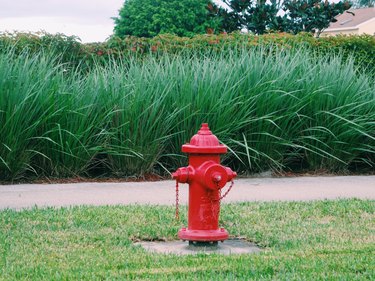 The thought of a fire breaking out near or inside your house is scary. But with advanced planning, you and your pets can be prepared for how to evacuate safely. Make sure that all pets have updated identification and microchips. Assemble a pet emergency bag with pet supplies and food. Keep a list of your pet's medicine and food. Place pet alert window decals on your door and windows to alert firefighters that there are pets who need to be rescued. All of these preparations can help you sleep easier and give you more peace of mind. Ensure that you and your pets will be prepared if there is a house fire or wildfire impacting your area.