If you have a ball-obsessed dog, chances are your arm is tired from throwing that thing repeatedly. Ball launchers can be a great addition to your dog's routine, helping to keep your dog entertained with their favorite fetch game. There are two main types of dog ball launchers: Manual models, which are handheld and intended to enhance your throwing, and automatic models, which dogs can learn to control on their own. Automatic ball launchers can be used for independent fetch play, while traditional ball launchers are a fun way to strengthen the bond you have with your dog. Here we've rounded up the best ball launchers for dogs who just can't get enough of fetch and outlined important factors to keep in mind as you're shopping online for one.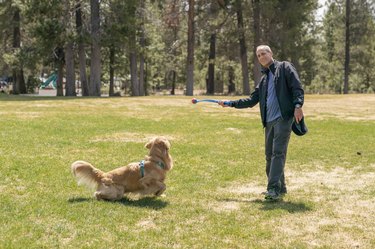 What to consider when purchasing a dog ball launcher
‌Safety Risks:‌ Many ball launchers allow dog owners to throw balls farther and faster than they could on their own. Ball-obsessed dogs often love them, however, the high-impact running, stopping, and turning that the ball launchers encourage can lead to an increase in orthopedic injuries. If your dog has a history of orthopedic injuries, speak to your veterinarian before using a ball launcher.
‌Location:‌ When purchasing a ball launcher, it's important to make sure you have a safe location to play with your dog. For your dog's safety and the safety of others, it's best to play with ball launchers in a securely fenced area, such as a park or a large backyard. Always obey leash laws—if your dog has a reliable off-leash recall, only play with ball launchers in areas where dogs are legally permitted to be off-leash.
‌Introductions:‌ Ball launchers that automatically throw balls for your dog require an intentional introduction so they will understand how to use the toy. Start by allowing your dog to watch you put the ball into the launcher, and then give them the chance to chase after the ball. Some dogs will immediately pick up on how the automatic ball launcher works, but for other dogs, you'll want to use treats and praise to teach them how to drop the ball into the launcher.
‌Supervision:‌ If your dog is going to be using an automatic ball launcher, it's still important to supervise them while they're playing with it. Ensure your dog understands how to use the ball launcher properly and isn't getting frustrated by it. If you notice that your dog is playing with it to the point of exhaustion, take the ball launcher away from them so they can drink some water and rest.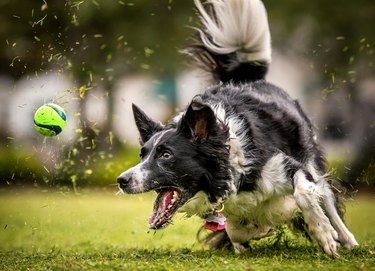 The best traditional ball launcher
If you're looking for a manual ball launcher for your dog, the Chuckit! is a classic choice. This product is made in the U.S. and allows you to throw the included medium-sized tennis ball three times farther than normal. It has an ergonomic handle and allows you to pick up the ball without bending over or getting slobber on your hands. The model pictured here has a 26-inch-long handle and can be used with a 2.5-inch Chuckit! ball or a regular tennis ball.
The best squeaking ball launcher
This ball launcher is sure to capture your dog's attention as it has a built-in squeaker in the handle. Just like the Chuckit! Classic, it enables you to throw the ball up to three times farther. It comes with a 2.5-inch fuzzy orange tennis ball, but you could use any standard-size tennis ball if that one gets lost. The launcher has an ergonomic handle to make it comfortable for dog owners to hold. It also allows you to pick up the ball without touching it for a slobber-free game of fetch. While it's more expensive than the previous ball launcher on this list, it's worth it if your dog is easily distracted or just loves squeaky sounds.
The best multi-toy launcher
Looking to spice up your dog's fetch game? This toy kit includes a Chuckit! ball launcher and a rubber ball, a ring launcher and a rubber ring, plus durable, triangular-shaped rubber links and a rubber fetch stick. Because the toys are made of natural rubber, they can withstand heavy chewing and have an erratic bounce that keeps dogs engaged in games of fetch. The launchers are both made of plastic and are easy to operate. Designed specifically for interactive outdoor play, this toy set provides long-lasting fun for medium-size dogs who enjoy fetching.
The best outdoor automatic ball launcher
This automatic ball launcher comes with a rechargeable lithium battery as well as an AC adapter, so it can be used indoors or outdoors. It features a wide-mouthed bucket to make it easy for dogs to drop a ball into. The machine launches each ball upwards and out to prevent dogs or humans from getting hit. It can hold up to 17, 2.5-inch tennis balls or 23, 1.5-inch tennis balls at a time. There are three time settings—15-second, 7-second, and 4-second launch intervals—and three distance settings that vary depending on the size, type, and condition of the tennis ball. Please note that this ball launch doesn't work with balls over 3 inches and the sensor must be cleaned periodically if it gets obstructed by saliva or dirt.
The best automatic ball launcher for small dogs
This ball launcher is designed specifically for small and medium-sized dogs. It works with three mini tennis balls (1.5 inches in diameter), which are included. These smaller tennis balls are designed to be comfortable for small dogs to fetch. You can train your pup to use the launcher on their own or assist them with it. There are three distance settings to choose from: 10, 20, or 30 feet. The machine has rubberized feet to prevent your dog from knocking it over or scooting it across the floor. The only downside to the iFetch Mini is that the balls break easily if your dog is a tough chewer and can be somewhat costly to replace. Do not purchase this ball launcher for a large dog as the mini tennis balls can be a choking hazard.
The best automatic ball launcher for large dogs
Developed specifically for medium and large-size dogs, this automatic ball launcher throws 2.5-inch tennis balls, three of which are included. It comes with an AC adaptor and rechargeable batteries, so you can use it indoors or outdoors. On a full charge, the battery lasts through 250 ball launches before needing to be recharged. This machine has a remote control to turn it on or off, or to adjust the launch speed of the ball. It has a throwing distance of up to 40 feet, which is quite impressive compared to some other automatic ball launchers. The product makes a whirring noise when the ball is dropped into the bin, so if your pup is particularly noise-sensitive, you might want to avoid it.
The best randomized automatic ball launcher
This ball launcher has four different distance modes: 10 feet, 20 feet, 30 feet, and a randomized setting that changes the distance to keep your dog on their toes. It can be used indoors or outdoors since it works with a power cord or eight C batteries. The ball launcher is lightweight, weighing less than 3 pounds, and is easy to move to different areas of your home and yard to switch up your dog's fetch game. A remote control is included, along with six mini tennis balls measuring 2 inches in diameter (note: a normal-sized tennis ball will not work with this model). Due to the small size of the balls, this product is not recommended for large dogs.
The best ball launcher for long distances
Intended for playing in large, open areas, this Nerf ball launcher sends balls flying 50 feet into the air for dogs to chase. It comes with a safety release mechanism that keeps fingers away from the moving parts. You can pick balls up with the launcher while playing (say goodbye to drool-covered hands!). It comes in three sizes—small, medium, and large—and the medium and large sizes can accommodate any standard tennis ball. One Nerf-branded tennis ball is included and you can purchase extras if you wind up losing it. Be sure to use this ball launcher in large, open areas where your dog will be safe chasing balls a far distance and won't interfere with anyone else.
The best adjustable-distance ball launcher
This cannon-style launcher also allows you to shoot balls up to 50 feet, but you can adjust the distance by pulling back the lever a little (short distance) or a lot (long distance). The launcher allows you to pick up balls hands-free by placing it over the ball and pulling the lever to suck it back inside. This helps keep your hands clean and requires less bending for those with limited mobility. The K9 Kannon comes with one tennis ball, but there's storage for two more if you like to have extras on hand.