Holiday shopping isn't easy for everyone, but when it comes to finding the best gifts for our fur babies, you can usually count on two categories to get the job done—food and toys. Many people like to keep advent calendars in their homes to count down to Christmas, and pet advent calendars for cats allow our feline friends to get in on the festivities. Advent calendars for cats feature treats, toys, or food behind doors or inside pockets, and just like advent calendars for people, dispense one a day for most of the month. Advent calendars and other holiday gifts are all for fun and spirit, so there's really no wrong way to choose the right one, although there are plenty out there to choose from so any cat can appreciate it.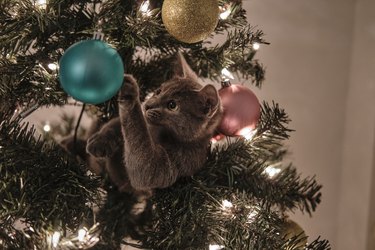 What to consider when purchasing a cat advent calendar
‌Practicality:‌ Advent calendars for people are usually stuffed with a little morsel of chocolate or other treats, but calendars for pets can be filled with a number of things, including treats, food, toys, and pet supplies. For the most fun experience, choose a calendar that offers things your cat will be excited to use, and that won't just end up turning into clutter around the home.
‌Usage:‌ Advent calendars are either made for a specific holiday season or come as reusable templates you can stuff yourself. Reusable calendars are the more economical and environmentally friendly option as they don't need to be produced, bought, and tossed every year. Pre-made calendars, however, can offer something new and exciting for cats and cat owners as they are likely filled with treats or items you don't already have.
‌Preference:‌ If you opt for an advent calendar that contains treats, make sure they're a formula, flavor, and consistency that your cat enjoys. Many calendars come with pre-stuffed treats to help you countdown the days of the holiday season, and not all will be enjoyed by all cats. If your cat has ingredient sensitivities, be sure to check the label, or purchase a reusable calendar to stuff your own treats in.
‌Safety:‌ If you're getting a treat-filled advent calendar for your cat, remember that these small snacks should be given as a supplement to your cat's existing diet. Always provide fresh water, especially when offering your cat something new to eat, and if you notice an allergic reaction or symptoms like vomiting, discontinue the treat dispensing immediately, and don't hesitate to take your cat to the veterinarian if symptoms persist.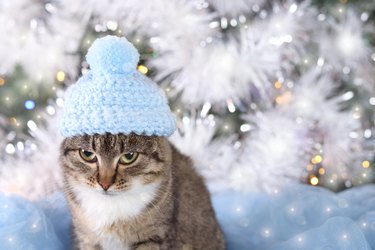 The best single-flavor cat advent calendar
This calendar is admittedly much cheaper if you can find it at an actual Trader Joe's (only $5!) but if you don't have a store nearby, you can always purchase it on Amazon instead. This calendar contains only seaweed and salmon treats that are made with Atlantic salmon and dried seaweed meal for a true seafood flavor. Twenty-four doors each contain one, 18-calorie treat, and the Christmas day surprise behind the 25th is a larger pouch measuring 86 calories.
The best multi-flavor cat advent calendar
If your cat prefers a little variety in their advent calendar, this version from U.K. brand Lily's Kitchen includes tasty chicken treats paired with shrimp or liver, as well as festive turkey treats with cranberry. Each of the 24 windows contains three or four crunchy morsels shaped like little hearts. Although the calendar is a bit pricey, it's cute enough to display amongst your other holiday decorations.
The best advent calendar for multiple cats
For more seafood-flavored gift ideas, this calendar contains 73 salmon and seaweed treats that are rich in omega-3 fatty acids. It comes with 25 doors, each filled with three human-grade treats, to keep your cats in good spirits for the month of December until Christmas Day. These treats are grain-free and GMO-free and made from Atlantic salmon from Scotland that contains no antibiotics. While you could certainly split up the day's treats amongst your cats, at this price, you could purchase one advent calendar for each of them.
The best reusable cat advent calendar
If you're looking for a reusable advent calendar that you can fill with the treats of your choosing, this cat-themed fabric calendar is a wonderful choice. This calendar does not come with any cat treats or chews so you will need to fill it yourself. It's made of quality felt and stitched to last for several seasons. The Christmas cat advent calendar is made with 2.5-inch by 2-inch pockets for stuffing with cat treats, candy canes, and anything else your family and feline want to indulge in this holiday season.
The best toy advent calendar for cats
If treats and chews aren't exactly your cat's thing, an advent calendar filled with fun toys might be a better fit for your feline friend. This 12-day countdown calendar contains a variety of balls and plush toys, some of which are stuffed with crinkle paper or catnip to encourage your cat to play with them. This calendar can be a wonderful offering to your own cat, and also makes great Christmas gifts for new cat owners or kitten parents who can't have enough toys.
The best decorative cat advent calendar
For a reusable pet advent calendar that's a little more traditionally Christmas-themed, this Santa design is just that. Made of soft felt, this treat advent calendar contains 24 pockets for keeping chews and other small nibbles in. If Santa isn't quite your style, this company also offers several other styles including an elk, gnome, snowman, and another iteration of Santa Claus (or should we say Claws?).
The best wet food cat advent calendar
If you feed your cat wet food regularly or like to offer it to them as a treat every so often, this advent calendar might be a fun choice for them, and a good economical choice for you. It's filled with four Savory Cravings Treat Boxes and 20 three-ounce tins of Fancy Feast wet food in chunk, pate, and gravy recipe formulas. Flavorful ingredients include ocean whitefish, salmon, tuna, chicken, turkey, pork, and beef, making it a good choice for multi-cat homes that crave variety.
The best advent calendar for cat lovers
This calendar isn't really going to be a big hit with your feline friends but it can be a wonderful gift idea for the cat lover in your life. Unlike the other calendars on this list, this one is filled with glitter-covered stickers behind every door, making it a fun choice for children or adults who love a good cat-centric Christmas theme. It features the artwork of Lesley Anne Ivory, and depicts a variety of felines spanning several breeds and ages.
The best catnip-infused cat advent calendar
If you're looking for a simple advent calendar that will be sure to keep your cat entertained, this one contains treats made of yogurt and catnip. The treats inside are recommended for cats over the age of three months, and, like all snacks, should be given as a supplement to a regular, balanced meal.