Birthday, anniversary, adoptaversary, Gotcha Day … whatever you choose to call it, the day your feline friend came into your life is a special one for the both of you. Many people like to acknowledge the occasion by offering their cat a few of their favorite things. The right gift for your cat will depend on their preferences, but generally speaking, you can't go wrong with toys, treats, and soft spots to lay in. Of course, our cat's anniversaries can also be a fun day for us to give into our own sweet and playful indulgences, and this list offers an array of the best items for commemorating the happy day.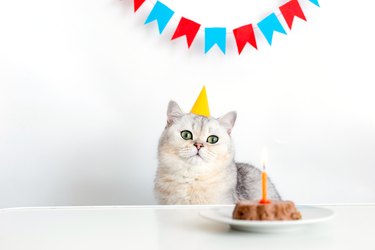 1. Kittybelles Funfetti Cake
What better way to say "Happy Birthday!" than a huge piece of delicious cake? This cake-design toy may not be the real thing, but the crinkle material and potent dose of catnip inside will leave your cat just as pleased. Created with ultra-soft, quality plush for comfort, and designed to resemble a cake right down to the multi-colored sprinkles and candle on top, this toy is sure to provide hours of play long after the festivities have ended.
2. PetCakes Turkey Flavor Microwavable Birthday Cake Mix Kit
Of course, if you are looking to offer your cat a piece of cake they can eat, you can always bake them one with an easy-to-use PetCakes kit. Each kit includes a package of turkey-flavored cake mix made free from soy, corn, sugar, preservatives, and wheat, a package of yogurt-flavored frosting mix, a reusable fish-shaped pan, and a birthday candle. Cakes "bake" in the microwave in just three minutes, and every kit contains three cakes worth of materials inside.
3. Happy Birthday Bandana and Party Hat
Some gifts for our cats are more for us to enjoy, and this one certainly falls into that category. Available in pink or blue, this feline-focused birthday party outfit comes with a party hat and a birthday scarf to create a truly photogenic moment. The hat comes with an elastic strap that adjusts around your cat's chin for a true fit, and the bandana ties in the back to stay on securely.
4. Purina Friskies Party Mix Cat Treats
A cat party is usually easier said than done, so a party mix of cat treats may be the next practical option for helping your cat celebrate (who wants to share treats anyway?). This 30-ounce container of seafood-flavored treats includes tuna, shrimp, and crab, and features real whitefish as the first ingredient in every bite. Each treat contains less than two calories, is formulated with a crunchy texture, and comes in a resealable package for lasting freshness.
5. Frisco Birthday Gift Box Cardboard Cat House
If you're for the perfect anniversary gift that says "I saw this and thought of you immediately," look no further than this gift-shaped cat house made from cardboard. This item makes a great gift for cats and fellow cat owners thanks to the gift wrap and bow details. It's designed with a private hiding space for your cat to rest in and is made of easily shreddable corrugated cardboard that's perfect for scratching and tearing apart. The box is fairly small, measuring 20 inches long, 14.5 inches wide, and 14.25 inches high, and features an entryway measuring 9.5 by 7 inches, so most cats can easily fit inside of it.
6. Pet Greens Wheatgrass Live Cat Grass, 3-Count
Commemorating special days with gifts is all about offering your cat something they don't usually get to enjoy, and for many indoor felines, this includes a fresh patch of grass to sniff, eat, and chew on. Unlike cat grass kits, which come with seeds that usually take a few days to sprout, this three-pack of plants is ready to go from purchase. Each live plant is made of 100% organic wheatgrass, which is not only a great source of fiber but also helps manage hairballs and keeps digestive tracts functioning in a healthy way. Simply place the plants in a sunny window, water them a couple of times a week, and allow your cat to enjoy some cat-safe fresh greenery.
7. Potaroma Chirping Cat Balls, 3-Count
Of course, a gift for your cat doesn't have to be complicated or over the top. For some, a basic toy in a simple design, like plush balls to bat around and chase, is all some cats need to feel appreciated. This three-pack of ball toys is available in fluffy material, fluff with cartoon design, or smooth EVO foam, and all three chirp like birds, frogs, and crickets once they start rolling to keep your cat engaged. If your cat is a catnip lover, you can also open the lids and fill them with the good stuff, and each package comes with a fresh-sealed pouch of catnip on such an occasion. These are battery-operated toys but do shut down when not in use to save power, and come with a satisfaction guarantee, so if there's a problem, the company will refund or replace faulty items.
8. Potaroma Flopping Fish Cat Toy With Silvervine and Catnip
For high-energy cats or cats who love to chew, hold and kick, a toy like this can provide hours of entertainment. Fitted with a built-in motion sensor, this toy starts moving to mimic a fish out of water as soon as your cat touches it. Measuring 10.5 by 4.7 inches, this flopping fish toy comes with a pouch that contains catnip and silvervine. The outer cover is machine washable, and a great thing about this toy is that it's USB operated, so no need to replace batteries, simply plug it in to restore use when the battery is drained.
Anniversaries are often honored with a gift of jewelry, and the cat equivalent of that could be a new collar to wear around with pride. Available in five colors, this collar adjusts between 8 and 13 inches, and hooks closed with plastic snap breakaway buckles for a secure fit. Made with durable nylon, it's designed with a reflective strip for night safety, and comes personalized with up to 21 characters, making it a safe and smart choice for cats who wander outside.
10. Amazon Basics Cat Tower
For a grand gesture that's sure to last, a cat condo is something many felines love, appreciate, and get regular use out of. This condo is a good choice for most homes as it's small in size measuring 19.5 by 15.7 inches, and is moderately priced at under $30. Designed simply and efficiently, it features two jute-wrapped posts for scratching, a plush hammock for resting, and a thick, carpeted base that's sturdy.
11. K&H Pet Products EZ Mount Window Sill Single Level Cat Bed
When it comes to giving a truly thoughtful gift, nothing is more valuable than the gift of enrichment, which is especially important for indoor cats. This mounted window bed allows cats to perch in the sunlight and watch the world outside, as well as all of the small animals and movements that catch their eyes. The bed sticks to windows using suction cups and can hold up to 50 pounds when installed correctly. Additionally, it can fold up flat against the window when it's not in use so you can still easily cover the window with curtains or blinds after the sun goes down.
12. Goody Box Birthday Cat Toys, Treats, and Collar
Not exactly sure what to get a cat but know you want to gift them something? A goody box like this one is a great choice as you'll get a bit of variety for 30% less than what you'd pay for the individual items inside. Packaged just for the birthday feline in your life, this box is filled with six full-sized products including catnip, a bowtie, toys, and treats. Unlike subscription boxes, this is a one-time purchase so there's no need to cancel.
13. Dean Russo Confident Cat Fleece Throw Blanket
If there's one thing all cats love, it's a soft blanket to rest on, curl up in, or knead in those moments of deep relaxation. This extra-soft blanket is made from polyester and fleece material, is machine-washable, and is ultra-durable for long-lasting use over the years. It measures 50 by 60 inches and features a multi-colored graphic image of a Dean Russo work of art depicting a cat for you and your best feline friend to curl up on together.