Finding the right bowl for your cat may be as easy as grabbing the first one you see at the pet store and using it indefinitely. Sometimes, however, some more consideration may need to be taken when shopping for dishware. For instance, raised bowls are preferred by some cats, and whisker-friendly wide, shallow bowls are more comfortable for others. When in doubt, a bowl within your budget that you can easily clean and that's made from food-safe material is your best bet. If your cat seems unwilling to use their bowl or becomes physically uncomfortable when they eat, it's recommended that you consider switching styles or materials.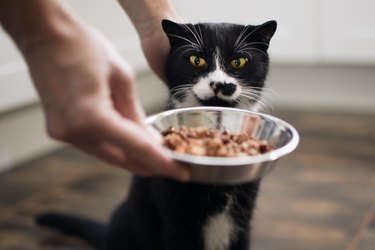 What to consider when purchasing a cat food bowl
‌Material:‌ The material a cat's food and water bowls are made from will usually just depend on the pet owner's preference. Some things to consider are whether materials are dishwasher-safe, microwave-safe, slide across floors, harbor bacteria, and break easily.
‌Size:‌ The right-sized bowl will depend on how many cats are eating out of it, how much each cat eats, and whether their food is divided into two meals a day or one large one. Generally, opting for a wide, shallow bowl is better than a deep bowl as the former is more comfortable for many felines. If you can't find a large enough shallow bowl, multiple bowls may be the solution.
‌Physical Limitations:‌ For many cats, any old bowl will do, but some cats can greatly benefit from cat food bowls that are specially designed to suit them. Wide and shallow pans are best for keeping pet food off of a cat's whiskers or bending them, which can cause stress. Raised bowls are great for older cats with sore joints and cats with gastrointestinal issues who experience vomiting after eating, while cats who swallow their food too fast can greatly benefit from a slow feeder.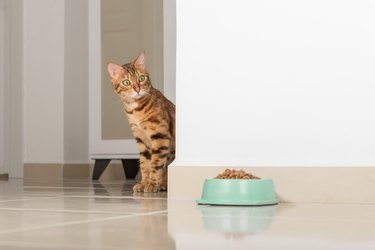 The best overall cat food bowl
For a food bowl that both cats and their pet parents can appreciate, this one is an excellent contender. Made of BPA-free melamine, which is more durable than ceramic material, this bowl comes as a single dish or in a pack of two and can hold up to five ounces of wet or dry food at a time. The special thing about this bowl is its design and the shallow pan with a ripple pattern on the surface makes grabbing food easy without causing whisker fatigue. It is dishwasher-safe but shouldn't be used in the microwave, and is fitted with nonslip legs to keep it in place during use.
The best budget cat food bowl
Anyone can find a quality cat food bowl without having to spend a ton of money thanks to bowls like this one. Made of stainless steel and featuring a non-skid base, this bowl is as simple and effective as they come, and won't break the bank at just over $1. The 1-cup bowl is an excellent size for just about any cat, but it also comes in 3-cup and 8-cup sizes. As an added bonus, this stainless steel cat bowl is dishwasher-safe.
The best cat bowl multi-pack
For multi-cat homes, you'll need multiple bowls, and often, you can find high-quality bowls cheaper if you buy them in a pack. Available in packs of two or four, and offered in seven different sizes to accommodate all cats, these stainless steel bowls are sturdy and durable. Additionally, they are shallow in depth, which can cause less stress on a cat's whiskers as the sides won't force them to angle up, keeping them clean and healthy. These bowls are dishwasher-safe, and won't absorb or retain odors like some other types of bowls can.
The best plastic cat food bowl
Plastic is the bowl preference of choice for many people as it's easy to clean, fairly durable, and very low cost. This option checks all those boxes. Made from USFDA food contact-approved plastic, this dual-sided dish can be used to feed multiple cats or provide food and water in the same space. Each side holds 8 ounces of food, and when it's ready to clean, you can just add it to the dishwasher, or handwash it in seconds.
The best ceramic cat food bowl
Ceramic bowls offer a sturdy and pretty way to feed your cat, and many feature fun designs, like this one, with a smiling cat face complete with adorable ears. Fitted with a nonslip base to keep it from moving across the floor when your cat's digging in, this bowl can be a good option for messy eaters. The design is shallow and wide to prevent whisker fatigue, and the dish holds 1.5 cups of food.
The best stainless steel cat bowl
A few stainless steel bowls have made this list already, but you can find bowls with stainless interiors that offer a design element as well if that's what you prefer. Sold in two sizes—3.25 cups and 6.5 cups—this standard stainless steel bowl features a fun paw print design around the outside of it. It's bacteria-resistant and dishwasher-safe so long as you remove the detachable rubber base at the bottom, which works as a skid stopper.
The best silicone cat food bowl
For something a little different, and that you can take on the road with you in the event that you end up traveling with your feline friend, consider this transportable silicone duo. Each bowl in this set is made of dishwasher-safe, lead-free silicone material that collapses for compact storage and is encased in a zip-up pouch for easy packing. It also comes with a carabiner to hook the pouch onto your travel bag and can be used to serve wet food, dry food, or used as a cat water bowl.
The best cat bowl for messy eaters
For felines who tend to make a mess at mealtime, these tilted feeders come in a set of two— one for water and one for food. They are slightly elevated to reduce crouching and catch kibble before it hits the ground. Additionally, each dish is fitted with an inner lip to further prevent food or water from spilling out, and they're made of lead-free ceramic material, so you can pop these bowls in the dishwasher and the microwave when it's time to clean up.
The best slow-feeder cat bowl
Many cats need help slowing down the pace when it's time to enjoy a meal, and slow feeders like this one do just that while stimulating their minds at the same time. Designed in a cute fish shape made of silicone, this dish is fitted with ridges that hold food, forcing your cat to do a little extra work for their meal, which more closely resembles how they're naturally designed to eat.
For a budget-friendly raised dish set with a ton of purchasing options, these feeders are essentially unbeatable. You can purchase them alone or with a mat to contain spilled food and water, all of which are made with high-quality, cat-safe ingredients (bowls are made with polypropylene, and mats are made from thermoplastic rubber.) These bowls are raised and tiled to keep your cat comfortable while they eat, and are especially helpful for cats who may experience frequent vomiting after meals. They're dishwasher-safe on the top rack, and hold 6.5 ounces of food in each bowl.