If you're looking for a good way to keep tabs on your dog, an Apple AirTag is an easy, effective, and fairly low-cost way to do just that. To use one, all you need to do is find a way to attach it to your canine's collar, and fortunately, there are a couple of ways you can do that. AirTag holders either attach to rings on the collar and hang similarly to an ID tag, or are tucked inside a case that slides onto the collar's strap. Alternatively, you can purchase a collar that's created specifically to keep an AirTag securely in place as well.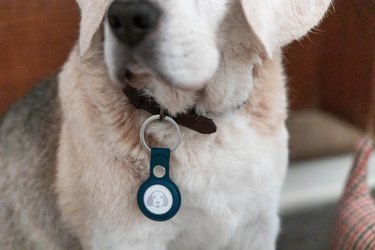 ‌Type:‌ AirTags can be attached with a holder that clips or slides onto your dog's existing collar. Or, you can purchase a new collar with a built-in AirTag holder. Keeping your dog's original collar is a good option if your dog is already comfortable wearing it, and there are a number of secure holder options out there to keep your tag affixed. A fitted collar designed to hold a tag may offer added security and is a good idea for active dogs who spend a lot of time outdoors.
‌Style:‌ If the look of your dog's collar is important to you, purchasing a holder to clip on may be your best bet as many AirTag collars are sold in sporty designs, often with reflective strips. That's not to say other styles, like the leather item featured in the list below, aren't available—you'll just need to make sure the collar you purchase fits well and rests comfortably.
‌Price:‌ An AirTag won't set you back all that much, with options starting as low as $29 for a single tag. The amount you spend keeping it attached to your dog will depend on the type you opt for—holders tend to be much less expensive than full collars.
‌Function:‌ Of course, your dog's lifestyle will likely be the biggest detail when informing your purchase. Like any tag that dangles from a ring on their collar, holders that clip on may not be the most practical choice for a highly active dog, and may be better left for canines who aren't tumbling or rolling too hard in the great outdoors. Fitted collars are typically designed for active dogs and can sometimes include added buckles, which may be uncomfortable for a more laid-back friend, so always consider where they'll wear them and what they'll be doing with them on.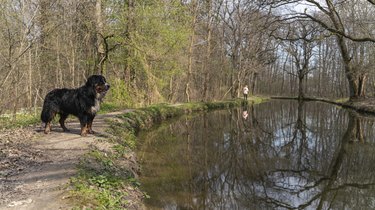 1. FEEYAR Padded Apple AirTag Dog Collar
For a full collar option, this sporty yet understated option comes in sizes small to extra-large and is offered in six colors. The collar straps are made of durable nylon stitched with reflective thread, and the inside is lined with neoprene for a comfortable fit that's not irritating. It's fitted with an alloy O-ring to clip your dog's leash onto, as well as an ABS buckle to keep it strapped on securely. The actual AirTag protective case is made of microfiber leather and snaps closed, ensuring that the tag stays put in all conditions.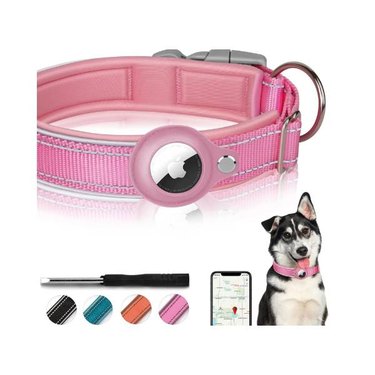 2. Trenzado Apple AirTag Reflective Dog Collar
Another full collar option, this one is a bit bulkier than the last one, with two adjustment straps, a heavy-duty buckle, a thick D-ring, and reflective strips sewn into the nylon collar strap. It's available in three sizes and sold in two colors—black or gray. The AirTag holder is built into the collar's straps and is made of TPU plastic, which your AirTag snaps into. This collar is waterproof and very durable so it is a great option to consider for dogs who enjoy going wild outside, or who may chew on their pet gear.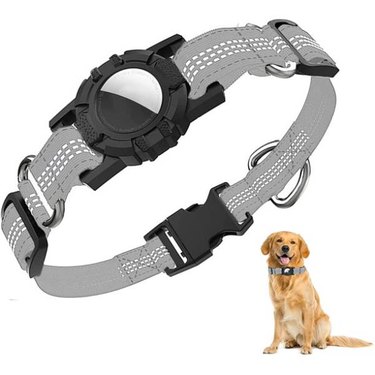 3. DLENP Apple AirTag Protective Dog Collar
If you're not looking for a full collar, you can always shop for an AirTag holder to keep your tracking device in place. This small, lightweight loop holder is made of silicone and slides onto the straps of your dog's collar or harness to serve as an AirTag case. The pet tracking device fits securely into an opening on the holder and is then pressed up against the inside of the collar, keeping it further secured from damage or loss. The protective holder is easy to clean with just water and is super lightweight at 0.19 ounces.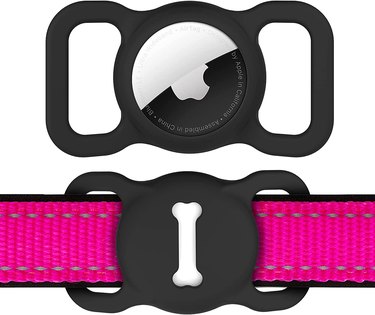 4. TAVLAS UNLIMITED Pet Collar AirTag Case
If adding a tag holder to a ring on your collar is more of a practical choice for your pet, these holders are super affordable and clip-on in an instant. The holder itself is made of silicone material for a sleek and lightweight way to keep your dog tracker in place. The pet tag slips into the silicone case easily and it works with all collar types, including harnesses. This item is sold in a two-pack so it can be ideal for multi-pet homes (it's light enough for a cat collar as well), or you can use the extra for GPS tracking on additional items around the home, like wallets or keys.
5. AirTag Dog Collar Holder, 2-Count
Another two-pack and also a gadget holder, this one is a little different in design than the previous entry on this list. It does slip onto the straps of your dog's collar but comes in more of a case design than a holder to keep your pet tracker secure. Made of flexible, soft-liquid silicone, this case is water-resistant and scratch-resistant and will protect your Bluetooth device if dropped as well. Sold as a set, these tags are made with two-way openings, so you can attach them to a number of things. Choose from two sizes (small or large) and 27 different colors and styles.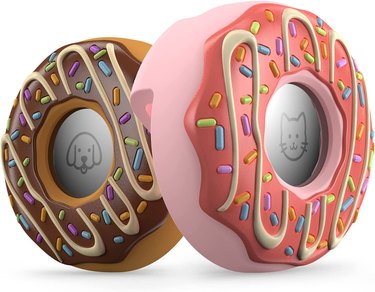 6. AirCollar Apple AirTag Natural Leather Pet Collar
If sporty designs are just not your cup of tea, this natural leather option may be for you. Made from soft, full-grain leather, this adjustable collar is offered in small, medium, large, and extra-large sizes, and is sold in three colors—olive green, black, and honey brown. It comes with a tight-fitting AirTag holder and has two snaps to keep it in place. The brass-finished hardware includes grommets and a durable D-ring for attaching a leash or another ID tag.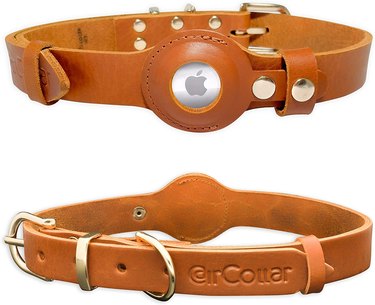 7. TagVault Pet: The Waterproof Collar Mount for Apple AirTag
For a durable, waterproof pet tracker case that won't budge, you might consider this one, which actually screws onto your pet's collar for the most effective AirTag accessory. To use this holder, you just pierce your dog's collar using the screws fitted into the holder's polyamide backplate. Then, add your AirTag to the holder, and snap it onto the plate so the screws pierce the entire thing together. This case claims to work with any width collar made for dogs over 10 to 12 pounds, so it's not quite suitable for an extra thin collar used for toy dogs.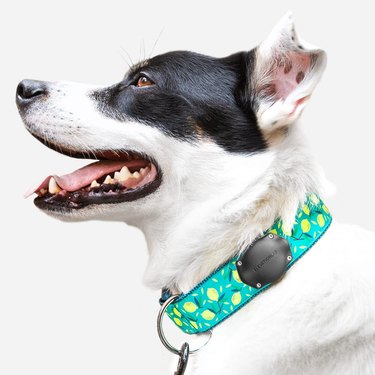 8. Kabuer AirTag Holders, 4-Count
For a multi-pack of AirTag holders at a very low price point, this four-pack can't really be beaten. It contains four protective cases made from silicone that loop through a dog's collar strap to fit on snuggly and keep your GPS tracker in place. These holders are a bit narrow in size, with loops measuring 7.35 inches by 2.55 inches, so they won't slide onto wide collars meant for larger dogs.