Cat sweaters are a cute way to dress up your feline friends and keep them warm in the cooler fall and winter months. Often, cats wear sweaters for their owner's amusement, but some cats, like Sphynx cats, need an extra layer to protect their hairless bodies, both from the cold air and from harmful UV sun rays. Whatever the reason for your cat sweater purchase, there are tons of designs, styles, and materials to choose from, ensuring a fit for just about any need. It's important that pet owners not force their cats to wear anything that they feel uncomfortable or unsafe in, so if you notice that your feline friend isn't loving your new purchase, it's always best to remove it and gift it to someone else who may get great use out of it.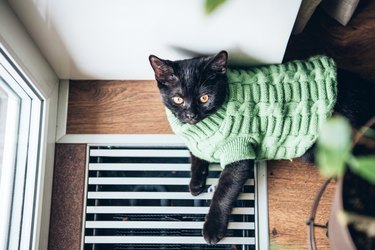 What to consider when purchasing a cat sweater
‌Need:‌ Many people buy cat hoodies and sweaters for the look—it's a cute thing to indulge in. Sometimes, however, cats may actually need the extra layer for warmth or protection, namely hairless cats, older cats who can't regulate their body temperatures as well as they used to, small cats, or cats who live in very cold climates. If your cat does need a sweater for practical reasons, be sure to consider the fabric quality, feel, and weight for the most comfortable experience.
‌Sizing:‌ Many pullovers, hoodies, and sweaters designed for pets are made for both small dogs and cats, so unless you find one that's made just for feline bodies, taking the size into consideration is important. Generally, the smaller end of the size range, like extra-small or small, will be the best fit for most cats, but you can always check the product details for the exact measurements of most pieces if you aren't sure.
‌Irritation:‌ Not all cats will find sweaters comfortable, especially if they don't fit them well, or if your cat is just more of the "don't touch me without permission" type. If you notice that your cat seems uncomfortable in their clothing, consider discontinuing using it, or search for a more pleasant material to wrap them in, especially if they need one to stay warm. Fleece usually feels good to most cats, as do natural fibers that breathe, like cotton. Extra details like buttons or zippers can also irritate cats, so consider your cat's tolerance and lifestyle when shopping.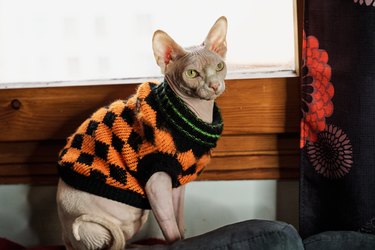 What's more classic than a cat dressed in a pet sweater with a cat print design on it? This leopard-print knitted piece of cat apparel is stitched in an elegant grain design on a soft material that won't irritate the skin or cause itchiness. This is a turtleneck sweater that's available in three sizes, and the piece is safe to wash by hand or by machine. It's made with lightweight fabric that offers a nice stretch but isn't constricting and keeps cats warm with ample coverage that spans across most of the body, just about reaching the base of the tail on most cats.
Hoodies are the perfect piece of clothing to wear in the fall, and cats can appreciate this one for its soft feel and comfortable look. This cat sweatshirt is machine-washable and is offered in seven colors, and seven sizes. It is designed to fit cats and dogs, so you'll definitely want to consult the sizing chart when shopping for this one, and will likely need to lean closer to the small end of the spectrum. This item does pull over the head for a snug fit that keeps cats warm and even has a built-in leash hole that's perfect for cats who join their people on walks outside of the home.
This pet sweater offers comfort, warmth, and a perfect fit with a ribbed turtleneck and no sleeves. It's designed for dogs and cats and is available in sizes extra-small to large. The fuzzy white cat sweater is made of 100% acrylic and has a harness/leash keyhole. As an added bonus, it's machine-washable on a cold, gentle cycle. All in all, it's a soft piece of clothing that breathes easily and feels great on the skin.
This one isn't exactly a sweater or a hoodie, but it's worn in a similar way and is a tried and true item for many people who have pets that are very fearful of thunder, fireworks, or have other anxiety issues. The Thundershirt works by wrapping around your cat and applying gentle but firm pressure around their body, which has been proven to reduce anxiety and fearfulness in animals of all kinds, including humans. This shirt is sold in gray, is lightweight, and fits around the body using velcro straps for a perfect fit. It is currently sold in two sizes and is a veterinarian-recommended way to soothe cats during troubling times.
Is a button-up cardigan more your style? This classic knit cardigan is created with rib knitting on the edges to keep your cat warm and dressed stylishly all winter long. Unlike pullover designs, this cute cat sweater buttons up in the front, making it easy to dress felines who don't care to have their heads covered even for a moment. The polyester fabric material used in this cardigan is soft enough for Sphynx and other hairless cats to wear without causing skin irritation, and this piece is machine-washable as well.
For something cute and colorful to brighten up those shorter days and longer nights, this yellow, green, and white striped sweater with a Winnie the Pooh design is an adorable option to consider. This sweater does feature buttons for aesthetic effect but is a pullover design, so it's easy to slip on and off. It is sold in seven sizes but is made for dogs and cats, so be sure to check the sizing and measure your feline just to be sure you're purchasing the right fit. The cardigan also features Pooh and Piglet embroidered onto a pocket that rests in the front.
This heathered turtleneck sweater is partly made from recycled water bottles. In fact, 60% of it is minimum post-consumer recycled polyester. The pullover design means it's easier to put on and take off of your cat, and there's a leash hole for those who like to take their cats on outdoor adventures. The eco-conscious sweater is sold in sizes ranging from extra-small to extra-extra-extra-large.
Not all cats absolutely need a sweater for the cooler seasons, but hairless cats, like Sphynx cats, probably need a little extra protection, especially if you live somewhere that doesn't see a lot of sun until the spring or summer. This pullover hoodie is made of soft fleece material that feels great on bare skin and won't irritate or cause discomfort when worn for long periods of time. It's made with stretchy elastic at the openings for a snug fit that won't constrict, and because it slips on and off easily, accessibility shouldn't be an issue in most cases. Unlike some sweaters, this one is sleeveless for added mobility and is still thick enough to keep your cat warm.
Perhaps a femme look is more your thing. In that case, a knitted pullover dress, like this one, can be a cute addition to any cat's wardrobe, all while keeping them warm and covered. This item fits snug like a sweater throughout the body, then flares out at the waist for a skirted bottom. It's a pullover, turtleneck sweater that's fitted with a sequin bow and Minnie Mouse silhouettes throughout to create a cute pattern on gray fabric. It is machine-washable, and like many other items on this list, is also a dog sweater, so be sure to check the sizing chart for the most accurate fit when shopping.
For a classic, understated cat sweater that will look great on any feline, this brown, white, and blue cable-knit sweater is a cute, affordable choice. It's made of lightweight acrylic fabric that's soft, warm, and won't pill, and features a subtle snowflake pattern near the top, just under the mock turtleneck neckline. This is a moderately thick sweater, so it will keep cats warm without overheating them, and is offered in six sizes ranging from extra-small to extra-extra-large.