As you start to prepare for trick-or-treaters to ring your doorbell on Halloween don't forget about the neighborhood dogs! Halloween is a holiday traditionally filled with treats for people. But, there are fun ways to include your favorite dogs in the festivities by giving them treats of their own! You can treat your dog to Halloween-themed treats and toys. Though you can also treat your friend's dogs, your dog's friends, and dogs in your neighborhood!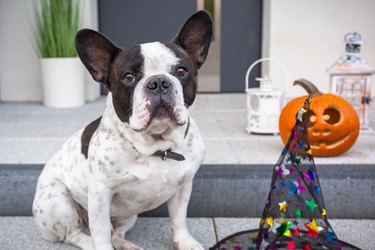 By handing out small gifts, you can also start conversations and build relationships with the other dog lovers in the area. You can also encourage and help remind people of ways to be thoughtful and respectful dog neighbors through handouts.
Make Halloween treat buckets for special dogs
Consider making special goodie bags for dogs that you know well or have a close relationship with. This can be your dogs, a dog of a good friend, or dogs that belong to your neighbors or family. Most Halloween chocolates and other candy treats are dangerous for dogs. Therefore, it can be fun to create special treat buckets full of safe goodies for the dogs in your life.
To make a special Halloween gift for dogs, start with a Halloween trick-or-treat bucket. This can be purchased for a low cost at most retailers during this time of year. Then, fill it with goodies you know the favorite dogs in your life will enjoy.
Here are some ideas for Halloween bucket goodies:
Halloween-themed dog toys
Dog treats from companies offering Halloween-themed versions of regular treats
Halloween-themed bandanas for a comfortable dog costume
Preparing Halloween gifts for dog trick-or-treaters
Halloween can sometimes be scary for a lot of dogs. Yet, many people do choose to bring their dogs out trick-or-treating. If you're going to be answering your door on Halloween night, consider having special treats specifically for dogs who might be out with their families. Ask if the dog knows any tricks — tricks for treats of course! Have some dog-specific goodies for dog owners to pick from.
Here are some fun and festive items for dog trick-or-treaters you can provide:
tennis balls in Halloween-themed colors or designs
clickers for clicker training (these can inexpensively be purchased in bulk)
rolls of Halloween-themed poop bags
Halloween dog treats
As people enjoy candy it's important not to forget dog-safe treats for pups! It's important to note that when giving out candy at the door, it's best to select individually packaged dog treats. Look for individual packages that include ingredients on the packaging. That way, dog parents can see what the treats are made of — for peace of mind — and especially if their dogs have any allergies.
Many treat companies have released Halloween-themed treats that are in festive shapes like bats, pumpkins, and ghosts. They also provide single-serving trick-or-treat-friendly packages.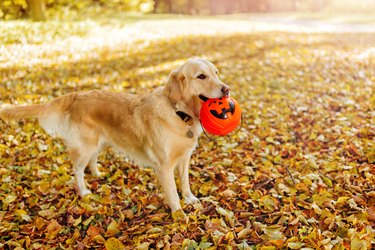 Providing dog owners with educational handouts
A fun way to try and be proactive around these neighborhood issues is to create a little educational card or handout. You can give this to dog owners who are out trick-or-treating with their dogs this Halloween. Consider putting information about local dog events you know about.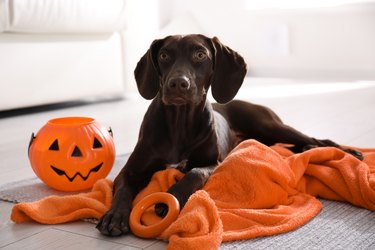 There is no obligation to give treats to dogs on Halloween. Yet it can be a fun way to celebrate the season and connect with your neighbors. Consider putting together special gifts for the dogs you are life. You can hand out small gifts to give to the dogs who are out trick-or-treating with their families. By having small gifts, you can also start conversations and build relationships with the other dog lovers in your local area. You can also use these interactions to encourage and help remind people through handouts to be thoughtful and respectful dog owners in the neighborhood.