When you have to be away from your pet, it's natural to worry about what kind of care they will receive when you're gone. Fortunately, seasoned pet care service providers, or pet sitters, can ensure your pet is comfortable in their own home. To successfully complete a dog sitting job, your pet sitter provider needs certain care instructions and other information. By following these tips, you can set your pet sitter up for success.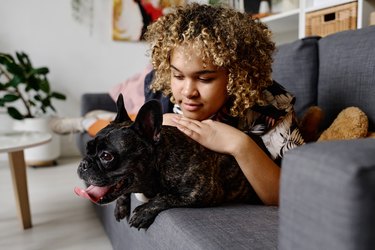 Provide your pet sitter with details, but not too many
A professional pet sitter has seen it all: one-page instruction sheets that leave off important information, and 17-page, poorly written care guides. A good guide can can be short and sweet with bullet-points, and detailed. You can even provide a daily schedule — which can be especially useful for a dog that has specified times for meals, walks, and medications.
Leave emergency information for your pet sitter
The worst thing that can happen to a sitter is not having the proper information on hand during a stressful or emergency incident.
Emergency information should include:
Your direct contact information on a piece of paper (sometimes pet sitting apps can go down)
Contact information of someone local who is authorized to help with your dog in an emergency (or in case the sitter has an emergency of their own)
Veterinarian information and emergency veterinary care preferences and contact information
Pet insurance information
The emergency hotline for your pet sitting service (if applicable)
You should also make sure you have a credit card on file so the emergency veterinarian can charge any expenses you authorize. If you will be inaccessible by phone, vacationing in a remote region, or speaking at a conference, make sure your sitter has the number of a friend or family member they can reach.
For all emergency information and care instructions, consider leaving a hard copy (printed) version in addition to sharing an electronic version. That way, your sitter can access it on their mobile device and review it in advance. You should also let your pet sitter know where the pet first aid and human first aid kits are located.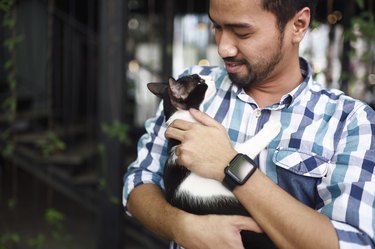 Try to arrange a pet sitter meet and greet
A meet-and-greet or interview is a short (usually about 15 minutes) opportunity for you and your pet sitter to evaluate each other. It's an opportunity to ensure the sitter will be a good match for your pet. The meet and greet interview is crucial to a smooth pet sitting experience for both you and the sitter. You can establish trust, ask and answer appropriate questions, and physically show your pet sitter where the pet's items are.
There are many things you might forget to talk about without a meet and greet. This can include whether the pet is allowed on the furniture, if it's permissible for your neighbors to drop by, and what to do if the weather is too hot or too cold for a dog walk. You may also wish to inquire about whether your sitter is licensed. You should also consider asking the sitter if they are bonded and insured in case of an accident. Note that requirements for these differ from state to state. Have your questions prepared and don't take advantage of a sitter's time if the visit is uncompensated.
Disclose your pet's bad habits
Disclosing bad habits is imperative for safety, both for your pet sitter and your pet. Bad habits can include serious behavior issues such as fear and aggression. You should specify if it's just with humans or other animals. If your pet reacts to certain animals, let your pet sitter know what types of animals. Other important scenarios to disclose can include biting during medication delivery or skittishness around people of a certain gender — if they apply to your pet.
Just like people, pets have their own traumas and hang-ups. It's the pet sitter's job to help your pet succeed and stay safe. If you have multiple pets, be sure to include information about how they interact with one another. For example, sometimes dogs in the same household should be fed separately to avoid food aggression issues.
Bad habits can also include occasional abnormal behavior (such as eating cat litter) or identifying a dog's unauthorized favorite indoor pee spot. As you can see, this will also help keep your house in order if the pet sitting occurs in your home.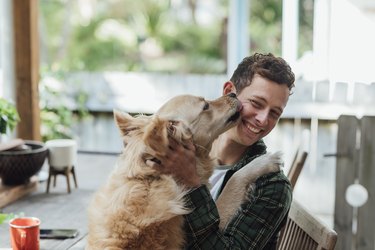 Provide your pet sitter with feeding and medication instructions
How much food does your pet get per day? Do they eat at specific times? If so, when? Make sure you disclose your pet's eating habits. If they take supplements or medication, ensure your sitter knows when to administer it, the proper dose, and if they need to take it with or without meals.
For medications, consider a pre-sorting method using a pill organizer. This can help your sitter stay on track and ensure your pet gets their meds when they are supposed to have them.
Make sure you also let your pet sitter know about any cues your pet knows and can respond to, especially in the event of an emergency.
Have all pet supplies ready
Leave all supplies in obvious places, especially if you are emphatic about the pet sitter using them. This includes items like ear cleaning kits, pet shampoo and deodorizing spray, brushes, special occasion toys and treats, and grooming and drying mitts.
For dogs, have a leash, collar, and harness (if applicable) handy. If your dog has special walking needs, such as a brachycephalic dog needing to wear a harness for safety, make sure you include that on your care instructions along with your expectations.
Running out of food, cat litter, doggie waste bags, and treats really puts a strain on the sitter. Make sure these are available for your sitter to use as needed.
Be honest about your needs and respectful of your pet sitter's needs
Remember that your pet sitter isn't just a service provider who loves animals, but a person with their own needs. Managing expectations is the most important part of the pet care process. Don't expect a sitter to bring a 20+ pound delivery indoors and water your plants! Unless you discuss those duties ahead of time, and the sitter is able and willing to do them — they should be included in the fee. If your pet care provider doesn't have an intake form, you'll need to point out the details you need taken care of during their time.
Common points of misunderstanding can include:
A pet sitter keeping unconventional hours
A pet sitter violating unexpressed house rules like "take off your shoes in the house"
Having a camera on pet sitter without notifying the sitter upon hiring them
Expecting a sitter to sleep or not sleep at your residence
Not telling neighbors a pet sitter will be having permission to access your home while you're away
A sitter not having the disarm information for a home alarm system
Additional pets not listed on the pet sitting request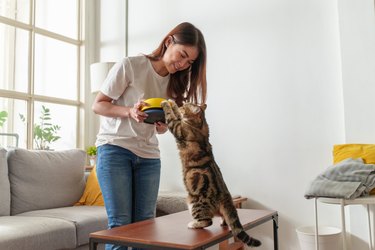 Be kind, accommodating, and clear during your meet and greet — this goes both ways. It makes for the smoothest and most comfortable introduction for you, your pet sitter, and your pet. Disclose information regarding your pet's temperament and bad habits. List your pet's food, medicine, and walk instructions or daily schedule. List emergency information to leave them and educate them about your home and any additional pets you have. Have all of your pet's supplies ready for the sitter. Be honest about your needs and considerate of your pet sitter's needs. By following these tips, you can help your pet sitter be successful with your pet.