Halloween is a favorite holiday for many people because it allows us to dress up and have a little fun for a day. Dogs can also get in on this fun thanks to Halloween-themed dog harnesses. When shopping for your dog this Halloween, there are two types of harnesses to consider—a standard harness with a Halloween-themed design printed on it, or a dog Halloween costume that secures onto them thanks to a harness. The choice will ultimately be up to you and your dog, and with so many to choose from, ranging from cute to silly to scary, there's truly something out there for everyone.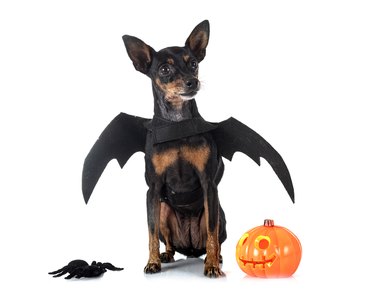 What to Consider When Purchasing a Halloween Dog Harness
‌Tolerance:‌ Most dogs that regularly wear a harness on walks will tolerate a Halloween-themed harness with some additional features, but not all will. Extra touches like wings, items that cover or touch their heads, and anything that may hang or dangle from the harness can be irritating for some dogs, and may even cause them to refuse to walk in it. If you aren't sure if your dog will tolerate a Halloween dog harness, you can stick to standard harnesses with Halloween prints, or head to a local pet store and try one on to see how they like it.
‌Practicality:‌ Making a practical purchase isn't exactly what Halloween is all about, and the same goes for the festive wear we purchase for our pets. That said, if you're looking to get use out of your dog harness after the holiday is over, you can always opt for a regular harness designed with a Halloween or fall-themed print, like pumpkins.
‌Quality:‌ Much in the same way a person wouldn't head to Spirit Halloween to buy a quality wig, a dog owner should manage their expectations when purchasing certain types of Halloween harnesses. Some harnesses that double as costumes aren't meant to be worn often, and may not stand up to everyday wear the same way a traditional harness or collar will. If you see a harness you love but don't think will support your dog, use your everyday harness under the costume to ensure security and safety.
1. Star Wars Cosplay Dog Harness Dogs
For the "Star Wars" fans out there, or anyone who appreciates a good canine cosplay, this Chewbacca harness is offered in three sizes and is moderately priced. The harness has a no-pull design with rings that rest on the top of your dog's back, and a wider, itch-free, mesh-lined material that hugs the body around the chest and neck. The furry Chewbacca detail does rest around the chest and not over the back, so it's a bit easier to see when your dog is sitting or facing forward, and it is lightweight, breathable, and machine-washable for continuous wear.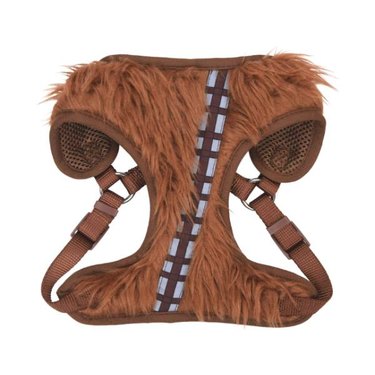 2. Frisco Halloween Over-The-Head Reflective Bat Wing Vest Harness
If a Halloween pattern on a standard harness is more your style, this option offers two in one thanks to the reversible design created with two patterns—bats on one side, and spiderwebs on the other. Both sides of this harness do glow in the dark to keep your pet safe at night and extra festive during the holiday. The leash attaches in the back through a sturdy metal D-ring, and the harness fits easily over your dog's head, with an adjustable strap to secure it around their body. This harness is only available in sizes small and medium, so it's not intended for dogs larger than 18 inches around, and the harness should be washed by hand only.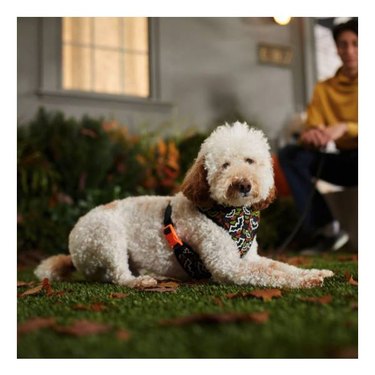 3. Halloween pumpkin ghost dog harness vest
Handmade in the USA, this Etsy find is a brightly colored dog harness with cute ghosts and a jack-o'-lantern design printed on it. The harness is made with mesh fabric for breathability and maximum comfort, and the stitching and webbing are done using heavy-duty cotton to create a product that will truly hold up over time. The harness's stress points are triple-stitched for safety and quality, and you can also have your dog's name and contact info engraved into the buckle for an added cost. If you like, you can also purchase the matching collar and leash from the same store for a cohesive look your dog can wear on Halloween or all year.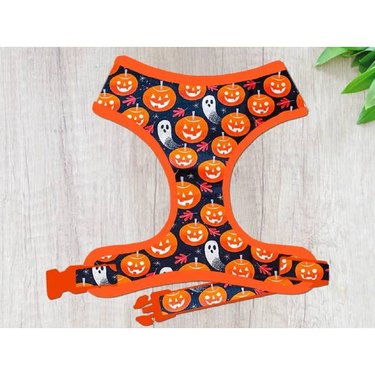 4. Thrills & Chills™ Halloween Devil Costume Vest Dog Harness
To add a little mischief to your dog's Halloween harness, this vest-style piece comes with red wings and a forked tail for a devilish look that's still cute. Available in six sizes ranging from 2X-small to extra-large, the harness is made with reflective red material that snaps onto the body using two plastic buckles. A D-ring attaches the leash to your dog's back for secure attachment and less pulling on walks, and the dual-strap design helps prevent neck injuries on your canine pal.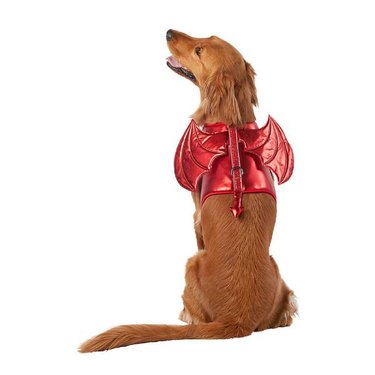 5. Skeleton Glow Reflective Dog and Cat Harness
This harness could work as an understated costume, or as an everyday harness year-round if that's your aesthetic. Sold in sizes extra-small to extra-large, this harness is designed with a glow-in-the-dark skeleton pattern that wraps around your dog's chest. It's made with lightweight polyester material that's easy to spot clean but shouldn't be machine-washed, and the largest size can support a weight of up to 150 pounds, so it's a very durable harness whether you use it for Halloween or not. The harness features openings that wrap around your dog's front legs and contains straps that connect in the back and attach to a leash.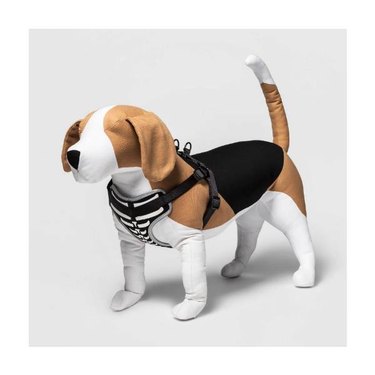 6. Thrills & Chills™ Halloween Bat Skull Costume Vest Dog Harness
This harness offers a cute, extra take on the standard skeleton design that's so popular around Halloween by adding a set of fabric bat wings that rest easily on the back of the costume. Sold in six sizes, this harness does glow in the dark, making it a fun piece of pet gear that's also safe to wear in the evening hours after the sun goes down. It's constructed with two thick straps that snap around the body for support, security, and comfort, and contains a D-ring in the back for a leash to hook onto.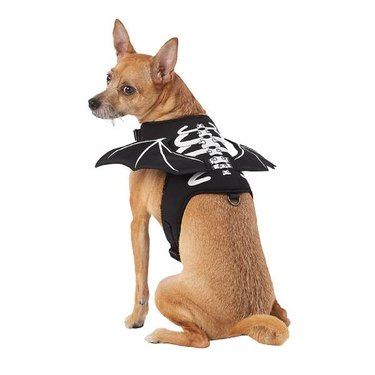 7. Frisco Halloween Dino Vest Harness
If you're planning a "Jurassic Park" group costume this year, dress up your dog in this scary, scaly dinosaur harness. Available in sizes small and medium, this vest-style harness features hook-and-loop fasteners, plastic buckles, and a metal D-ring for easily attaching a leash. The neck and girth are adjustable—just be sure to consult the sizing chart before you add this harness to your online shopping cart. Gray spikes are positioned along the spine and the texture of the black vest is similar to crocodile leather (faux, of course!).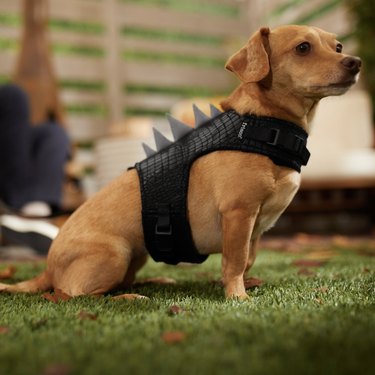 8. Boo and Ghosts Design Pet Collars and Harnesses
Finally, for a no-nonsense harness in a simple Halloween-themed design, this handmade option is an excellent one to consider as the price is right considering the quality it offers. Made of durable polypropylene material, this harness is also fitted with nickel-plated O-rings and D-rings to hook onto leashes for a secure connection. It's designed with side-release buckles that adjust to fit your dog, and is sewn with reinforced X-pattern stitching to offer a tensile strength of 400 pounds. These harnesses are handmade in Texas and usually ship in under five days, and all harnesses, collars, and leashes are offered in a huge variety of colors for a truly personalized piece of pet wear.