Even if you're shopping for Christmas gifts on a budget, it's possible to treat your canine best friend to some of the best gifts this holiday season. This holiday season, don't forget to spoil the dogs in your life with some fun new toys and festive surprises. Treating the special dogs in your life this holiday season doesn't require breaking the bank. For under $25, you can treat your dog to fun and engaging festive gifts. When selecting toys, consider your dog's play style and how they enjoy playing with toys: tug, puzzles, fetch etc. When considering gift ideas for your dog, or a friend's dog, you'll also want to make sure to consider the dog's size. Toys that are too small can be choking hazards and should be avoided. Some of the best dog Christmas gifts include: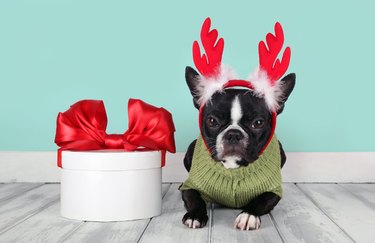 1. Frisco Holiday North Pole Mailbox Hide & Seek Puzzle Plush Squeaky Dog Toy
This plush puzzle toy is a sweet, fun gift. Made for small and medium-sized dogs, it's made with soft polyester fabric for durability. The puzzle toy is a plush Santa's mailbox with embroidered "Santa Mail" text. The mailbox comes with plush letters addressed to "Santa Paws" and packages. The plush envelopes and boxes can be stuffed into the mailbox for your dog to pull out as a puzzle game. This plush toy offers great mental enrichment for dogs as they play. This toy is not recommended for heavy chewers but is a great gift for supervised play.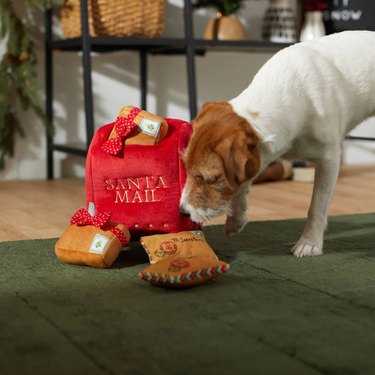 2. Wobble Wag Giggle Holiday Edition Dog Toy
This festive giggle ball is a fun holiday gift for dogs of all sizes. This motion-activated ball is designed for interactive play and encourages dog to play independently and works without batteries. The ball has embedded noise-making tubes that make a giggle sound whenever your dog rolls the ball or picks it up. The ball is light blue with white stripes and a dark blue snowflake design, making it a perfect winter gift for good dogs regardless of what holidays you celebrate. The ball has easy-grip pockets, making it easy for dogs to pick up and carry while they are playing.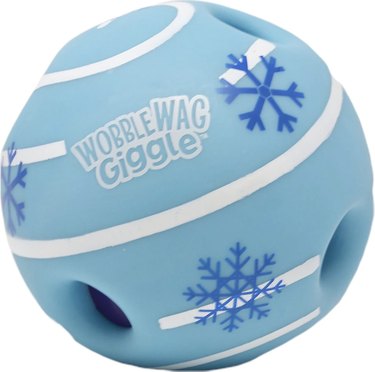 3. 4-Pack Christmas Dog Bandanas
Designed for dogs with a neck size up to 21 inches, this set of Christmas bandanas is perfect to give the good dog in your life or divide between four dog friends. The bandanas are a red and green festive plaid pattern with white text and festive designs. One red bandana says, "I Ate Santa's Cookies'' while the other red bandana says, "Merry Christmas." The green bandanas say, "Dear Santa, Define Good" and "I Make Naughty Look Nice." These bandanas are made from durable, dyed, dual-layer material that is both soft and long-lasting. The bananas should be hand-washed in warm water.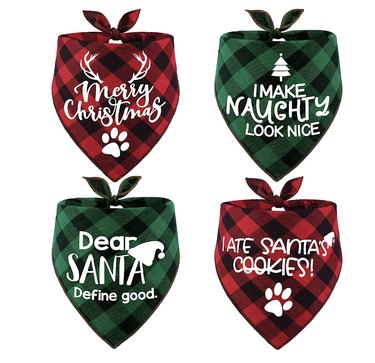 4. Frisco Holiday Snowman Rubber Treat Dispenser Dog Toy
This festive, natural rubber toy is light blue and snowman-shaped. This chew toy is designed to be stuffed with food and is best for moderate-level chewers. To use, fill the toy via the hole in the bottom with your dog's favorite dog treats, kibbles, dog biscuits, wet food, and/or peanut butter. The snowman design of this toy is festive and fun, but it also is naturally bouncy, making it fun for dogs to play and chase.
Because of the snowman shape, the toy has a unique bounce and bounces unpredictably, which can be an added challenge The toy is designed for medium and large-breed dogs. Perfect for dog training activities like crate training or teaching a dog to relax quietly on a dog bed, fill this toy with dog treats and give it to your dog to chew when they need some time to relax.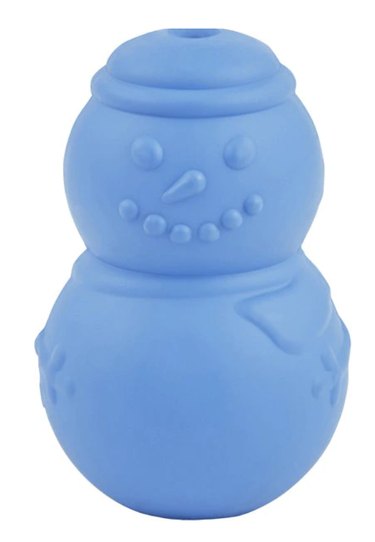 5. Frisco Holiday Wreath Fetch Squeaky Tennis Ball Dog Toy, 8-Count
If you have a tennis ball-obsessed dog, this gift set will be sure to delight. This holiday season, consider gifting your dog an eight-pack of rubber tennis balls with festive colored felt covering. The balls come in a wreath-shaped gift box, making it an aesthetically pleasing gift for pet parents, a very good dog, or a family of dogs. The balls have candy cane stripes on one side and green on the other. Each of the tennis balls has a built-in squeaker to encourage dogs to play. This tennis ball wreath is recommended for small and medium dogs.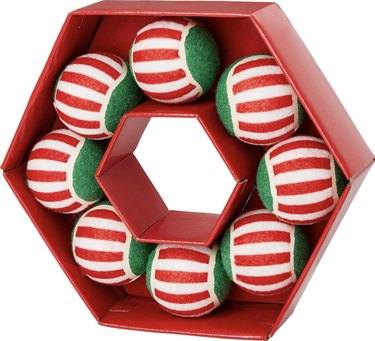 If your family enjoys baking Christmas cookies, this Christmas cookie toy is a fun way to include your furry friend in the festivities. The plush toy set includes squeakers and embedded crinkle paper, which is perfect for dogs who enjoy playing with water bottles and other crinkling objects. This toy set for small and medium dogs has a plush cookie tray and four plush cookies in cute Christmas designs including a Santa, Christmas tree, candy cane, and gingerbread cookie. Each of the plush cookies can be stuck to the cookie sheet and then ripped off during play by your dog, and then reattached for more fun.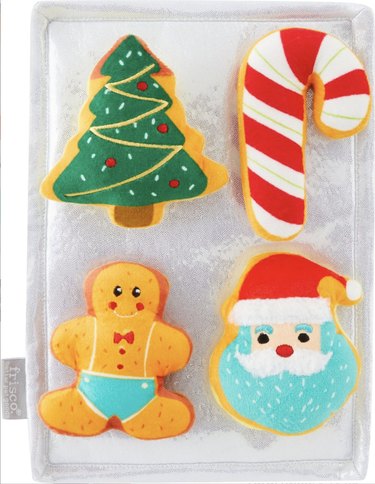 7. Frisco Holiday Hanukkah Feast Plush Squeaky Dog Toy, 4 count
This four-pack of plush Hanukkah toys are a perfect way to help your pup celebrate the season. The plush toy kit comes with latkes, bread, fish, and a plush menorah. The toys have sewn-in squeakers to keep dogs engaged in play. This gift set is perfect to share with your favorite dog, or to split up to share with a couple of dogs in your life. These toys include embedded crinkle and squeakers for added fun while playing. The toys are made specifically for extra small and small breed dogs.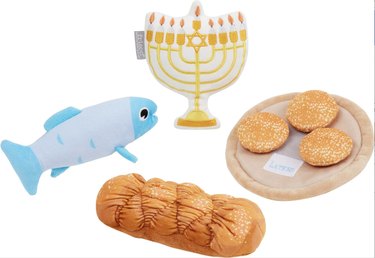 This boredom buster puzzle game is perfect for engaging dogs during the long winter months. The set includes an outer crinkly bag, and then plush ginger snap toy cookies inside. This toy set encourages developing problem-solving skills as dogs figure out how to pull their plush toys out from inside the bag. For added enrichment you can add treats and other doggy toys and goodies into the interactive toy bag for your dog to pull out during play. These plush toys are not intended for heavy chewing.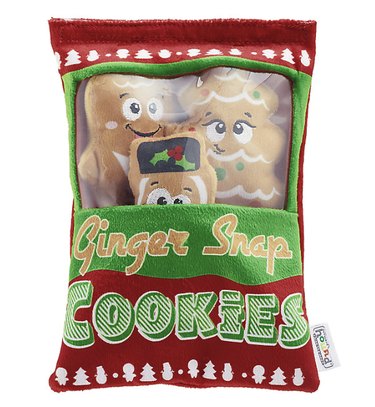 9. KONG® Holiday Wubba Flatz Dog Toy
For dogs who love to tug, this holiday wubba is sure to delight. The ideal stocking stuffer, this toy comes in red or green with an attached Santa hat. Embroidered in the middle is the text "Naughty," "Nice," and "I Tried" with check boxes and candy canes. The "I Tried'' section is checked on the toy. This toy has long flapping tails that are perfect for dogs who like to shake and tug their toys. The toy is made of durable fleece, so dog owners can play with their dogs, or is great for independent play. This toy is made with minimal stuffing for less mess, which also makes it easy to stick into a Christmas stocking. Embedded in the toy is a squeaker to keep dogs engaged in playing during the holidays and beyond.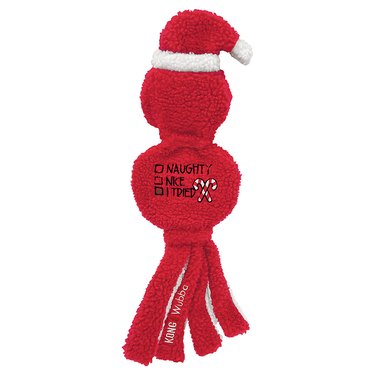 10. Frisco Hanukkah Celebration Plush with Rope Squeaky Dog Toy
Created for large dogs, this Hanukkah rope toy includes three attached plush squeaky toys. Embedded in the toys are crinkle paper and squeakers. Ideal for large dogs who enjoy plush toys and tugging, this Hanukkah rope has attached a plush challah loaf, gelt, and dreidel. This toy is designed for play and not chewing. Supervise your dog while they are playing to prevent your dog from accidentally chewing off and ingesting any pieces of toys or rope.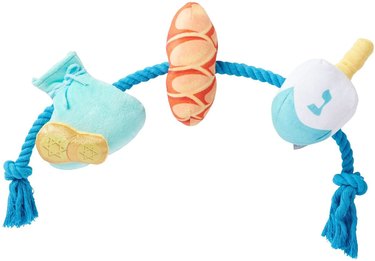 11. Banfeng Giant 9.5" Dog Tennis Ball
If you're looking for a toy to delight a special pup in your life that isn't specific to any holidays, gift a special pup with this giant 9.5-inch tennis ball. The ball is thicker than a normal tennis ball for durability and play. The large tennis ball is made with non-abrasive felt to be safe for your dog's teeth. This giant tennis ball is ideal for all sized dogs. Note: This ball comes deflated and needs to be inflated once it arrives. The ball comes with an inflating needle to be attached to a hand pump or bike pump.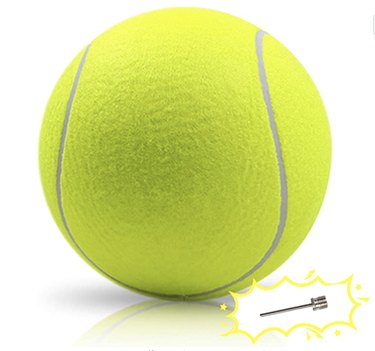 12. Greenies Gingerbread Flavor Dental Dog Treats
If your dog likes greenies, you won't want to miss gifting a bag of these limited edition gingerbread flavored greenies dental treats. The Greenies come in a variety of sizes for different breeds of dog. Greenies are made in the United States. Greenies have a unique texture that helps to clean your dog's teeth down to the gum line, which helps to freshen your dog's breath. Greenies also help with preventing the build-up of plaque and tartar. The gingerbread flavored chews give your dog's favorite treat a fun and festive taste and are perfect to add to a dog stocking or to give as a holiday gift to neighborhood dogs.