Dressing your dog up isn't just for Halloween costumes! This holiday season, don't forget to pick up some Christmas dog clothes and costumes, whether they be ugly sweaters or reversible bandanas. Outfits and accessories are fun for your dog to wear for holiday photos and festive gatherings. However, always make sure to supervise your dog when they are wearing Christmas accessories. When picking holiday outfits for your dog, use treats and positive reinforcement methods to introduce your dog to the piece of clothing or accessory. If your dog is comfortable getting dressed up, go for a dog dress or dog costume, but if your dog isn't comfortable wearing outfits, stick with non-intrusive accessories like collars, festive leashes, or bandanas. If your dog is ever uncomfortable in their outfit or accessory, remove it immediately.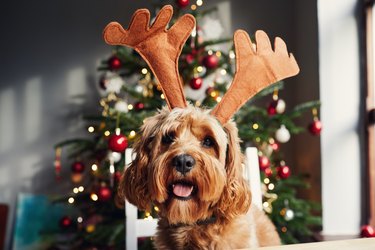 1. Blueberry Pet Christmas Holiday Adjustable Dog Collar
Available in gingerbread, Santa hat, and reindeer options, this decorative collar is the perfect accessory to help your dog look their festive best this holiday season. The adjustable collar is available in sizes, small, medium, and large. The collar is also adjustable to get a comfortable fit for your dog. The collar has a detachable Christmas decoration that connects to the webbing of the collar, making it easy for your dog to wear all holiday season and for special events. In addition to the detachable decoration, the collar itself is also Christmas-themed with a fun festive pattern and red or green hardware on the collar.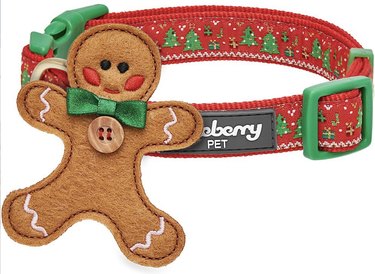 2. Buckle-Down Candy Cane Stripe Dog Leash
Get ready for festive walks to look at Christmas lights with this red and white candy cane striped leash. The leash is made for use by all-sized dogs, including large dogs. This candy cane leash is made with high-density polyester and steel hardware. This decorative leash is both cute and sturdy and is handcrafted in the United States. The high-quality printing is designed to have long-lasting vibrant colors to use for holiday seasons to come.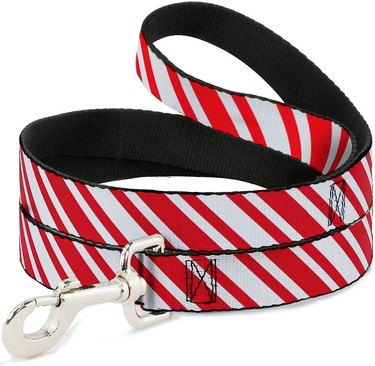 3. Frisco Santa Dog Harness
Available in sizes extra small through large, this Santa Claus harness allows you to take your dog on festive walks during the holiday season. The harness has adjustable neck and girth sections for a personalized fit. This festive harness gives your dog the chance to dress up as Santa on your dog's regular walks. The harness has dual closures with hook and loop fasteners for a secure fit. The harness also has a D-ring on the back to attach your dog's leash to. The dog vest harness has a fluffy white trim, black belt, and gold buckle with a red base to complete your dog's Santa Claus look.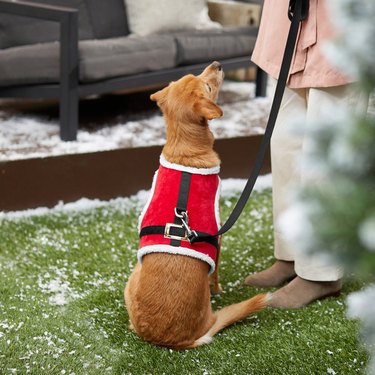 4. Pedgot 3-Pack Pet Christmas Headbands for Dogs
For dogs who enjoy dressing up, these festive headbands/dog hats are a fun way to dress your pooch up for the holiday season. This three-pack of headbands includes multiple designs: Santa, snowman, and reindeer, so your dog can wear different outfits during the holiday season. These festive headbands are perfect for holiday gatherings, photos, or other festive events. The headbands are wrapped in soft fabric for a comfortable fit for your dog. These Christmas headbands also have an adjustable chin strap which helps the headbands stay on when your dog is walking, running, or playing.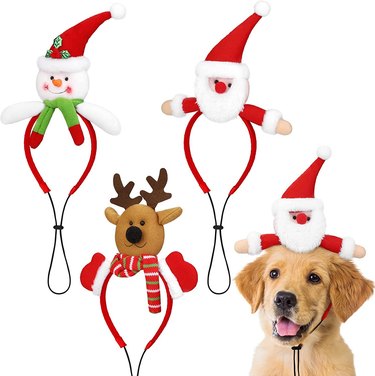 5. BoomBone Christmas Dog Collar Flowers Accessory
Looking for a quick way to festive up your dog's look? These Christmas-colored collar flower bowties are a comfortable accessory for dogs to wear. These flowers come in a four-pack: a red flower; a green flower; a red and green flower; and a green, white, and red plaid dog flower accessory. The collar flowers are 3-1/2 inches in size and will fit dogs of most sizes. The flowers are designed to slide easily onto your dog's collar, making them easy for dogs to wear. Each flower has stretchy elastic rubber bands on the back, which make them easy to slide onto and take off your dog's collar.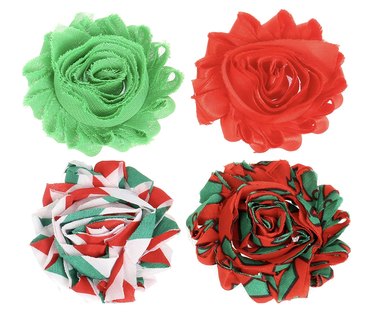 6. Frisco Santa's Favorite & Cheers to the New Year Dog & Cat Reversible Bandana
Perfect for your little elf, this festive bandana is available in two sizes, X-Small/Small and Medium/Large. These reversible bandanas say "Santa's Favorite" on one side with a background of holiday designs, including packages and Christmas trees with a red background. On the other side, the bandana is dark blue, with a background of white and gold fireworks and party hats. That side of the bandana also has a "Cheers To A New Year!" message. Designed to transition between Christmas and New Year's, this reversible bandana can fit dogs as small as a 10-inch neck, up to an 18-inch neck (depending on the size ordered).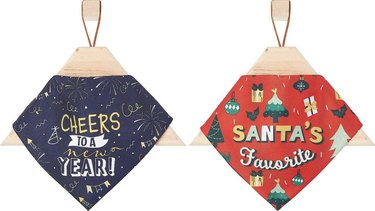 7. Lanyarco Small Pet Snowman Snowflake Cotton Pajamas
Get your pup cozy this holiday season with these Christmas jammies. The dog pajamas have a red background and then an all-over snowman and snowflake print. These pajamas are machine-washable in cold water but should be hung to dry. They're made with breathable, 95% cotton material. The pajamas have four legs to keep your dog's whole body cozy and comfortable. The pajamas also have an under-belly cut-out, making it possible for your dog to wear these pajamas while out walking (they'll still be able to go potty).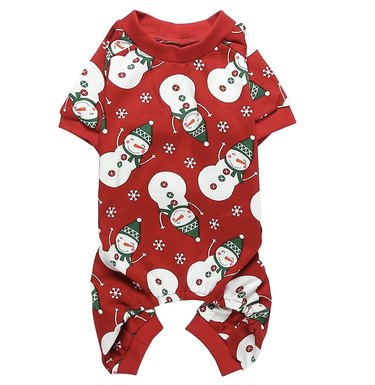 8. Frisco String Christmas Lights Dog and Cat Christmas Sweater
This dog Christmas outfit doubles as a dog coat for your pup to wear on chilly winter walks. The pullover-style dog sweater makes it easy to get your dog dressed for the season. The sweater is red and white striped with an embroidered, metallic Christmas string-light design. This festive sweater is available in sizes XS through XXXL to fit most dogs, including large breeds. The sweater has a leash hole in the back to attach your dog's leash so you can walk your dog while keeping them warm and comfortable. To clean the sweater, machine-wash it on cold with like colors on a gentle cycle. Then, tumble dry on low to dry.
9. Pedgot 3-Pack LED Light Up Pet Christmas Headbands
Reindeer antlers are a classic Christmas accessory, and this reindeer headband is made specifically for dogs to wear. The antlers have a green headband and red antlers with LED lights built in. The antlers are nontoxic and non-irritating to your dog. The surface of the headband is fabric wrapped to be soft for dogs to wear. The headbands have an adjustable under-chin strap to make the headband comfortable for dogs. These headbands come in a pack of three, each with different antler styles—some with ears and some without—making them perfect for families with multiple dogs.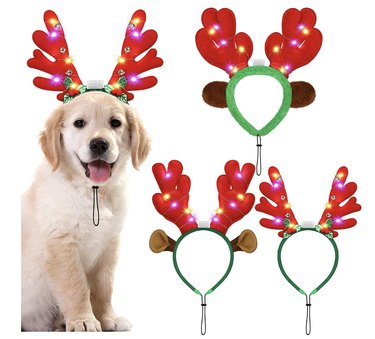 10. Frisco Up to Snow Good Dog & Cat Bandana
This blue bandanna has an all-over snowflake print, candy canes, and the text "Up To Snow Good." Perfect for your little troublemaker this holiday season, the dog bandana is available in two sizes, X-Small/Small and Medium/Large. The dog bandana is machine-washable in cold water and can be tumble dried on low. The bandana is made of polyester synthetic fabrics. This bandana fits dogs of most sizes and is comfortable for dogs to wear while walking and playing.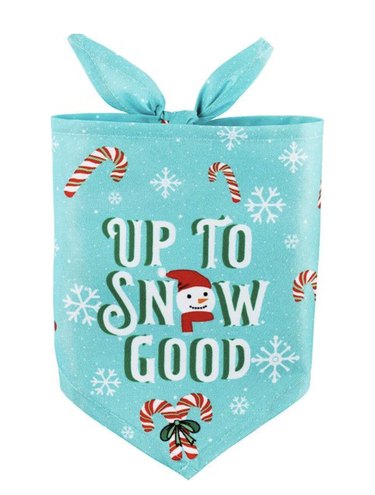 11. Personalized Ugly Christmas Sweater for Dogs
This holiday season, treat your dog to a personalized Christmas sweater. This one-of-a-kind sweater shirt features your dog's photo, along with a classic Christmas sweater background of snowflakes, Christmas trees, and reindeer, plus a "Merry Dogmas" text. The dog shirts are 100% cotton and are machine-washable. The sweaters are available in sizes XS-3XL, fitting dogs up to 86 pounds (or more). When ordering for dog breeds with larger chests, it is recommended to size up to a larger size at checkout, because the shirts can run small. The shirt has a rib knit, making the shirt stretchy for putting the T-shirt on easily and making it comfortable for dogs to wear.
12. Fitwarm Holiday Theme Dog Dress
Made for small dogs, this holiday dress is a fun way to dress your dog or puppy up for holiday parties. These puppy clothes are made of 100% cotton, making it soft and breathable for dogs to wear. The dress has a red top with gold glitter "Merry Woofmas" text and a big, gold ribbon bow. The tutu skirt of the dress is green and red plaid with an all-over glittery snowflake design. The Christmas dress is an easy pullover design, making it easy to get your dog dressed. The dress has a snug and stretchy fit, making it comfortable for dogs to wear. Designed to make potty breaks easy, the dress has a high-cut belly, allowing dogs to comfortably pee without getting the dress dirty.